Video conferencing keeps getting better and better but there are a few things that even the best hardware/software combo cannot solve. We have come up with 10 conferencing hacks to help your meetings go off without a hitch!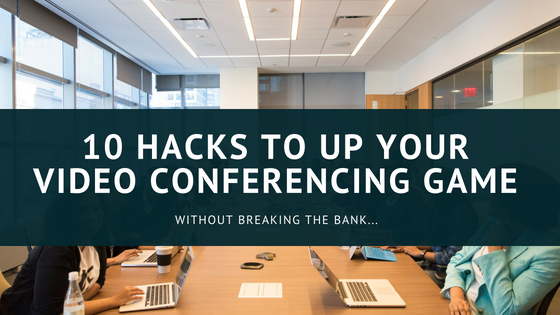 1. Background: Whether you are working from home in your kitchen or your office is untidy and you don't have time to clean up before the call, you need a quick solution to hide the mess. One of our favorite ways to look professional as quickly as possible is a fold out green screen! Be warned though, green screens can be very tricky to get just right, and you run the risk of looking worse with a spotty background. If your lighting is not 100% even, consider just using the blue side of the screen as a simple but non-distracting background.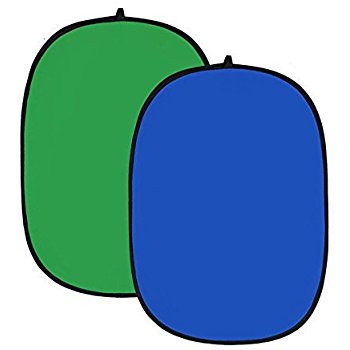 An Easy Collapsable Green/Blue Screen is a Quick and Easy Way to Hide Background Distractions
2.Starting on Time: In shared meeting spaces consider a touchpad with a meeting room dashboard software, like Quicklaunch. Even though your company may prefer to use BlueJeans, your client may want to use Skype, and the next meeting may be Zoom. Having a one-touch platform allows for quickly started meetings so no time is wasted finding, downloading, and starting a new conferencing app.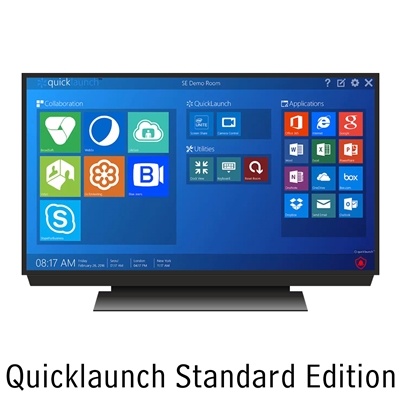 A One-Touch Meeting Launch Software can Save Time and Boost Productivity by over 25%
3. Wide Angle Lens: Have a small room but a big group? Don't try and squeeze everybody into a tight spot just to fit everyone on the display, invest in a camera with a wide angle lens turning this: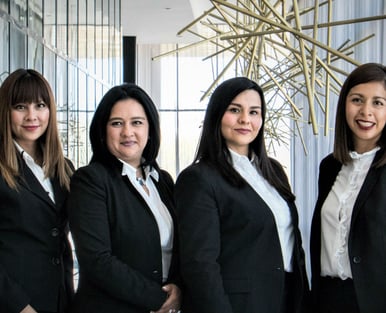 into this:

Try an all-in-one wide angle Conference Cam like the HuddleCam GO.
4. Eye Level Camera: It is hard to remember to look directly into the camera, but looking into the camera lens can make the meeting much more personal. One tip is to mount the camera at eye level so that you are not forced to look up or down. Take a look at our camera mounting tips here:

5. Lighting: Unfortunately there is no one hack for lighting. Asses your lighting beforehand. Too bright? Consider reflecting your lighting source off the wall, or backing farther from the window. Too Dim? Consider using an external lighting source, even a desk lamp will do if angled correctly. Off color? Mixing natural and artificial light can lead to mixing of cool and warm colors, consider turning off the artificial lighting and just using natural, or shading the windows and just using artificial.
6. Touch up Appearance: Try out features like Zoom's "Touch up my Appearance" to quickly and easily enhance your look!
7. Reduce Background Noise:
No matter where you are, background noise can be one of the worst distractions in a meeting. Your computer mic is not going to cut it for even the smallest of noise distractions. Consider investing in an affordable speakerphone with features like noise and echo cancellation (like this one) to avoid unprofessional background noise. If you are in an office setting, consider a room scheduler or at the very least an "On Air" sign to ensure no interruptions during your meeting.
Also, you should also always consider muting your microphone when not speaking. This is especially important in larger meetings.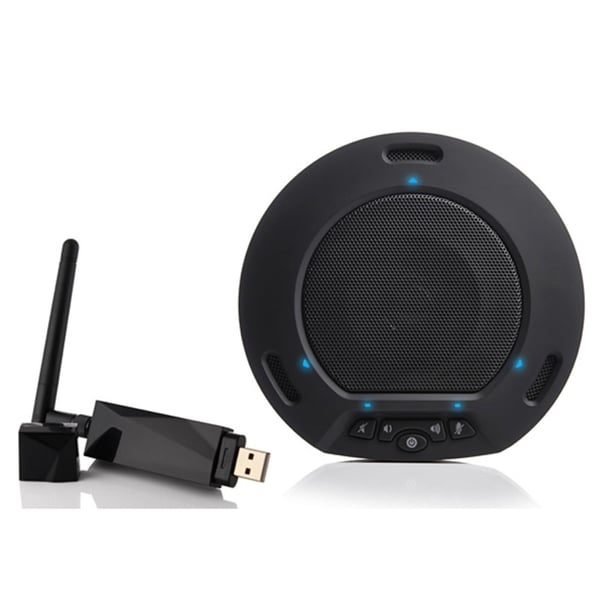 This Wireless Speakerphone has Echo Cancellation and Intelligent Noise Cancellation

8. Shortcuts: All conferencing software, like Zoom, Skype, and more, have shortcuts you can memorize to call your favorite actions. For example, in Zoom if you use the screen share option a lot you might want to memorize the shortcut: ⌘ Cmd+⇧ Shift+S (PC: Alt+Shift+S). Or perhaps you are in a group call and often need to mute/unmute your mic, in Zoom the shortcut is: ⌘ Cmd+⇧ Shift+A (PC: Alt+A). Memorizing a few shortcuts in your favorite platform can save time and make your meeting more swift and efficient.

9. Integrations: Does your team use slack to communicate? Platforms like Zoom have nifty integration tools that allow you to start meetings right form Slack (see here). Using slack can allow you to set up recurring reminders so that your team members will have 5/10/20 min reminders before your meeting starts to ensure there are no stragglers!

10. Testing: Always test your video and audio before entering the call. Most softwares have a testing feature, or just join your own meeting and see how it looks. This way you can troubleshoot connection problems, adjust your lighting, make sure your speakerphone is plugged in and working, and make sure there are no stains on your shirt in the process.
Happy Conferencing!