New USDA Distance Learning Technology Grant for 2017

In 2017, the USDA will DLT (Distance Learning and Telemedicine) grant program will allocate over $17 Million Dollars in funding for distance learning and telemedicine programs. The program will help rural communities acquire technology to connect teachers and medical providers with needed expertise located at distances too far to access otherwise.
We want to help your organization secure a technology grant for distance learning and/or telemedicine. We can help with grant writing and technology planning.
"The Distance Learning & Telemedicine (DLT) program helps rural communities acquire technologies to connect teachers and medical providers serving rural residents with other teachers, medical professionals and other needed expertise located at distances too far to access otherwise." -USDA
Grant Writing Tips for Technology & Cloud Based Video Conferencing:


This year the USDA minimum grant size is $50,000 which will require a significant plan to be put in place for adding distance learning and/or telemedicine to your organization. Let's review who is eligible for this 2017 technology grant.
• Most State and local governmental entities
• Federally recognized Tribes
• Nonprofits
• For-profit businesses
How the grant funds can be used

We have below a list of the technology that is approved for the 2017 USDA DLT grant program. As you can see the program is liberal with the descriptions allows program applications the freedom to choose the best possible video conferencing, collaboration and cloud-based services available in the industry. So if you have already been looking into a video conferencing deployment you are comfortable with, it should be applicable.
Audio, video and interactive video equipment;
Terminal and data terminal equipment;
Computer hardware, network components and software;
Inside wiring and similar infrastructure that further DLT services.
Acquisition of instructional programming that is a capital asset
Acquisition of technical assistance
These grant funds can also be used for non-equipment purchases / value-add services such as installation, wiring and technical services. You may want to consider working with a local company that has the ability to include installation and a support contract as part of your application.
Do not bundle cloud-based service with other skus!
This year it looks like the USDA wants to see cloud-based services as their own separate line items on your grant proposals. The USDA has processed 100's of grants and it is becoming more common to have web-based video conferencing SKU's included in them. These recurring services will require special attention if you want your program to get funding. We have some tips and supporting information below.
It says in the Application Guide line 1285-7:
"If, in your project, you have to pay a user fee or a license fee that is part of the equipment's distributed processing application, or is associated with network cloud services or content processing, it must be presented as such in the application. If it is bundled with ordinary internet service, it will not be eligible for funding."
Recurring Expenses are not included, but there is a 3 year max...
It is important to remember that recurring expenses will not be paid for by the USDA in the DLT grant. You can however, work with your vendor to bundle up to 3 years of cloud-based services into your grant proposal. If you are bundling multiple years of cloud-based video conferencing services into your grant application you will need to prove that your organize can sustain the proposed program for the proposed duration.
Note from the USDA on recurring expenses: Recurring expenses of any kind are not covered by DLT funds. An applicant who has chosen a video conferencing solution that involves as part of that solution "hosted" Cloud services, the applicant must: 1) have their vendor bundle the hosted service (Cloud) charges into a three-year package (like a warranty), and demonstrate in your application that your organization would be able to sustain the project after that grant-financed 3-year Cloud service has ended; or 2) show in the budget that the applicant (or a source other than DLT grant monies) will cover the hosted service charges.

Grant Assistance Program

The HuddleCamHD grant assistance program can help your organization with Grant Writing and securing funding for your next project. Consider reviewing our checklist below to determine whether you have enough information to get started.
Start your site list

Gather your list of sites that will connected via video communications

Create partnerships with outside organizations

Designated Areas must have mutually beneficial reason for collaboration

Extra points are included for

Tribal Sites

Strike Force Zone

Can increase your overall score on the grant project

Look for executive buy in from your organization and partner organizations

Determine your budget with a technology inventory

What are your technology needs?

What are your current resources? How can they be improved?

What types of endpoints do you have?

Review your process of evaluation of software and hardware chosen

Working with a Grant Writer

Check with a Grant Writing to review a Validation Process to

Working with IT

Make sure your IT department

Letter of Support

Talk to the community… Who are the users of this technology?

Can you get a letter of support from the community surrounding your organization? This will help your cause

Match Commitment Letter

A 15% match commitment letter must be signed from a executive position such as a CFO or CEO from your organization

Important to develop executive buyin for your project

Sometimes executive decision and board meetings can take over 30 days
For more information please email: partners@huddlecamhd.com
Additional USDA DLT Grant Assistnace Program Benefits
HuddleCamHD is working closely with telemedicine and distance learning professionals and grant writers. KW Associates from Erie, Pennsylvania has provided us with the following value-add benefits for our program.
Benefits:
Encourage collaboration to help transform healthcare.

Allows healthcare professionals to work together seamlessly and make collective decisions with colleagues, patients and other caregivers in a real-time, user friendly, efficient environment.

We solve the challenge of video collaboration across multiple clinical scenarios and individual workflow environments.

Improve outcomes

Extend your brand

Increase revenue

Avoid Penalties

Stay competitive

Increase referrals

Reduce ER visits

Create Jobs

Offer hope

Increase Productivity
Services:
Audio and Video Design

Workflow review

Technology Assessment

On site trainings

Technical Support

Marketing Assessment

Continuing Education

Collaborative Partnerships
MARKETING AND ADVERTISING
How do I promote my telemedicine practice to reach more patients?

KW2 can help you expand awareness and reach with a full range of branding and marketing services, including strategy development, content development, website creation, social media and more.
CONTINUUM OF CARE STRATEGY
How can KW2 and team help me engage more patients?

KW2 Associates offers "continuum of care" consulting services to help you engage your patients with educational content creation/delivery, personalized patient interaction, remote patient monitoring, well care messaging programs and other community outreach strategies.
TELEHEALTH CONSULTING SERVICES
How do I get started with telemedicine?

KW2 Associates offers a full range of telehealth consulting services that can help you develop a strategic plan for implementing a clinically beneficial, cost-effective telemedicine program that optimizes resources and enhances outcomes. Implement a comprehensive telemedicine program that works within your existing workflow and delivery system, and meets all regulatory, reimbursement and billing compliance requirements. Monitor, report and analyze clinical and operational performance for continuous improvement.
PREDICTIVE ANALYSIS
How can my telemedicine program help me achieve improvements in TCO?

KW2 Associates offers predictive analytics services that can help you identify and optimize patient outreach and engagement to avoid unnecessary readmissions, improve operational efficiencies and achieve better overall TCO for delivery of care.
PROGRAM PERFORMANCE & MEASUREMENT
How will I measure the impact of a telemedicine platform?

KW2 Associates can help you establish measureable goals and objectives for your telemedicine program, and set up a system of clinical and operation scorecards, monthly or quarterly analysis, and metrics and data analytics reports to ensure ongoing process improvements and to enable value-based impact analysis in support of MACRA, MIPS, ACO payment models
MANAGED SERVICES
What about ongoing technical support?
KW2 Associates offers full telehealth technology support, including 24/7 help desk, proactive IT/equipment remote managing and monitoring, medical device integration, and more.
Telehealth has the ability to transform the way you provide care by allowing your patients to connect with you from anywhere. Our proven, user-friendly video platform transitions your office workflows into an interactive online environment, helping you improve patient engagement and practice performance
Provider Flexibility
Control your availability with scheduled or on demand visits and deliver care from anywhere; office, home or on the go. You'll also have access to updated patient health information, giving you the right information at the point of care.
Patient Satisfaction
The demand for services online continues to grow, and healthcare is no exception. Save your patients time and hassle by reducing waiting room time and eliminating travel time – a video visit can save your patients 150 minutes.*
Offer extended office hours or transition acute care phone calls to video visits during peak call times as an added service that benefits both your patients and your bottom line.
Staff Efficiency
Take the best of your office experience online in one platform. A patient waiting room and delegated staff intake provide a welcoming experience for patients before their visit. Integrated front office workflows such as payment collection and patient self-scheduling save your staff time.
Boost Revenue with Video Visits
Payment models continue to evolve and now, more than ever, you have to stay up to date on new revenue opportunities while continuing to manage more of your patient population under value based contracts.
TeleMedicine Specific Information:


We have partnered with a mobile telemedicine cart provider with the following telemedicine and distance learning solution that you may find useful when applying for the USDA DLT (Distance Learning and Telemedicine) Grant for 2017.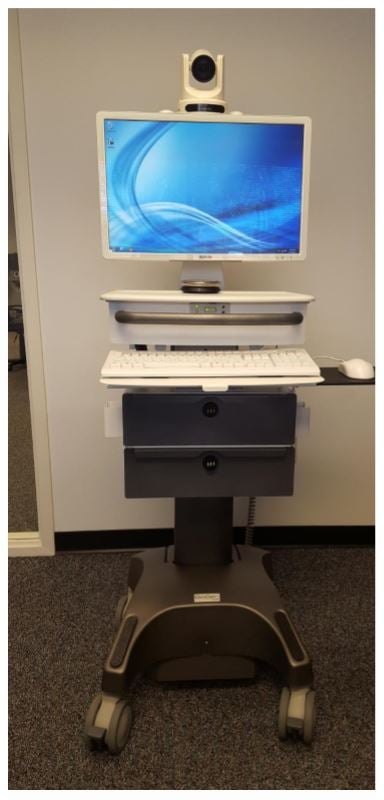 Powered Cart Specifications:
$9,495+shipping and maintenance

Oversized 19" wide x 14" deep work surface with integrated keyboard light

Contoured Handle and Work Surface with 16" adjustable height range

Windows 7 or 10 Professional

Far End Camera Control

Lithium Iron Phosphate Battery

Antimicrobial Surfaces

Locking storage compartment with

USB Charging station

White 24" LED display

12x Pan Tilt Zoom USB 3.0 camera with Remote

White Washable Keyboard & Mouse

Medical Grade 14"Coiled Cord

External Wi-Fi Antenna for improved signal strength

Intel i7 processor with Solid State Drive

Customer operating system images available

Made in the USA
TeleMedicine & Distance Learning Maintenance:
Advanced parts replacement included with MDI attached support label

1- 800 Phone and email support 9AM to 5PM Monday through Friday

Additional 24/7 and Holiday support available

Advanced parts replacement included failed parts required to be return to MDI for testing or fees will apply

Warranty covers manufacturer defects only and does not cover physical damage

Peripherals Exam Tools:

JEDMED USB Digital

Derma scope and Otoscope

Thinklabs Digital Stethoscope Managed
TeleMedicine & Distance Learning Services:
Onsite training and clinical workflow evaluation

On Premise configuration

Streaming solutions for Education

Fleet View management

Software Cart Warranty: Mechanical/Electrical 3 Years

Battery Defect 5 Years

Battery Performance 2 Years
Options: Dual Monitor Front and Rear Articulating Storage Drawers, Mounts, Holders and Baskets