Hello Educators & IT Pro's!
Skype and Skype for Business/Lync are being used for education and distance learning around the world. With the latest enhancements to Skype for Business including live translation this trend is going to continue. Pricing for Skype for Business is now only $5.50/month for video conferencing access with up to 250 participants! Just imagine the potential use case's for the education market!
So we put our AV room configuration tool to good use designing 3 Skype classroom designs. When you are designing a 21st century classroom the need to support software like Skype for Business is becoming a popular topic. Equiping classrooms for distance learning and video conferencing technology to include additional students and/or professor is not as difficult as it once was onlky 3-5 years ago.
Every classroom is different so for this tutorial video we simply review some of the most basic classroom designs and build video conferencing systems from scratch. You can always upload your own images and designto create the perfect representation of your classroom. To learn more about using the CRS room configuration tool click here.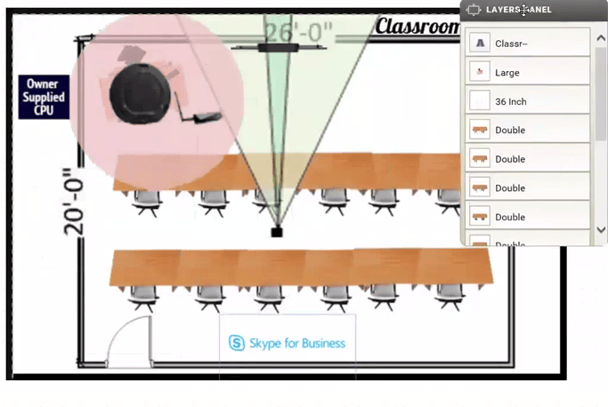 Standard Classroom

Only using 1 camera and 1 microphone
Simple set up built to broadcast a teachers audio and video

Training Room

Using 2 cameras to show the presenter and classroom of students/participants
Using multiple microphone to pick up entire room

Multipurpose Room

Demonstration of using the CRS Room Configuration Tool in unique spaces
If you are interested in learning more about Skype for Business Systems and Layouts please join our Free Skype for Business Webinar held every Friday.