Touch Screen LCD's are making collaboration and meeting experiences fun again! That's right. Everything you heard about meetings being a giant waste of time goes away when people are actually engaged. So let's start.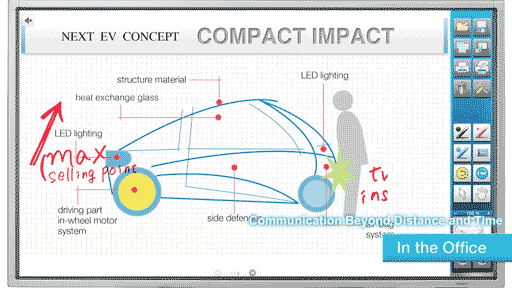 1. Interactivity
Give your meetings Edge. Traditional presentation equipment is tedious and hard to use. Making your presentation interactive allows users to mark up documents and make suggestions real time that stand out and make all the difference.
2. Engage your Audience
Give your sales team the tools they need to impress. Interactive notetaking, presentation highlighting and the like will give your team a competitive edge. Whether it's a in house training or a important sales demo, your going to keep people engaged.
3. Collaborate real-time
GoToMeeting and WebEX have annotation features right? But have you ever tried using them with a keyboard and mouse? It stinks! Using a Touch Screen LCD to enhance collaboration especially for detail oriented tasks.
4. Full Screen Brainstorming
Brainstorming is always great. When you really get your team going, that's when the magic happens. But who was supposed to take notes? Inspire your next brainstorming session and capture your ideas digitally to be shared with everyone.
5. Never erase your meetings notes again
No more taking pictures of a whiteboard. No more erasing of those creative white boarding sessions. Simply add page after page digitally and email out the entire session when your done!
6. Microsoft Office Integration
If you have a office job, you probably use Microsoft Office. Well guess what? Ever since Microsoft Office 2010, there is built-in interactive technology support. Just plug in any Touch Screen or annotation device to your computer and Microsoft Office allows for annotation directly into PowerPoint, Excel and Word!
6. It's a good investment
When it comes down to ROI, the most valuable asset your company has is time. If you can make your meetings more fun and engaging that's great. But looks at these simple facts. People remember 10% of what they hear, 20% of what they read and 80% of what they see. Imagine what a touch screen LCD can do for your next meeting!