Skype for Business, Improved and Integrated with Office 365


Microsoft has replaced Microsoft Lync with the improved Skype for Business video conferencing software. Skype for Business is an improvement over Microsoft Lync while retaining the same popular features and adding new ones. Great news for professionals, Skype for Business offers new integrations with Office 365. There are three pricing plans now available for users – Business Online 1, Business Online 2 and Server 2015.
No Skype for Business & Google Calendars Integration?
We wanted to add here that there is currently now Skype for Business & Google Calendar integration. There is a work around we found at a blog published here. But it looks like Microsoft is definitely keeping all the of calendaring information of Skype for Business with MIcrosoft Exchange. What does that mean for Skype for Business users at he $2 and $5 a month level? Well if you don't already have Microsoft Exchange you will not be able to schedule video conferencing calls at all. You can use a work around but it's quite tricky and Microsoft is now selling Skype for Business as a internal communication tools rather than a external sales and marketing tool.
You can watch a video on Skype for Business and Google Calendar integration tutorials here.
Major Improvement in Skype for Business
The major improvement in Skype for Business over Microsoft Lync is the introduction of the Enterprise Voice feature to Business Office 365 users. It allows them to place calls and start conferences over old school landline (PTSN) connections with an old phone number. Previously, this was only available with Lync server setup and users had to pay for a separate PTSN service from a third party provider. With Skype for Business, Microsoft is working with a variety of partners including – AT&T, Verizon and Vodafone to make VoIP and landline call transition more simple.
The company has also improved its conference room systems which transform traditional meeting spaces with Skype technology saving time and money. Skype for Business has transformed the traditional Lync UI with a more familiar Skype UI which is being used by millions. Microsoft is also improving its cloud based communications with the launch of Skype of Business. The company has integrated video and audio conferencing directly into Office 365 making it easier for professionals to contact co-workers without needing to open any other application.
Microsoft's strategic partners AT&T, BT, Colt, Equinix, Level 3 Communications, Orange Business Services, TATA Communications, Telstra, Verizon and Vodafone, will deliver direct connections to Office 365 Skype for Business customers through Azure ExpressRoute for Office 365. Skype for Business has three partners which will manufacture advanced room systems for video conferences providing an optimal meeting experience. Surface Hub is another device for Skype for Business users which has a large screen built for ink & touch and is optimized for group collaboration. It utilizes white board with OneNote which can be integrated in conferences and allows multiple people to share and edit content on screen, increasing overall engagement.
Skype for Business delivers a more natural, intuitive and intelligent communication experience for professionals. It not only simplifies the user experience but also increases engagement and saves costs for the organization.
Enterprise Voice lights up PBX-features like call-forwarding and simul-ring. PSTN Calling provides dedicated numbers for making and receiving PSTN calls, and audio conferencing allows attendees to join meetings on any phone. The traditional features still remain in Skype for Business such as file sharing, Microsoft Exchange calendar integration and cross platform compatibility.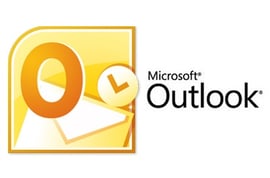 Skype for Business utilizes the advance features of Microsoft Outlook, users can see the contact card of everyone working in the same app and quickly send IM or email or start a call directly. Professionals can also schedule meetings and see IM history in Outlook. All communications are protected by strong authentication and encryption methods ensuring absolute privacy for conversations. The user has control over employee accounts which allows him/her to assign features based on specific employee collaboration needs.
Skype for Business Pricing Plan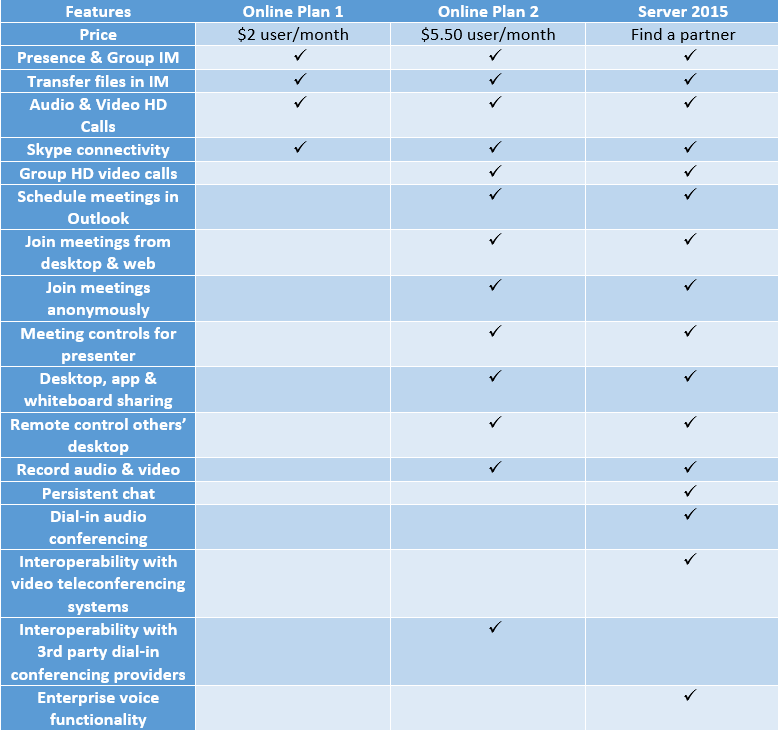 Skype for Business has three pricing plans which vary from business to business. A small organization can purchase Online Plan 1 which has limited features, enough for a small enterprise. Medium businesses can purchase Online Plan 2 which has all the features except for Enterprise voice, dial-in audio conferencing and interoperability with video teleconferencing systems but does support 3rd party dial-in conferencing. For large organizations, Server 2015 is the optimal option which is offered through different Skype partners in different packages and prices. It is the most complete package and offers the best experience.
Skype for Business's integration with Office 365 is a threat to Google. The search giant has cleverly integrated its cloud based service Drive efficiently with its own productivity suite. Google Docs, Sheets and Slides offer excellent productivity options from within Gmail, Drive, Chrome and so on. All Google apps are integrated with each other delivering ease of access and use.
With Skype for Business and Office 365, Microsoft has proved that Office 365 remains the most powerful productivity suite for offices and with added features of voice and audio calls, it only gets better. Skype for Business is not only better but also cheaper compared to other third party meeting providers. These meeting providers are no match of Microsoft's vast data canter structure and huge R&D behind its products. Seventy nine million people were already using Microsoft Lync and has increased substantially in past years. For businesses, Skype for Business is an optimal professional communication tool to make their businesses more efficient and effective.