Hello ProAV & IT Professionals!
Time for another side by side review. This time we are taking out the Barco Clickshare wireless presentation appliances. Barco has two entry level wireless presentation solutions for one or two simultaneous wireless presentation in full HD 1080p resolution. So, let's start this wireless presentation review with a side by side comparison chart below.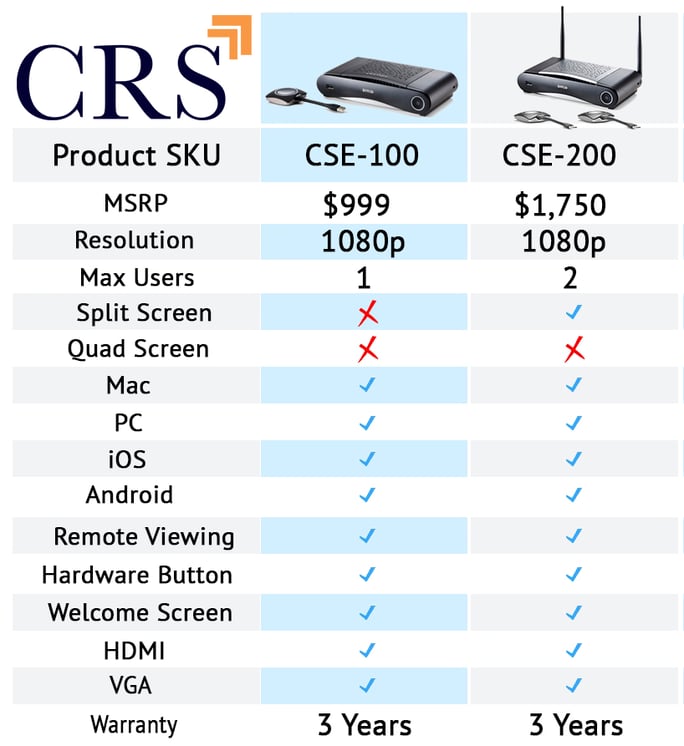 As you can see, each model has the exact same warranty and many of the same features. The Barco ClickShare CSE-100 is only $999 and the Clickshare CSE-200 is $1,750. So what is the big difference? The Clickshare CSE-200 includes two barco buttons which are usually $295 each (so don't lose them) and the CSE-200 allows two simultaneuos presenters to use the clickshare at the same time. Other than that, both Barco Clickshare models will allow you to add wireless presentation capabilites to your conference space with ease.
Barco Clickshare CSE-100 vs CSE-200 Video
In this video, we review the Barco Clickshare CSE-100 and CSE-200 wireless presentation appliances. Barco's line of wireless presentation solutions are unique because they offer the ability to "Plug into Simplicity" with an easy USB Barco Button that provides instant wireless presentation capabilities for any Mac or PC. As we review in this presentation the Barco ClickShare CSE-100 and CSE-200 have some functionality and pricing differences to be aware of. Both products provide the best in class ease of use for a wireless presentation conference room experience at your office.
Reasons why Clickshare's work for our customers:
Easy installation - Simply plug into power and HDMI
Easy End User Experience - Simple USB connection to any PC or Mac Computer
No Network Needed - Unlike other wireless presentation solutions that leverage your wireless network... The Barco Clickshare can create it's own wireless connection to users without issue.
Enterprise Management Software - One feature we did not hit on in our video is the enterprise management software. Call our sales team to learn more.
Small or Large Options - Another feature we did not mention in our video is the larger models available from Barco. Barco has a CSC-100 which supports 4 simultaneuos users and a new 4K model. You can see more on our website here.
The Barco Clickshare is a great wireless presentation solution and we have a comparison chart and blog post against other solutions on the market available here: http://info.conferenceroomsystems.com/barco-clickshare-vs-crestron-airmedia.
Give our sales team a call or click here to check out our wireless presentation solutions in more detail - http://www.conferenceroomsystems.com/SearchResults.asp?Search=barco&Submit=