The Barco ClickShare webinar today released quite a few new and important feature updates from Barco.
New Enterprise Management Suite
The "My Barco Account"
ClickShare API Integration
New Button Management
We were able to get the Webinars PowerPoint on Slideshare! Check out our informative Slideshare from the meeting.
New Enterprise Management Suite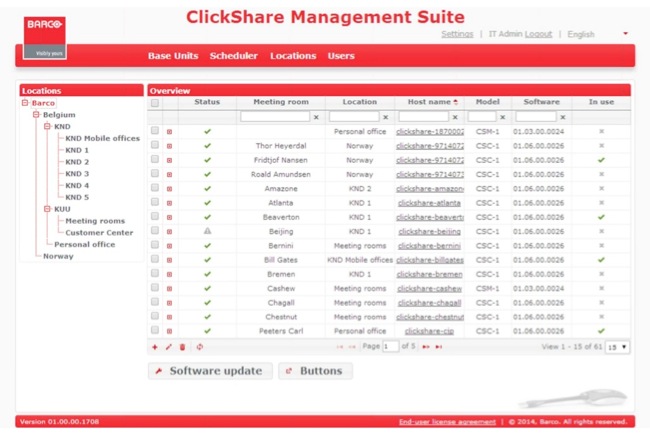 The best thing about the new enterprise management suite is the that fact that it will be free! This is a free update available for download for any Barco ClickShare user. Once you have depolyed multiple barco clickshares on your network you won't want to do without your management software. Before this updated firmware and syncing Barco Buttons was somewhat of a pain. Now everything is automated! It's easy to push out or even schedule firmware updates from your management suite software once the latest updates are downloaded.

The "My Barco Account"
The first thing your going to want to do is sign up for a My Barco Account. This allows you to download the management software and stay up to date on new firmware releases. If you have a older Barco ClickShare unit that may be running older firmware that is 1 or 2 years old I highly suggest you get that latest updates installed. New features have been released roughly once a quarter covering everything from increased security to enhanced collaboration upgrades. Sign up for a "My Barco Account" here.

ClickShare API Integration
The ClickShare now offers API integration for control system such as: Crestron and AMX. This now allows for wireless presentation to controlled and integrated with installed systems. One example would be video conferencing. More about the clickshare API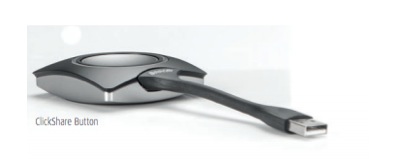 New Button Management
In a upcoming update Barco Buttons are soon going to be controlled over your local WiFi access point if desired. In this instance, highly secure networks can keep the entire Barco ClickShare presentation experience on a secure network. You can also then push updates and firmware directly to the each barco button. Pretty cool huh? Learn more at next weeks webinar!