Cisco Jabber vs Skype for Business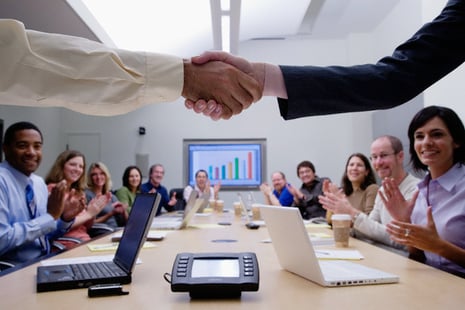 Cisco Jabber and Skype for Business (formerly Lync) are two of the most widely used video conferencing softwares in the world. Reason being, both softwares are developed by highly reputable companies with extensive background knowledge on office software and hardware. Cisco is the most popular networking, video conferencing and office equipment manufacturer while Microsoft is the pioneer behind Office applications. Both applications fight neck to neck to gain corporate awareness and with video conferencing now a common practice in organizations it's about time both companies polish their tools even more.
Skype for Business
Skype for Business formerly known as Microsoft Lync is a version of Skype adapted for professional use. Skype is the most used video calling application in the world. It has more than 400 million monthly active users worldwide and its user base is ever expanding. Skype for Business is built on the same platform but with a corporate approach adapted for business use. It is used for internal and external communication and offers dozens of unique features.
Skype for Business has a new even simpler user interface compared to Lync. People who are already familiar with Skype can get used to Skype for Business within minutes. Some new features in Skype for Business are:
Improved look and feel
Call from Skype for Business using your desk phone for audio
Integration with the Skype directory
Call Monitor
Rate My Call
Quick access call controls
Microsoft Lync features retained in Skype for Business include the popular Quick Actions buttons which allow users to IM or call a contact with just one click. The Skype meeting room has been simplified with easy to find commands and text formatting for chats. These changes help save time by quickly finding the command you are looking for and distinguishing between messages from different co-workers.
Skype for Business is owned and designed by Microsoft equipping it with the best Office integration available for video conferencing The company has further improved these features by adding a preview option before downloading the file and compatibility with apple products.
Another new feature added to Skype for Business allows users to make Skype calls using a desk phone for audio. Although this feature is only available to organizations with Skype Server 2015, most organizations who use Skype for Business are already equipped with this server. The feature requires a Private Branch Exchange (PBX) desk phone which is configured to work with Skype for Business. This allows the application to search for co-workers within your organization and place them into a call through Skype for Business interface. The added advantages of calling from Skype for Business through your desk phone are that your caller id remains unchanged and you get extra features such as IM, desktop & app sharing and attachments transfer during a call, all without compromising audio quality.
Skype for Business also adds Skype directory in the UI connecting to millions of Skype users. All you have to do is search for your contact and if he/she is not in your contact list then the Skype directory search can help find and contact them. Call monitor which was only available to Skype users is now also available for Skype for Business users. This is an excellent addition which allows better multi-tasking for professionals. The popular quick access controls are still just as user friendly and the dial-pad is just one click away. Overall, Skype for Business has greatly improved since Microsoft Lync and is a must have for business organizations.
Cisco

Jabber
Cisco Jabber is a direct competitor to Skype for Business. It offers identical features and has the hardware to back it for optimal experience. The application provides unifying communication across numerous platforms and devices much like Skype for Business. It lets you access presence, instant messaging (IM), voice, video, voice messaging, desktop sharing, and conferencing. Some of the features offered by Cisco Jabber:
Instantly Interact with IM and Presence
Business-Class IP Voice and Video Telephony
A complete collaboration experience for your iPad
Communication From Microsoft Office
Mobile Collaboration-Anywhere on Any Device
Communication Within Web Applications
Cisco Jabber offers excellent features that rival those of Skype for Business. It lets you IM and presence without any hassle and shows the availability of all your contacts at a glance, allowing you to start a chat with an individual or group without any delay. Cisco is also compatible with both internal and external communication.
Cisco Jabber is a soft phone with HD video calls and desktop sharing features. It is powered by Cisco's Unified Communications technology allowing in-call control and secure, reliable communication. The Unified communication technology delivers the same experience across all devices. Cisco Jabber is available on iPad, Android and other devices. For the best mobile experience, Cisco recommends using an iPad which lets you access presence, IM, choice, video and conferencing from anywhere in the world.
Similar to Skype for Business, Cisco Jabber is also integrated with Microsoft Office which allows users to see availability status of other users and contact them from within Microsoft Office. The mobile experience is just as efficient as the desktop version delivering smooth video and voice calls and on the go IM chats. The biggest advantage to Cisco Jabber is its development kit which allows developers to develop web-based applications which can then communicate with Cisco Jabber, simplifying the workforce and increasing productivity.
Conclusion
Skype for Business and Cisco Jabber have very similar applications providing a superior quality experience for professional organizations unified communications platforms. They both offer IM, voice & video calls, voice messages, VoIP calling, desk phone calls, attachments and Office integrations. Cisco, however, has a decades of experience with hardware based video conferencing and the networking infrastructure required to run a unified communications platform. Both applications can have cross platform compatibility (with federation) and device agnostic communication. With both products providing a majority of the same features and high quality service it comes down to your unique business needs. While Cisco also offers specialized hardware to back its software, Skype has Microsoft's unmatched versatility to be configured with virtually any video conferencing hardware. Microsoft's growing cloud offerings such as Office 365 and sharepoint integrate seamlessly with Skype for Business. We hope this brief summary is helpful for you and your organization. CRS has worked closely with UnifiedCT to create Unyfy a Skype for Business software application that combines Skype for Business, Microsoft Exchange and 3rd party meeting applications like GoToMeeting, WebEX and Zoom.US. Our 2016 Q1 road map will include the ability to switch the software backbone SDK from Skype for Business to Cisco Jabber/WebEX with the click of a button :) Feel free to download a free trial of our software below.
More on Skype for Business Video Conferencing Tips