Ever wonder how the major television networks such as QVC and HSN create their infomercials? They have taken the ability to sell over video and turned it into an art. Here at PTZOptics we decided to break down the magic and create a free download kit for our customers to learn exactly how they can use the formula with their own products and services.
Sound too good to be true? It's not just a magic formula… There is a complete culture shift happening today in regards to how the world is consuming media. It's happened once before in the 1950's when the world started to leave radio for television. Now in the first part of the 21st century, we are seeing consumers leave traditional television media and move to internet-based video consumption.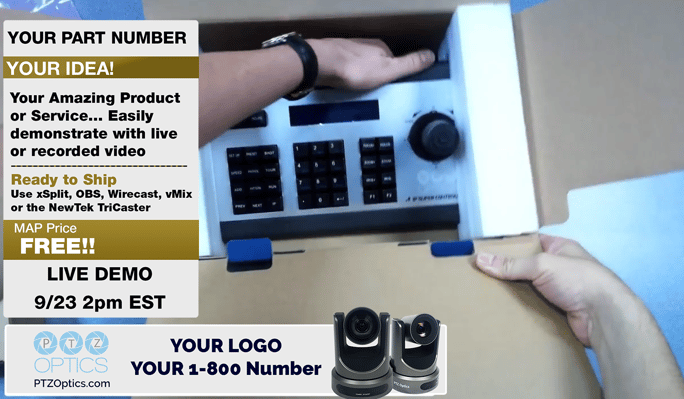 In the video below, we show you how to create videos like QVC and provide you with aFREE download of the resources you need to get started. First, we start with a high-quality video image of your talent. You can use a green screen, a virtual set, or simply a clean office background. It's important that this base layer is done properly because this is where your talent will perform.
On top of your talent layer, we start to build out the QVC style with a sidebar and lower third. The sidebar includes all the basic information about your product as your talent goes into more detail during your video. The lower third can include anything you want, but generally, it includes contact information and/or a call to action such as your 1-800 number.
Rinse, Wash, Repeat…
The beauty of this system is that once you have built your template you can simply reload your graphics and start all over again. The basic workflow would be as follows:
Get Attention - Introduce yourself with enthusiasm
Identify the Problem - Introduction to the product
Agitate the Problem - Product Presentation
Identify the Solution - Make your Value Add Proposition
5. Outro Video - Call to Action - Reviews… Facts… Social Proof (If you have it use it!)
You can download our QVC Style video starter kit here:http://ptzoptics.com/landing/QVC-style.html OR take one of our free online courses on video production here: http://ptzoptics.com/landing/coupons.html
Upcoming Live Show w/ Q&A