Making MS Lync work for Video Conferencing
Customizing your MS Lync experience might be easier than you imagine with Windows 7 and 8.1 professional's latest features. Before we begin it's worth noting your MS Lync experience can be "customized" or "locked down" using Windows 7 or 8. But for this blog post we are going to cover customizing MS Lync using Windows 8 or 8.1 professional to get technical. At CRS we believe customizing your Lync experience will enhance the end user experience and make the entire Micrsoft Lync video conferencing experience easier. Also, note we have another post on "Locking Down Windows for MS Lync Here"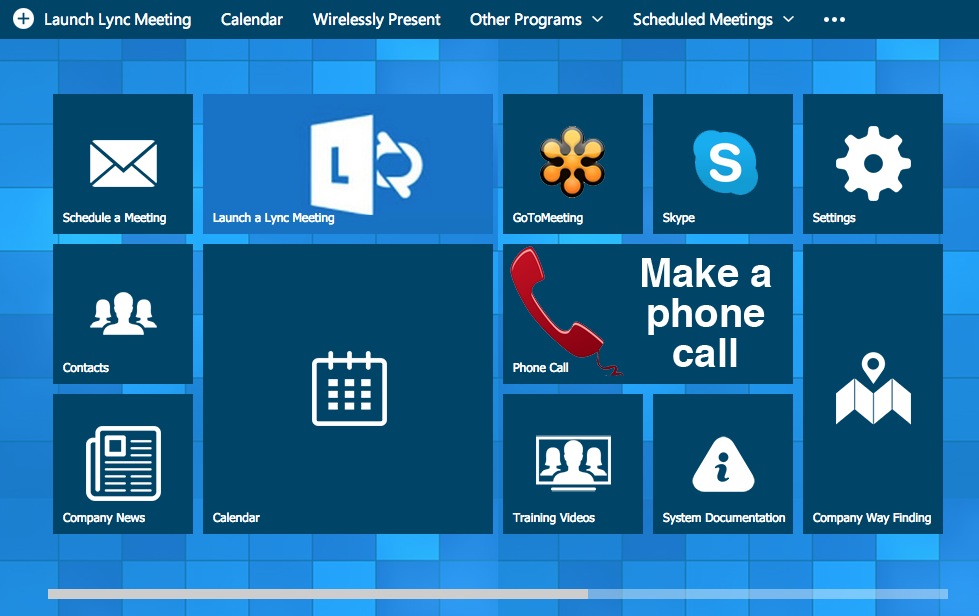 First step: Simplify
So the first thing we wanted to do for MS Lync video conferencing is simplify the options. We chose just the essential Lync and video conferencing "apps" to be added to our Windows 8 launching experience.
The following applications are available in our sample "Lync Video Room" Windows 8 Splash Screen
Schedule a Meeting (Lync API)
Contact List (Lync API)
Company News (Digital Signage Link)
Launch a Lync Meeting (Lync API)
Calendar (Outlook Calendar)
Other Software (GoToMeeting and Skype)
Soft Phone integration (Skype or VoIP PBX)
Training Video Link
System documentation
Settings
Company Way Finding
So this is not a short list. Truthfully it was made for a customer who had detailed requirements. If you do not have a way finding system or digital signage system you may be able to further simplify the end user experience. That's the beauty of Windows 8 new system.
SlideShare
Making Lync Easy
So if you are unfamiliar with CRS "USB Based" video conferencing systems I will quickly bring you up to date. Our systems are completely "USB Based" meaning they work with GoToMeeting, Skype, WebEX and of course MS Lync. With a CRS System in place we then customize the "Windows 8 Shell" to provide a easy to use interface that provides exactly what you want to serve to your user without cluttering up the control panel.
Control
Providing a touch screen controller for your USB based video conferencing system is valuable but not essential. For only $600 you can add a touch screen that will screen mirror your "soft codec" Windows based computer allowing users to take advantage of the Windows 8 touch experience. This system above shows the touch screen with a Logitech CC3000e, a Intel NUC PC and a wireless keyboard and mouse. Full list of the latest CRS systems is here: http://www.conferenceroomsystems.com/Complete-Systems-s/1859.htm
Deploying MS Lync
Deploying MS lync either on premise or in the cloud is really up to your IT department. At CRS we help with the implementation of compatible video conferencing equipment and customizing Windows 7 or 8 to fit your end user experience requirements. MS Lync can often be a more powerful tool than traditional video conferencing systems with unlimited flexibility.
Security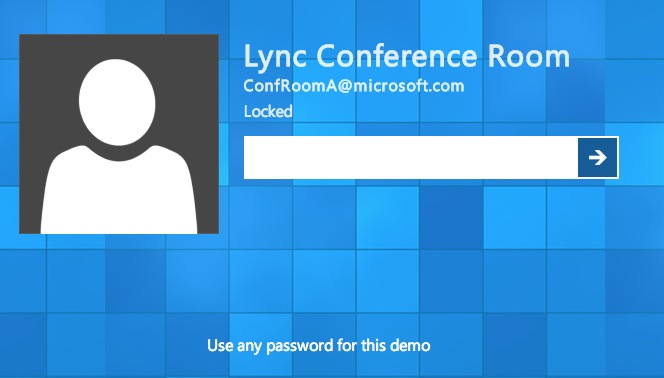 Most MS Lync depolyments of any large scale are done "on premise". So security is usually handled internally but we do have option "conference room" level security. Would you like to add a password to your Lync enabled conference room? Check out this example here. It might be a good idea to add company password to the Lync Conference Room.