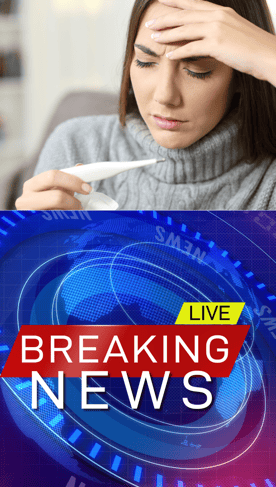 It's certainly a unique time for those of us in the professional audiovisual industry. For designers, integrators, re-sellers and technology managers, the niche industry that usually consumes us with the deeply technical side of things has now shifted into mainstream conversations.
Why? As most of us have noticed, the news media, local municipalities, counties, schools and businesses have been working feverishly to convey critical information to the public about the recent outbreak of COVID-19, known commonly as coronavirus. While many may disagree about the severity of the virus, two things are certain. The virus is spreading, and businesses are cancelling conferences, meetings and other events to prevent their employees' exposure.
According to The Lancet, "the national security strategy for COVID-19 within China has shifted to so-called wartime control measures," with cities on lock down.
What Should Businesses Do to Stay Focused?
Audiovisual tools, such as video and audio conferencing technologies, are getting more interest in light of this outbreak. The reality is that Coronavirus has now affected multiple countries outside of China, so these technologies have gained greater significance because of their ability to help businesses maintain some of the status quo.
Feeling this deep responsibility as technology experts, our teams are educating businesses of all sizes on how to keep their employees engaged and maintain predictable communication with their customers.
More than Just the Hype:
The truth is that we live in an age where employees are distributed geographically, and many others expect to be able to work from home on a consistent basis. These trends are growing in popularity. Audiovisual integrators, such as our parent company Haverford Systems, can pave the way for companies who may otherwise feel as if they are embarking upon a massive business experiment. We can provide the guidance, the expertise, the tools and the support companies need today more than ever.
The good news is that audiovisual technologies can be adopted in the midst of a crisis and then grow to play critical roles in a company's regular communications infrastructure.
As an added bonus, internal employee communications get a big boost from audiovisual technologies, such as digital signage. Everything from company anniversaries, birthdays and important events and initiatives can be highlighted on these displays. Likewise, wireless screen sharing and on-screen annotation allow employees to collaborate among their teams. Live streaming to social media networks brings meetings to the masses; including, town halls, conferences and webinars.
Here are just a few examples of technologies that be utilized in today's business setting:
Audio Conferencing
Digital Signage
Video Conferencing
Video Walls for Meeting and Training Spaces
Whiteboards
Wireless Screen Sharing
Zoom Rooms
We've gone into much more detail in our free, downloadable guide. Check it out, and keep your calendar open on Wednesday, March 25 at 1 p.m. for a webinar that brings it all together!
Please reach our team today with questions or for product demos at 484-593-2314.