For our latest podcast interview we had the chance to question Mark Coxon of Barco and also the co-host of a great new AV Podcast called AV Smackdown. We go through Barco's company history and unique advantages in creating conference room technology. Mark also gives us a look at one of their newest products for the conference room, the Clickshare. Lastly we learn about Barco's other offerings and take a look into the future of the company.
Thinking about a wireless presentation device for your meeting room? Contact us now to find out which one is best for your business.
---
---
I'm here with Mark Coxon of Barco. Mark, do you want to introduce yourself and tell us a bit about what you do?
I'm Mark Coxon. I'm with Barco. I'm a regional sales manager for Barco on the West Coast, so for California, Nevada, Arizona and Hawaii. My day-to-day job is helping dealers and consultants and users put all the pieces together so they can find the correct Barco solution for their problems.
I'm sure everybody already knows who Barco is. It's one of the most recognizable names in the AV industry and has been around seemingly since the start of it. I mainly associate projectors and other display systems with Barco. When did the company start branching out into meeting and boardroom solutions beyond the display?
You're correct to associate Barco with projection, it really is our history. But in 2013, we came out with a new product called ClickShare. Click-share is now 5 years old. It just had its 5th birthday this year. Really what we saw in this space was that we were doing a lot of work in operations centers, situation rooms, and things like that on the corporate world. We saw a real need for collaboration products. That's where ClickShare was born and we've continued to innovate over the last 5 years. The great thing about ClickShare is that even though it is a product that was introduced 5 years ago, it's a product that has changed quite a bit over time and we continue to provide those firmware updates and those upgrades to our existing clients at no charge which is really cool.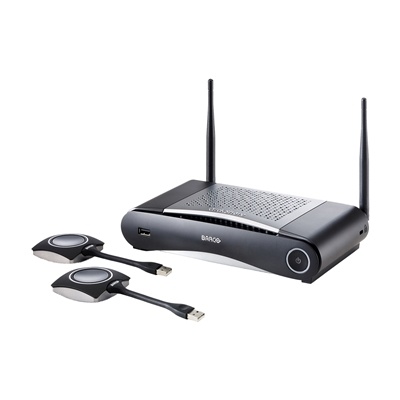 That is very cool and almost leads into my next question, the fact that Barco has been in the business world for so long gives you a unique advantage to figuring out what people need and designing collaboration products. Do you think that's true, and how so?
It's one of those things, when you spoke earlier about associating Barco strictly with projection. I think most people's first experience with Barco was in that world. Especially in the corporate AV space. If they weren't part of Barco's operations-partner team they didn't know that we were doing these operation centers, emergency operations centers, or that we were doing work for oil and gas for data visualization. They never really saw that part of Barco's business, it was a very niche business for a long time. We've really been working closely with end customers and our dealers for a lot of years to learn what their problems are, how they want to see data, learning how to get different pieces of data into the system from multiple sources and bring them into one dashboard where they can see things. That history, and that closeness with our end customer, has really served us well in developing products that we brought more into the mainstream of our enterprise that you see now.
That's really what we love about Barco's ClickShare, the efficiency of bringing a whole bunch of people in together and being able to easily put everything in one place. The ClickShare is one of our favorite products for collaboration. Maybe you could expand on that and the inspiration to create it? Tell us what the product is all about.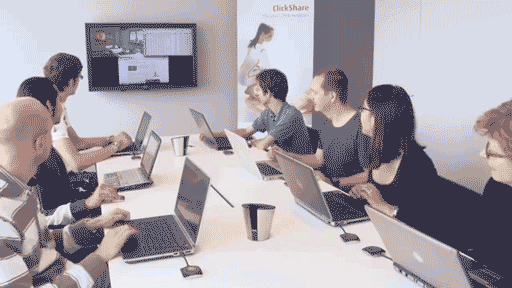 Sure. ClickShare is a wireless collaboration product. That doesn't mean much to anybody that doesn't pay attention to AV buzzwords. But really what it does is it allows people to be able to come in, set down their laptop on a table, plug in one USB cable, push a button and get their display up on the screen. Where we've had a lot of success with ClickShare is it's the easiest way to start to share content to a screen on the market. The nice thing about ClickShare is it can be implemented in a whole bunch of different ways.
There are products on the market that are wireless collaboration products that just go through the network or are app-based and require a program to be installed on the computer; or they may or may not have great wireless security. The great thing about ClickShare is that we've really developed a product so that we're making it work in a way that the customer needs it to work. Let's say that the customer wants the traffic to go through their secure network and they don't want to create an ad hoc wireless connection from the laptop to the ClickShare base unit. You can turn that wireless radio off, use your existing access points, and point all your traffic through your network that you've got firewalled and secured and you don't have to convince an IT manager to open up a new wireless device in a space that they are not comfortable with.
Or on the opposite end, some people don't want all that traffic. If traffic goes through your corporate server in Illinois, you don't want every single meeting having to take their data and all that screen sharing and go through that server and clog down those switches hundreds of miles away. Why would you want to do that? Being able to do something ad hoc in the space and create that connection on-site that goes straight from the button plugged into your laptop to the ClickShare unit that's over by the display without taking up all that traffic. And you don't sacrifice device security on either end, because Click-share is encrypted. It has 256-bit encryption, we've got all sorts of white papers on how to secure it.
AWe also have engineers that are constantly assessing new things like wannacry, Spectre, and Melt-down and we come out with papers on those when those IT threats come out. We've already started assessing those with ClickShare and we have answers for our CTO's when they have come and asked if our device presents a vulnerability to their company. It's been a really great product for ease of use, if you think of it from and end user's perspective. And if you think of it from a corporate perspective, being reliable and being secure are two things that greatly enhance your businesses productivity.
Is Barco planning on releasing anything similar to this, or more meeting collaboration products in the future?
ClickShare is a living, breathing ecosystem, which is awesome. As we continue to improve it, people who have base units are able to upgrade those things over time. We see a continual push for new products. We have another line of products that is very similar to ClickShare that's called WePresent which we see as a strong play in the education space. We present it as an app-based solution as opposed to a button-based solution, but if you think about a classroom where you may have 60 students, you may not want to have to manage 60 buttons in that space. You just want to be able to use Airplay or Chromecast or an app on their computer in order to share. We've seen some growth in that market.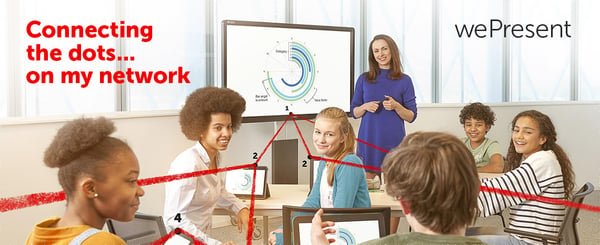 As far as Click-share goes itself, this year at Infocom, we introduced a couple of really cool things for Click-share. One is a USBC button. A lot of computers now are only coming with USBC ports and managing dongles is never a fun thing. It's probably AV people's worst nightmare. A cup full of dongles on every table. Giving customers the ability to buy buttons that work with their existing Click-share units that have a USBC connection is a great convenience.
We've also done something software-wise; we've created this new application called button manager. So, if you were an IT person and you were managing Click-share's in the past, if you wanted the buttons that come with the Click-share to pair to the base unit, you'd have to take those buttons over to the base unit and plug them in. If that base unit was behind a display or credenza or were spread out over the course of a campus you were doing a ton of walking and maybe had some accessibility issues on doing that. What we did was we created a program called Button Manager that you can actually plug those buttons into your laptop, all your ClickShares are available to you there and you can pair those right to ClickShares that are in rooms that you haven't gone to yet, and then tag those buttons and take them to that room and then they're paired to that device that's in there.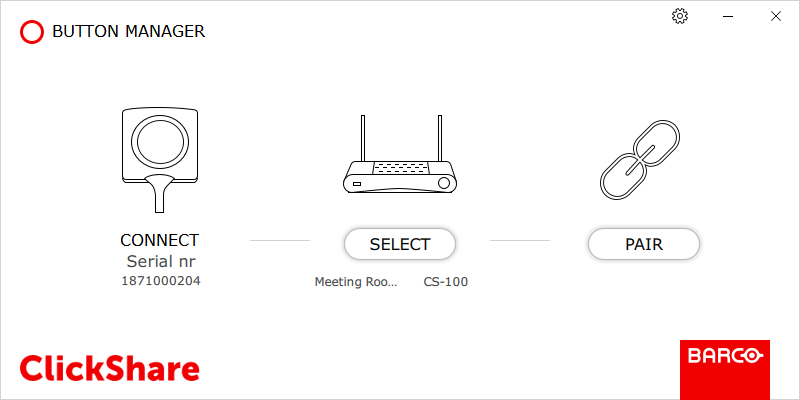 It probably takes in impact on their steps on their Apple phone, but it lets them manage their business a lot better. The other thing we came out with for ClickShare at Infocom is Touch Back. Many times, you're standing up at a display, you have a touch panel: ClickShare has a USB port on it now, even with our ClickShare CSE-200 product, you have that plugged into the USB and you touch that touch screen to advance your PowerPoint slide it's going to wirelessly tell your computer to advance to the next slide or to open that window, or play that video. It just gives us a little bit more of an interactive feedback over that USB.
Something that is not new, but we made a push for at Infocom too, is our collaboration management suite that we use for ClickShare. This tool allows IT managers to see all the devices on their network. They can see the last time the button's connected, they can see the status of the units, they can reboot the units remotely. It's a free piece of software that allows them to really manage their fleet of devices across their network and it's a huge productivity tool for them as well.
It's just awesome for us to see a company like Barco getting further into the meeting space because that's what we're all about. The reliability and ease of use of your products is so important for our customers.
Yeah, and internally we talk a lot about workflows. Because if you think about product development, it's nice to create a box and make continual improvements on the box. But if you don't have any idea, customer empathy, or know-how of people are actually working in the space it's hard to make those next-level changes. So, a lot of things that we see coming down the pipeline for Barco really have to do with managing intelligent workflows and integrating those with other ecosystems out there like Zoom or Skype where now ClickShare doesn't just share your presentation when you plug it in and hit that button it also launches your Zoom or your Skype call.
So that one button push does more than just trigger the ClickShare, it actually starts to become a one-button press to activate the whole room. As we look at how can we leverage Click-share to make things easier in a space, it really goes beyond our product and we spend and invest a lot of time and resources into making sure that we are partnering with these other people that we know companies are using and making sure that our products are working as easily with those ecosystems as possible.
Lastly, I just want to give you the chance to share with us anything else we missed. Any news updates, whatever you think listeners might find interesting?
Well, I have responsibility for everything Barco (other than our operations in medical products) so I get to talk to folks about ClickShare but also a lot about other things that we have going on. One of the biggest noise makers this year was our introduction of a product called UniSee that we introduced last year in October. UniSee is a new sub-1mm scene video wall product that has its own proprietary mounting system and it moves whole columns of things on a gear that's just a gash-shock system. It's really an engineering marvel and one of those things that I really can't do any justice to by telling you about it. It's one of those when even people have seen it in the video and then they finally come and see it in person there's a lot of "ooo's" and "ahhh's" and there's a lot of people looking at each other wide-eyed for confirmation that they just saw what they saw.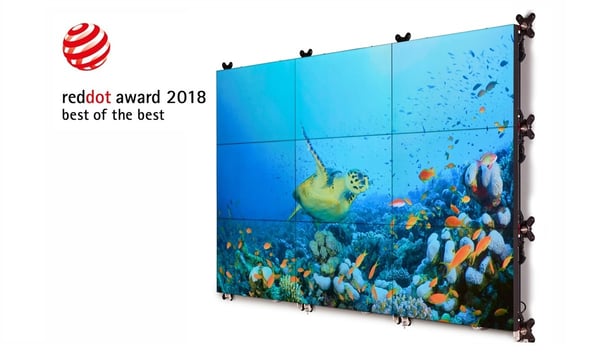 People out there that aren't familiar with UniSee should definitely go see that. It's something that Barco's spent a lot of time and money developing and it's a great product for all sorts of applications: control rooms, lobbies, and all those things.
We also have some of the best laser-phosphor projectors out there on the market. We have a product called UDX which is a really high lumen product, 22,000-32,000 lumens, that we use for large venues and projection mapping and 3D visualization and a lot of these really cool applications you see out there. We've been doing really well in shootouts with that UDX product and we have some great projects coming down the pipeline over the course of the year.

The other thing, that I have been personally working on which is great, there's a gentleman in our company called Chris Neto and myself, we have a little bit of a social media following and he and I launched a podcast called AV SmackDown. It's a new podcast where we talk about the issues that are troubling the industry, what we see as far as trends in trade shows, what we see as the next level conference room, what is a digital workplace, how does asynchronous work like Slack, Workplace, and some of these things, how does that affect the work environment.
Chris and I have launched a YouTube channel for AV SmackDown that people should subscribe to and it would give them a way to keep their finger on the polls of AV in general and Barco has been gracious enough to sponsor that for us. Really cool and exciting. Of course, I would be remiss if I didn't mention we have a product out there that is starting to get a lot of buzz called Overture. Overture is a product that really is a management, monitoring, and also a control product. For the folks out there that are looking for new ways to manage all their devices across campuses and facilities and get some real-time status of what they're using, what kind of ROI are they getting out of touch panels in conference rooms versus my Huddle spaces. Overture is a really cool product that once people see it again, they get it. I guess I would advise people to reach out to their Barco rep and ask for a demo of that so they can see what it's all about.
---
Looking for a wireless presentation device like the Clickshare? Take a look at our Wireless Presentation Catalog to compare the: Barco ClickShare, Crestron AirMedia, and the Mersive Solstice.
OR
Contact a dedicated account manager for more information >>
---
More on Conference Room System Management
Check out our review of the top 5 conference room booking solutions here.
Learn how to check your conference rooms bandwidth for video calling here.
Interview with Barco Clickshare here
Looking for conference room computer? Check out how to install the Intel NUC here.
Learn how to connect h.323 & SIP conferencing systems to the cloud here.
Top 10 tools for audio visual design and conference room managers here.
Learn more about lighting for video conferencing in your meeting rooms here.
Learn all about video conferencing strategy here.
Huddle Room Hero's: Great Tech for Small Spaces here
Learn about designing "Zoom Rooms" for video conferencing here.