Facebook started off the new year by introducing a new application that's going to change the game for live streaming. Hosting more than 1.8 Billion users, Facebook is constantly producing clever ways to increase ease of user interface. Facebook has certainly jumped on board with the rise of live streaming. The new Facebook Live Streaming App has made the process handy for people at any level of experience. Users are now able to connect directly to a streaming device like the PTZOptics HD Live Streaming Cameras. This is opposed to the prior need to go through the RTSP streaming process. This new feature now makes live streaming easier than ever. Here's what you need to know:
1. App is now accessible from your desktop computer
2. Users have ability to create mini streaming studios with USB based video products
3. The simplicity of the app is going to attract A LOT more Facebook Live users, and therefore viewers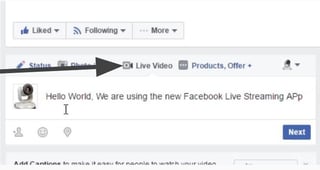 Now that we have informed you about this new and exciting app, here's the catch. Facebook is still distributing the app to all accounts, so not everyone has it yet. We were lucky enough to have one account that has been updated. Attached to this blog is a short video tutorial introducing the app and showing off some of its features. Some of the key features include ability to switch microphones and cameras, live chat with your viewers, and a simple icon listed alongside the status and photo update links. Here's some visuals for you: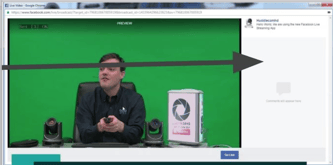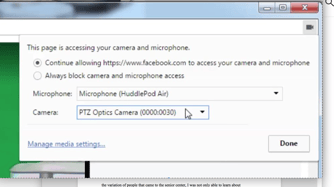 As you can see above, you can easily transition between cameras and microphones through a simple menu. This makes creating professional grade live streaming productions more painless than ever. Check out the video below to see how to navigate the app.
Thanks for reading this quick post about the new Live Streaming Appfrom Facebook! Don't forget to tune into our weekly live show every friday at 11AM PST 2PM EST. Subscribe to our YouTube Channel here