Hello Google ChromeBox Users,
The Google ChromeBox is a great video conferencing package. In fact, it's a perfect solution for a the infamous HuddleRoom. Before we dig into the wireless speakerphone let me briefly state why we love the Google ChromeBox for video conferencing.
Perfect low cost solution
Simple deployment
Perfect for web based video conferencing software that supports Chromium OS
Great integration with Google App's for business
Great with WebRTC
With these promising features there are some issues with the "Google Chromebox for Meetings". This package includes a Logitech C930e webcam, Jabra Speak 410, the Google Chromebox and a remote control. Here is a list of problems with this solution:
Camera is meant for desktop video conferencing. Not the conference room. The depth of field is a issue along with the complete lack of optical zoom for use with whiteboards or product demonstrations.
The microphone is hardwired but the ChromeBox must be plugged into the display's HDMI. Inevitably this leaves a cable draping over the floor as a tripping hazard whether it's the short USB cable on the Jabra 410 or the short HDMI cable on the other end.
The remote control is extremely limiting. It's good for starting meetings but actually trying to type in a email address is cumbersome.
So what did we do? We brought together some of the industries best video and audio conferencing solutions and starting testing for compatibility. For video the solution was easy. We used a USB 2.0 PTZ USB camera, the HuddleCam 10x-720 which has been tested for compatibility with even the first generation google chromebox's. After further testing we have found the latest chromeboxes even work with USB 3.0 PTZ USB cameras but we wanted to keep the costs low for the chromebox package below. For audio, bluetooth, was our first thought but most ChromeBox's were not compatible. So we standardized on the HuddlePod Air which is first 2.4 GHz wireless USB microphone. Bringing these technologies together, adding the necessary accessories: HDMI cables, wireless keyboard/mouse and mounts we built a really attractive video conferencing endpoint :0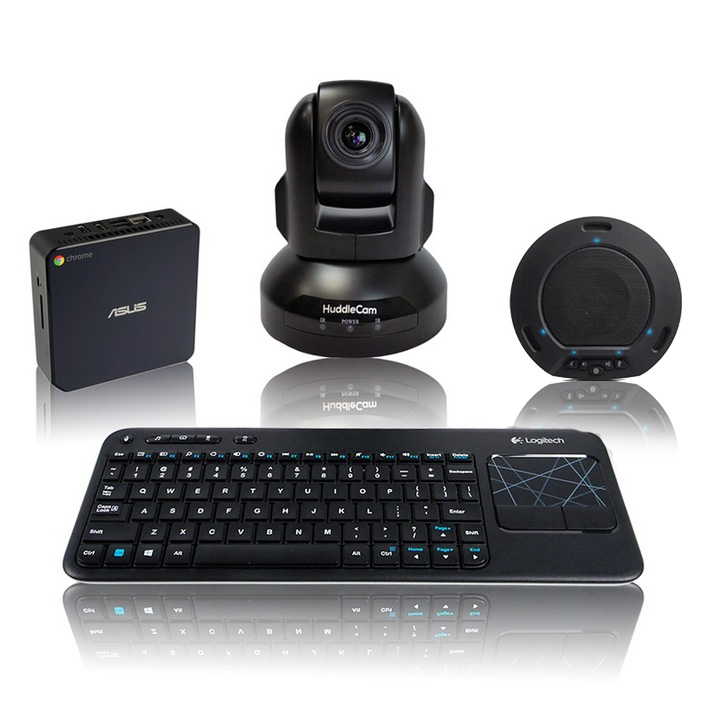 So let's talk a little about this wireless USB microphone using 2.4 GHz wireless connection.
Wireless USB PC speakerphone delivers rich, full-duplex audio and simple connection to multiple devices
Summary:
The HuddlePod Air provides an affordable solution for Web Video Conferencing where high quality audio is important. At only $299 the HuddlePod Air provides Full Duplex wireless USB speakerphone with a full 360 degree pick up range of 12 feet. The performance can be compared to the ClearONE Chat-150. This is a highly anticipated affordable wireless USB microphone/speakerphone that provides great quality and a affordable price.

Features:
256 channel echo cancellation capability
Full Duplex
Speaker with 12dB volume automatic gain control function
Max 18dB automatic level control to human voice
Intelligent noise cancellation
Application of digital EQ makes audio output more stable
Nonlinear echo cancellation to reduce residual echo
More on Web Conferencing
More about Computers for Video Conferencing