USB Camera with Optical Zoom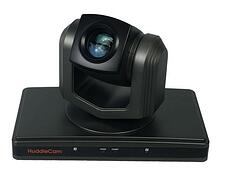 When you think "webcam" or "USB Camera" most people think of the desktop logitech webcams. And until recently that's what a "USB Camera" was. With the new HuddleCamHD camera line we have added 12X, 18X, 20X and 30X options for larger rooms and spaces where HD video quality is needed. Check out our test footage to see exactly what Optical Zoom on a USB camera does for video conferencing and web-casting during your webinars.
Reason's for using Optical Zoom USB Cameras
Webinars in auditoriums or large spaces

Need for dynamic presentations
Zooming in to whiteboards
Recording live shows
Broadcasting events
Live streaming
Board Meetings in large spaces
Showing detailed images from far distances
USB Camera for Large Spaces
If you have a large space like a Boardroom or Auditorium where you require Optical Zoom and USB than the HuddleCamHD 30X might be exactly what you are looking for. With 30X optical zoom the HuddleCamHD 30X shows a 9.5"x11" piece of paper at 50' and 75' away from the camera in this test footage.
Check out all the test footage here: