What's the difference?
Hosting your own meetings requires a server, bandwidth and a little bit of IT knowledge. Hiring a 3rd party like GoToMeeting or WebEX can rack up huge bills over a couple years, but they are less expensive upfront. The reason why "Host your Own" is turning so many heads in the industry is:


Affordability
Flexibility
Security
Affordability
When you "own the server" you never have to pay monthly fees. Without fee's TurboMeeting makes web video conferencing much more sustainable. Installation of the TurboMeeting Server literally takes 5 minutes and you can instantly host web video conferencing to your entire organization.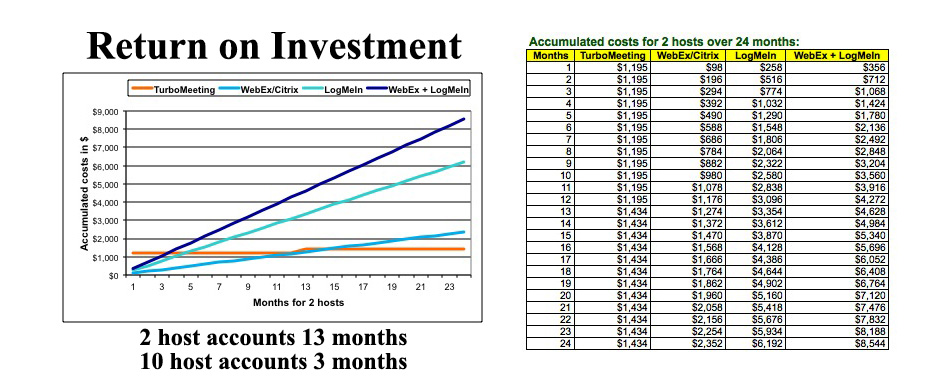 Flexibility
With floating licenses TurboMeeting is allowing organizations to pay only for what they need. Instead of way more! For example with GoToMeeting every host needs to pay for a license. With TurboMeeting you may have 10 hosts that share 3-4 licenses which can be used simultaneuosly. Rarely are all 10 host licenses needed at the same time, so TurboMeeting is more affordable and flexible. TurboMeeting has an whole new way to look at web conferencing.
Security
Nothing is more secure than a on-premise server. TurboMeeting even has an options for hosting meetings restricted to "in network attendee's". To learn more about TurboMeeting Transmission Security and Access Security click here.