Howdy friends and followers! I've been meaning to sit down and write a "how to" article about setting up free webinars for a while now. We stopped using services GoToMeeting, WebEX and Zoom Webinar for a long time now, because they charge way too much money and reduce our overall ability to reach new audiences. In this blog post, I will review our tried and true method for hosting free webinars on the YouTube Live or Facebook Live platforms with the video conference software of your choice.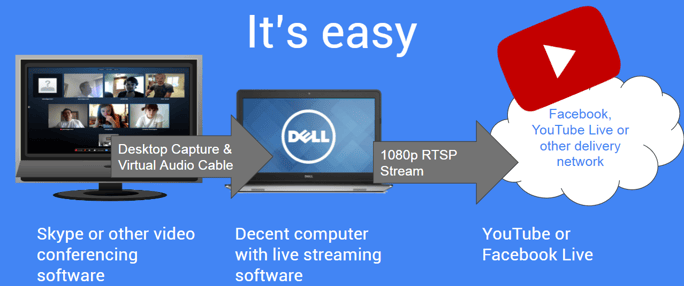 Benefits of hosting webinars on Facebook/YouTube Live:
Boost Total Viewers

- World's second largest search engine (YouTube) with unparalleled audience size.

Audience Retention

- Reduce the time it takes attendee's to get started (no download needed) means they will have more time for what's really important… your presentation.

Repeat Attendance

- YouTube is built for building communities. There is no better platform for growing your subscriber base.
What you need to set up free webinars with unlimited participants:


A computer with i5 processor (i7 Recommended… Latest Intel NUC's work great!)

A Dual Monitor setup

A webcam and microphone (HuddleCam and HuddlePod Air suggested)

A Skype account

A YouTube account

Free Streaming Software (Open Broadcaster Software)
As you can see this setup is fairly simple and many of our customers already have most of this equipment in their conference spaces. The dual monitor portion is perhaps the most important because our setup will rely on a screen capture of our Skype session.

Defining "Webinar" or "Web Seminar"
If you search wikipedia for "Webinar" you are directed to "Web Conferencing" as an "umbrella term" for web seminars. If you search wikipedia for "live streaming" you are directed to "Streaming Media" described as audio visual media presented to an end user while being delivered by a provider. So we are combining the worlds of "web conferencing" and "streaming media" to achieve free, scalable webinars for the world. A BIG thanks should go out to Facebook and Google who are fronting the bill for all the world's future streaming needs, even if the offer includes ulterior motives (a conversation for another time).
Source 1: https://en.wikipedia.org/wiki/Web_conferencing
Source 2: https://en.wikipedia.org/wiki/Streaming_media

GoToWebinar, WebEX Event Center and Zoom Webinar Comparison Chart
| | | | | |
| --- | --- | --- | --- | --- |
| Features | GoToWebinar | WebEX Event Center | Zoom Webinar | Skype / YouTube/Facebook Live |
| Email Automation | Yes | Yes | Yes | Yes, but complement w/ HubSpot, Marketo ect... |
| Mobile Support | Yes | Yes | Yes | Yes |
| Multiple Presenters | Yes | Yes | Yes | Private video call broadcasts to many |
| Lead Management | Yes | Yes | Yes | No, Use HubSpot, Marketo ect... |
| Custom Branding | Yes | Yes | Yes | Yes |
| Recording | Yes | Yes | Yes | Yes |
| Audience Interaction | Yes | Yes | Yes | Yes |
| Presentor Count | 6 | Yes | 50 | 25 |
| Network Security | Yes | Yes | Yes | Yes |
| | | | | |
| PRICE per Month | | | | |
| 100 Attendees | $89 | Call for Price | $40 | FREE |
| 500 Attendees | $199 | Call for Price | $140 | FREE |
| 1000 Attendees | $429 (2000 attendees) | Call for Price | $340 | FREE |
| 3000 Attendees | $429 (2000 attendees) | Call for Price | $990 | FREE |
| 5000 Attendees | Call for Price | Call for Price | $2,490 | FREE |
| 10000 Attendees | Call for Price | Call for Price | $6,490 | FREE |
The comparison chart above shows that all the core features offered by these services are available for FREE with our Skype/YouTube combination. The only main benefit is that companies like Zoom offer is making the setup "dummy proof" and including email automation. I don't feel like our setup is overly complicated but I run webinars all the time and could see why a paid service makes sense in certain scenarios. On the email and lead generation side, I feel like this feature is un-needed and most marketing departments would rather use their familiar email marketing tools to collect leads before and after webinars.
The main reasons why companies pay thousands for webinar services is because they are already using a service such as Zoom for face to face video conferencing and it just makes life easy to upgrade that account to include webinar access no matter the price.
The other main benefit for these expensive webinar packages is that the events can be completely private. While YouTube does offer "unpublished" events, the power of the YouTube Live is the platform is the public facing exposure.
Benefits of YouTube
YouTube's major benefit is the community and the exposure offered. None of the above mentioned services can your next webinar in front of more viewers than places such as YouTube and Facebook. Not only do CDN's (Content Delivery Networks) such as Facebook and YouTube offer massive exposure opportunities, they also offer built-in promotional services. We regularly "boost" our live events to increase our audience reach and promote our organic search engine optimization.
Final Thoughts on Hosting Free Webinars:

We stopped paying for expensive webinar packages a very long time ago. Check out some of our live webinars hosted every Friday on YouTube and/or Facebook to see what the user experience is like. No downloads, no installation packages… Just easy to use, user friendly webinars that drive leads and generate interest for our business. Download our free guide available below and feel free to comment below if you have any thoughts about our process.
More on Live Streaming
Free Guide: http://huddlecamhd.com/landing/free-webinars.html