---

The huddle room is becoming such a common term that even people outside of the AV world are starting to take notice. The open-office trend has taken over offices country-wide and yet is leaving businesses with less and less space for private meetings. Companies once thought one large conference room was enough for the whole office, but according the Wall Street Journal, "Some 73% of meetings involve only two to four people, but 53% of conference-room space is built for meetings of seven or more" and businesses are ready to solve the conference room ratio issue.
Cutting down the size of conference rooms allows for more meeting spaces and less waiting around wasting time trying to find a quiet spot. Plus huddle rooms can be equipped with similar technology found in larger rooms at a fraction of the cost. Huddle Rooms generally require only a camera (generally wide angle), speakerphone, computer, and display, items that can be quick and easy to install. Designed for intimate meetings of 2-4 people for internal team meetings, video interviews, sales calls and more. Using a Huddle Room over a large conference room can speed up meeting start and end times allowing for quick yet efficient conference calls.
Looking for an easy Huddle Room Setup? Check out our Huddle Room Hero's, a handpicked selection of conference room technologies that are affordable, user friendly, easy to install, and specifically designed with Huddle Rooms in mind.
---
Hero #1: For the office whose motto is, "Keep It Simple Stupid"
The HuddleCamHD 3X camera with Huddlepod Air Package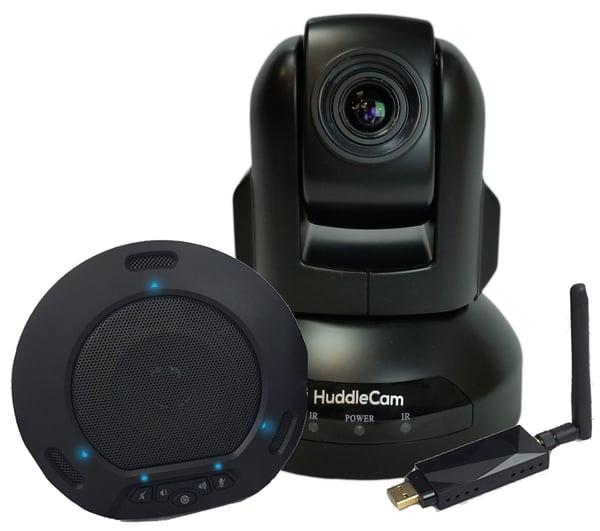 Without sacrificing quality this 1080p camera is one of the most affordable on the market. The wide 74 degree field of view makes it perfect for small spaces where you need to fit 2-4 people in the shot. The camera has a 3X Optical zoom as well as pan and tilt that are easily controlled by a remote, or even an app on your phone. This easy to use camera can be operated by anyone in the office with little to no training, and is also plug and play so it does not require an AV pro for installation. Just plug and play!
The speakerphone boasts the same advantage of high quality at a low price. One of the best speakerphone pods we've found that is also wireless, so your small huddle-room-sized table isn't cluttered with messy wires. The wireless capability is done through USB instead of bluetooth, so the audio is never interrupted. Featuring noise and echo cancellation and a 10' omnidirectional pickup range, this chatpod is what huddle rooms dreams are made of!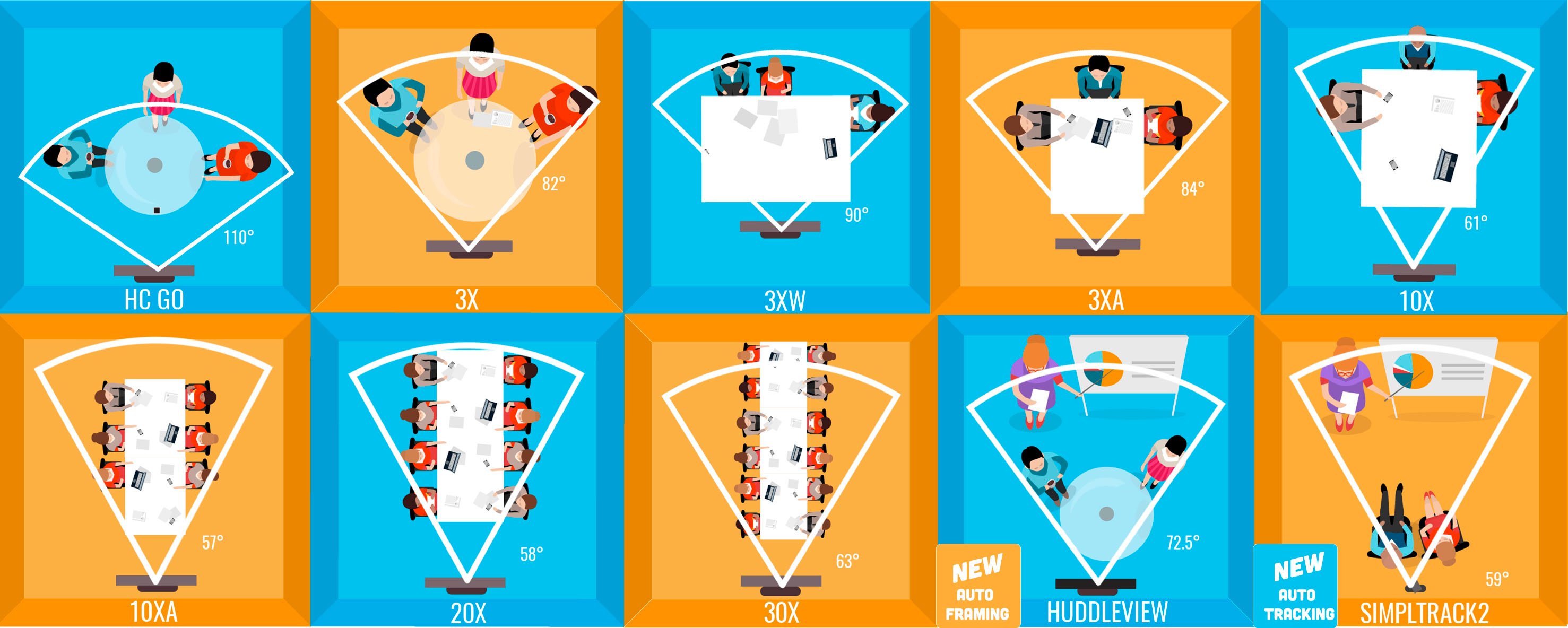 Above: Different Field of View's for HuddleCamHD and PTZOptics Cameras
Combined the HuddleCamHD 3X and HuddlePod Air just need a computer and a display to create one of the easiest high quality huddle room setups possible. Need a slightly larger field of view? The 3X can be upgraded to the 3X Wide for a 90 degree field of view. Try our field of view calculator to figure out what camera is best for your space.
---
Hero #2: Camera's For the All-in-One Lovers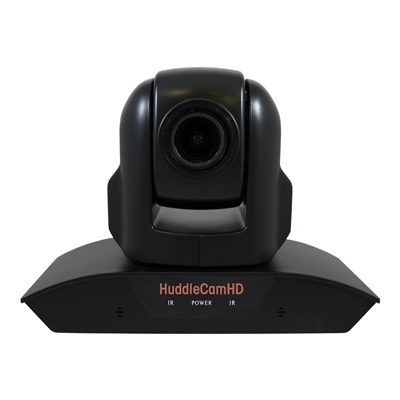 Why bother with a camera and a speakerphone when you can have it all in one place? HuddleCamHD offers 2 PTZ-Style cameras that also have built in speaker phones so that you have less to worry about setting up your conference room. Just plug it in the camera connect to a display and your conference room is ready for anyone. Like most of HuddleCam products the 3XA and 10XA were built so that anyone can install them easily with little to no AV knowledge. They are also easy to use so that everyone in the office will be able to operate them flawlessly without calling the IT department before every meeting.
Both the 3XA and 10XA feature built-in speaker phones that offer Advanced Auto Gain and Noise Control plus omnidirectional pickup. The 3XA offers a wider field of view at 84 degrees making this camera ideal for smaller wider rooms. The 10XA has a more narrow field of view at 57 degrees, but a higher optical zoom making this camera ideal for longer thinner rooms. The camera do not come with a display or computer, the only things left to complete your huddle room.
Looking for a portable all-in-one solution or something in a lower price range for multiple rooms? Take a look at the HuddlePod GO, a portable all-in-one conference cam for just $299!
---
Hero #3: For the Computer Nerds
The Intel Nuc with i5 Processor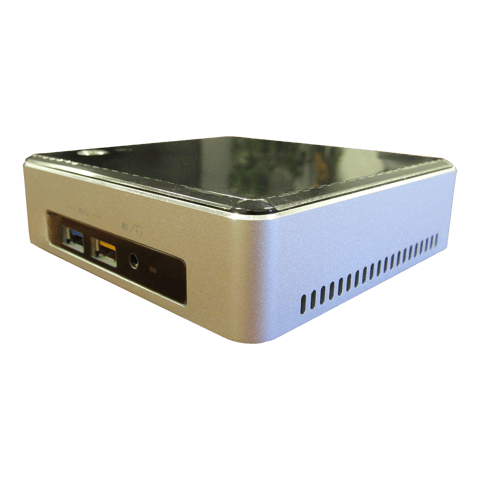 Every Huddle room needs a computer. Sometimes companies opt to have individuals bring their own laptops, but this can often lead to calling the IT department to get everything configured and adding minute if not hours to conference room occupancy times. We always suggest having a dedicated PC in your huddle room and our favorite is the Intel Nuc. This tiny machine packs a powerful punch with superior processing and graphics. What's more is you'll get embedded security that helps keep threats out, user identities and credentials safe, and clients and data protected. All of this in a tiny little box that can be mounted behind a flatscreen and kept out of sight.
---
Hero #4: For the office whose motto is, "Time is Money"
QuickLaunch Professional Edition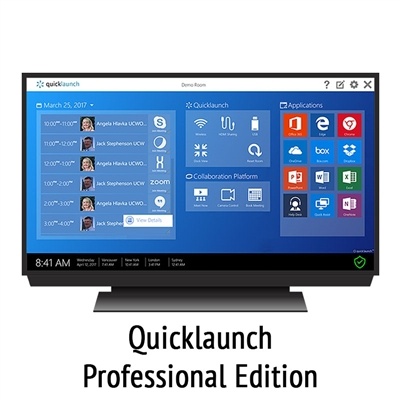 Do you have many different groups using your huddle rooms all day with different meeting software and crazy scheduling? QuickLaunch was specifically designed for meeting efficiency, that means your meetings will start on time, every time, no matter who is using the room. Quicklaunch offers essential time-saving integrations for calendaring, video conferencing and application launching. This is a "one touch" experience for joining scheduled meetings, running applications, accessing data and organizing your businesses intelligence assets. The professional edition adds Google Calendar and Exchange Calendar integration for quick easy access when checking or scheduling meetings.
A lifesaver in time crunches, this software keeps you organized and never in need of last minute meeting software downloads! Don't need PRO version? Check out the Quicklaunch Standard edition here and download a free trial below (windows only):
---
What are your Huddle Room hero's? Let us know in the comments below!