Hello Technology Pro's,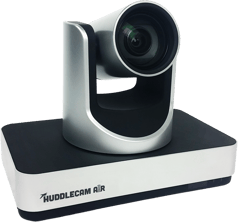 For those of you who did not follow the HuddleCam Air release schedule which officially ended at Enterprise Connect 2015 in Orlando, you may be interested in learning a little bit more about the world's first pan tilt zoom wireless USB conference camera. The HuddleCam Air uses the latest "Super Speed" 5GHz wireless frequencies to achieve near-zero latency video to any computer for web conferencing over a USB 3.0 connection. Matthew Davis lead engineer states "The latest Super Speed wireless standards paried with the super speed USB 3.0 computer connections have allowed us to create the worlds first latency free USB conference camera".
This new conference cameras was all the rave at Enterprise Connect 2015 but many real world applications have already started. Davis continues "The initial build was meant to save time during installation. We are eliminating the troublesome USB 3.0 cable that drapes over the floor in boardrooms everywhere.... while this remains the primary use it's interesting to see new case studies... my personal favorite is the car manufacturing lines using this technology to wirelessly view the production line throughout every stage down the line." We have below the HuddleCam Air release webinar and the slidedeck for anyone who wants to dig further into this technology.
2/27/15: The latest HuddleCam release information will be posted here.
3/10/15: Officlal PowerPoint Slide Deck Released
3/12/15: Interview with Lead Engineer
HuddleCam Air Release Schedule
Sign up for HuddleCam Air release details and get invited to the Live Webinar all here!
It's true. The world's first wireless USB PTZ camera is here. Well almost. The first public release of the HuddleCam Air will be March 16th. The HuddleCam Air will be the first "Zero-Latency" wireless PTZ USB camera in the world! Check out the complete release schedule below.
Feb 27th: First compatibility testing list released
Feb 29th:

First short technical video published

Mar 6th: Second detailed technical video published
Mar 8th: Full interview with inventor Matthew Davis published
Mar 9th: Remote PTZ Camera Control Video published
Mar 10th: Full Press release video published
Mar 16th: Exclusive Webinar with live test footage
Mar 16th: Official DataSheet released
2/25/15: Slideshare released. This slide share includes the following testing done for initial video conferencing campatibility with zero latency.