Facebook Live and Youtube Live are both valuable tools to reach large audiences with your live stream. While we highly suggest streaming to both platforms simultaneously, we also wanted to take a look at the features of each in a side by side comparison. Our experience live streaming has been nothing but positive yet the platforms are quite different. In this visual blog, we will share the key differences in each platform and encourage our audience to use both services effectively.
First, let's take a look at the general platform stats: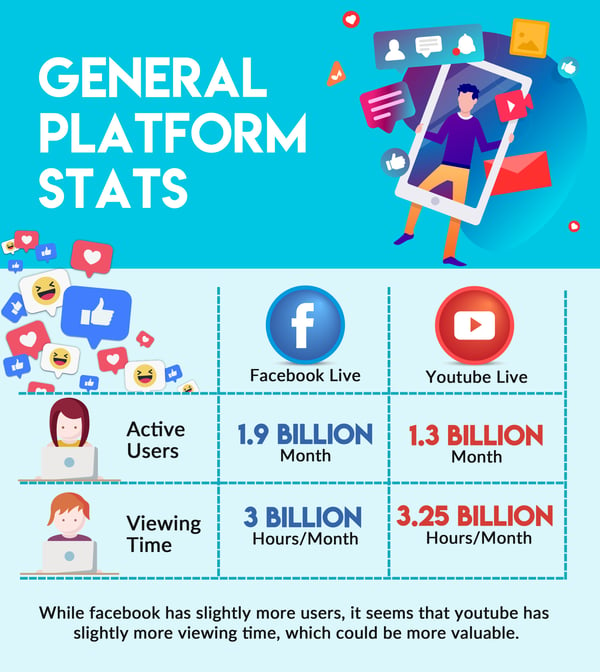 Viewing time aside, the biggest difference between the two platforms is the lifespan of your video content. Facebook operates like true social media where the latest content is available at the top of users news feeds and older content is lost into a digital abyss. YouTube works more like an automated video archive where the videos with most view time and relevance are recommended to reviews in a search engine style. Therefore you will find Facebook will usually return more short term exposure while YouTube will provide long lasting results.
Check out this video to learn more about where your time and money is best spent on Live social media platforms.
Next, lets get into the technical nitty gritty. Depending on what type of content you offer, learning the technical specs of each platform could help you decide which place is better for you to post. Resolutions, length allowed, features, editing capabilities and more below:

Youtube's ability to stream in 1080p far beats out Facebook's 720p maximum. These days 1080p seems like a minimum for streamers and almost every camera, even some of the most affordable (like this all-in-one cam) stream in 1080p. WE generally suggest that users should stream in the resolution they would normal upload a video in for views on-demand. This is ideal because most views will still happen after a live event. Streaming in 1080p or 4K is ideal when bandwidth is available and it's encouraged by the YouTube algorithm (more on that in this video).
Youtube also has a video editing feature, DVR, mobile streaming, a much longer max stream time, and more. But that doesn't mean facebook doesn't have some of its own unique features. Facebook does a better job notifying followers of a schedule live stream. YouTube will send out an email as soon as your stream goes live but Facebook will send out multiple notifications such as going live in 1 hour, going live in 20 minutes, going live in 1 minute. Facebook has also innovated in user engagement with their Facebook Reactions feature which is built into the API we will cover in the next section. We are also a huge fan of the Facebook Live Map, which allows users to find live streams on a map of the world.
Next on the comparison List, API: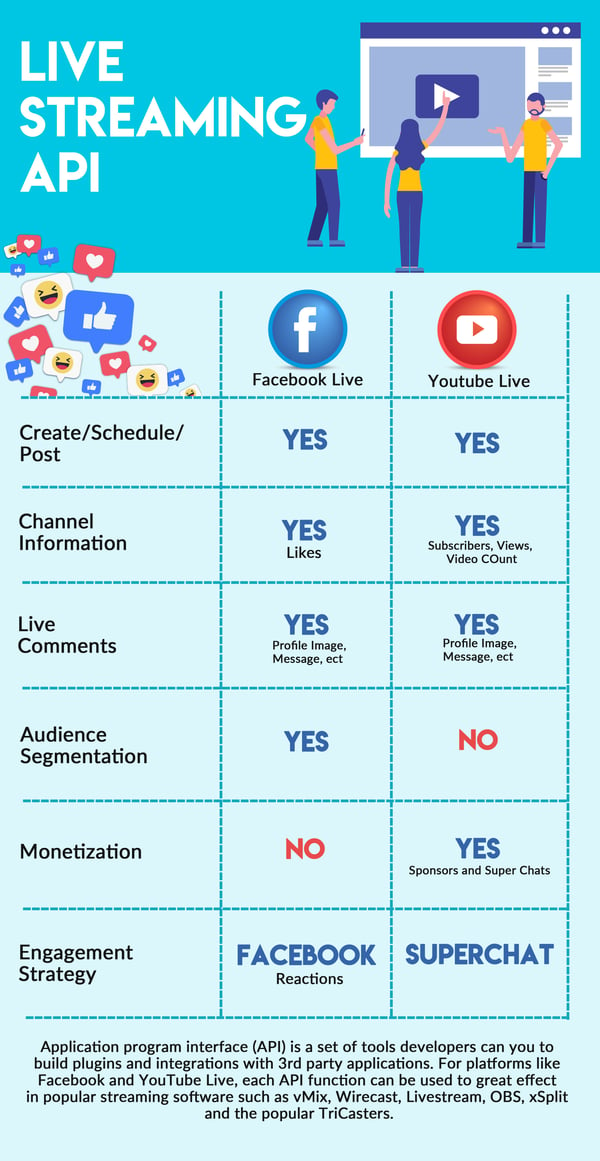 API's are tools that you as the developer can use to better engage with your viewers. These tools make streaming more fun for the streamer and the audience. For example, the Create, Schedule, and Post APIs can make it easier for professional broadcasters to start live video streams inside a software like Wirecast without ever leaving the platform. Wirecast has done an amazing job keeping up with the latest Facebook API functionality allows users to include video descriptions, choose from various pages and include location tags required for the Facebook Map feature.
Above: Download the Ultimate Guide to Live Streaming
Facebook has features like live reactions, where youtube allows for Superchat. Superchat's can be especially helpful for those trying to monetize their live streams, see this great article about fundraising via a live stream. Facebook does not yet have a feature that will allow you to monetize a stream, making it a lesser choice for those trying to fundraise etc. Overall for API Youtube seems to be the clear winner once again.
Conclusion:

Live video has the opportunity to connect audiences in a real authentic way that the large social media networks are pushing to the forefront of their platforms. The largest social media networks in the world are offering new tools for businesses to communicate and build audiences. We are still in the early days of live video streaming. Create a video content creation strategy has never been more important for marketing departments. Understanding how to produce amazing content live may be easier than many professionals think. We have created over 15 free live streaming courses you can get started on here: http://ptzoptics.com/landing/coupons.html
---
More on Live Streaming
Article Sources: