We had the opportunity to interview Doug Lawes from Keys Vineyard Community Church (Check out Their Website Here) about their live streaming system. They have been streaming their church services since 2009, and have watched as their following has grown as well as their streaming quality. After checking out a few of their videos, I'm not surprised at all that people like to tune in even when they can't make it to church as Doug puts on incredible concerts with different camera angles, great lighting, and a fun upbeat feel.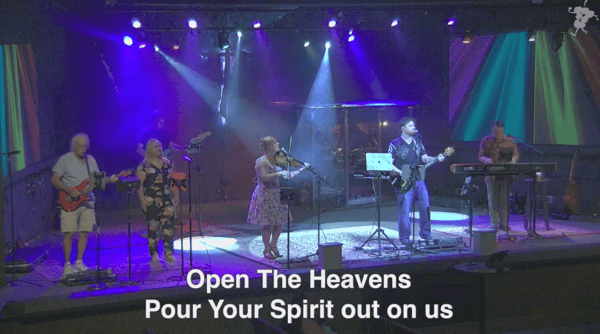 We wanted to find out what technology Doug was using to create these great shows, if he thought it was beneficial to the church, and for some tips for churches just getting started live streaming.
---
---
Doug, can you tell us a little bit about yourself?
My name is Douglas Lawes. I am the music director/worship leader/IT guy at Keys Vineyard Community Church. I've been full time on staff since 2012. Been coming to this church my whole life. My dad is my boss, so I get to work for him. I'm a very lucky guy getting to do what I enjoy. I work with my wife Kimberly. She is a musician as well. We do the music stuff. We have two boys, Stevie and Reed. Stevie's almost five and Reed is three. So, they are my future musicians, I hope anyway. That's kind of a brief intro for me.
Can you tell us a little bit about the history of the church?
The church opened doors in the late 80s, I'd say. My dad ended up becoming the senior pastor in '92. We had a school for a long time in the 90s, but that closed down in the early 2000's. And at the time the school closed down, the church was right around 150 to 200 people, so that's like 2001, 2002. 2018 now, our average attendance is over 1,000 people every weekend. So, the church has been steadily growing and this year has probably been one of the busiest, craziest years.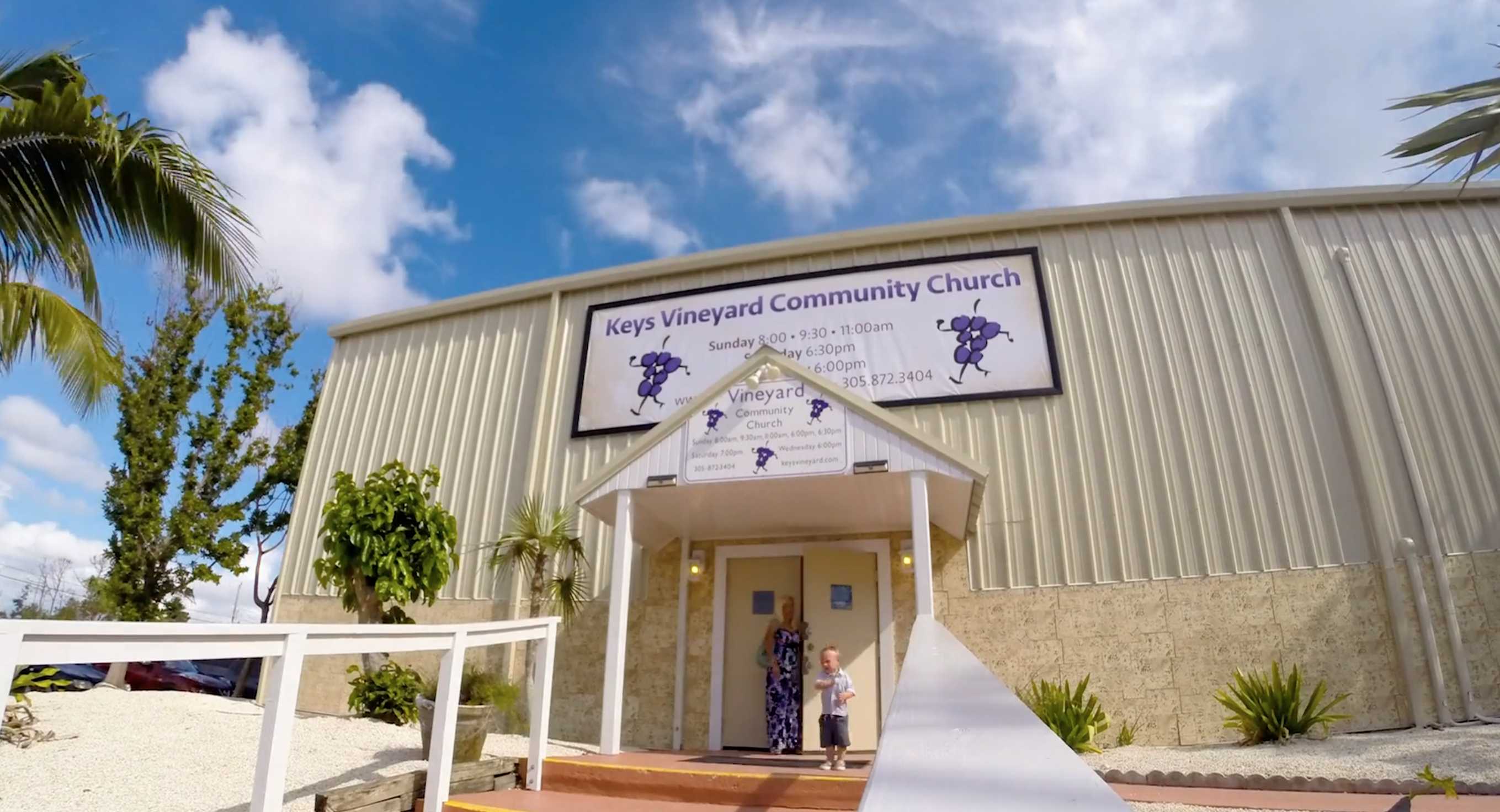 It's almost been a year since Hurricane Irma came through. And fortunately, our church did well, but our town kind of got hit pretty hard. But we were able to become the disaster recovery area. And that really opened up the doors to help us meet a lot of new people. So, a lot of new people have come to the church because of that and we've made a lot of really great connections with a lot of other churches all over the state and the country who came down and helped us during that process. So, this was definitely a very pivotal year, you know 2017-2018. And it's been cool seeing what God's been able to do through our church and I'm excited about our future.
When did you start live streaming your services?
I think 2009-2010, we had a very low-quality stream going to the live stream platform. You know, like we were using analog cameras and analog equipment. We were running through an analog to USB converter and doing it. So, it was mainly there to record messages, so we were live streaming to our website at that time. And over the last few years, we've really been pushing improving our live streaming services (see their live stream here), and the church has grown, and the needs been there. But we started around 2009 to 2010. And we've had a lot of learning opportunities since then.
What was your personal experience with technology? Did you have a lot? Was it really difficult? Or was it really easy for you to get just a basic set up and stuff up and running?
You know, we've always done it in house, so in that terms it's been pretty easy. And I'd say, nowadays, getting the video side of it, because live streaming is video and audio. Getting the video is pretty easy now. It's very visual and you know, I've kind of learned how to build computers over the years, so I've been able to build a nice live streaming computer for less than what most people would pay.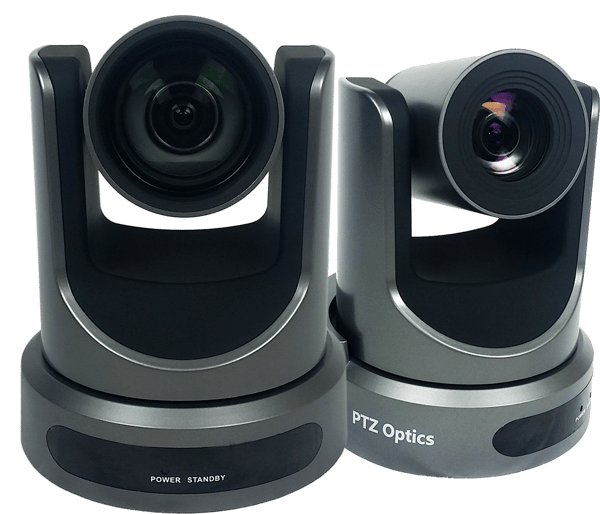 And the cameras (we use the PTZOptics cameras) are, you know, super easy to use. So, that's been great. The hardest part has been getting our sound to be warm and happy. I'm a musician first more than a tech guy, so I'm very sensitive to how things sound. And a few months ago, we finally ran digital audio to our live streaming set up. Because our live streaming set up is on the other side of the facility from our sound board. So, most folks can take audio from their sound board into their streaming rig. We have to run a long distance, so fortunately now, technology's gotten to the point where we can just run one ethernet cable and send all of our audio upstream to that, so the sounds definitely getting better. But I would say the video part of it is easier and the sound part is a little more difficult. But, we can "get 'er done", as we like to say.
What does your technology set up look like? You mentioned you have the PTZOptics cameras, do you have multiple cameras? What software are you using?
We use five PTZOptics 20X Zoom cameras, I think four of them are 20X, one of them is a 12X. And we also have one Z-cam that we have mounted in our drum cage. And we use the same video feed for live streaming as we do for our imaging magnification. So, what goes on the projector in the church is what's being broadcast to the live stream. So, there's a lot of camera changes and stuff that's pretty cool. But we use those six cameras.
Those are run into a Black Magic Atem production studio 4K switcher. I think it's a one volstrage is used at this point. It's a very popular switcher that works really well. And basically, we take an HDMI out from that into an HDMI splitter. I think it $70 on Amazon. It's nothing too fancy, but it does that job. And we send that to the projectors. And we take one of those outputs into a computer that has an Elgato game capture HD. It's one of the internal cards. You can put it in a PCID slot to capture video and audio that way.
And the software I use to live stream is OBS (Open Broadcast Software). I'm very happy with it. Of all the ones I've used, I've used Wirecast, I've used - I think that's the only other one I've used. I used like a U-stream bury and Wirecast and I just kind of always go back to OBS because I like how they all the scenes are set up. Or, I don't know, maybe I'm just more familiar with it. And then I take the stream out from OBS, and this is on the web, it goes to a site called "restream.io" and that lets you take one stream key and send it to multiple places. So, I go out of restream and I'll send one directly to our YouTube page, and then I send another one, a custom RTMP from there to "churchstreaming.tv" which feeds our Facebook page, our Roku channel, and our website. So, that's our streaming set up in a nutshell. And there's a lot of other tech, but I was trying to stay focused on the streaming part of it.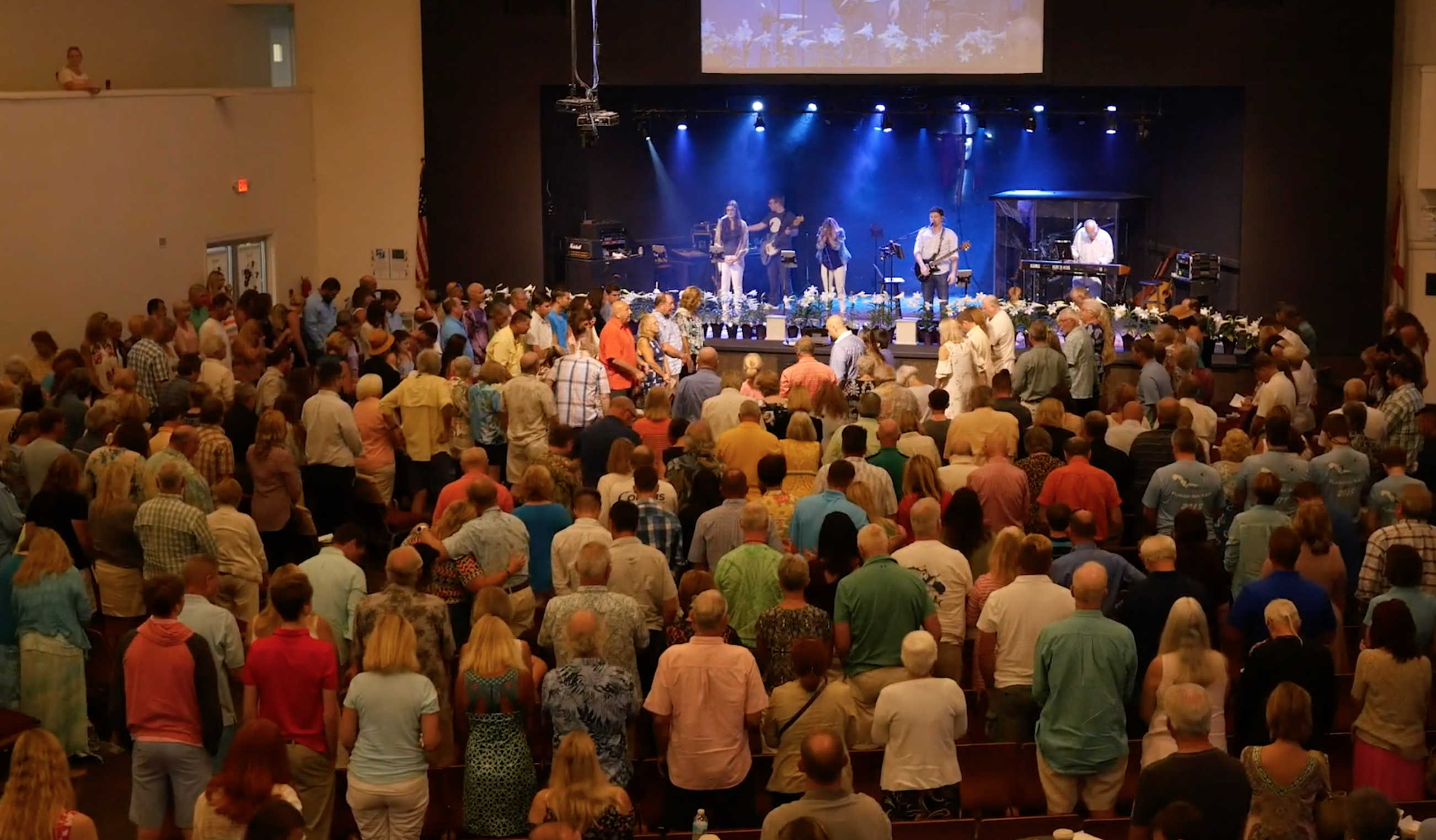 And with our camera shots during the music, I can actually automate those with the PTZ Optics mini-app that Paul Richards got for me. I asked him, "Hey, I need you to do this." And they did it. So that was cool. And I can actually automate through Ableton our cameras, our video switcher, our lyrics - we use proprogenitor for lyrics - lighting, I do our stage lighting with that, that's another big part of live streaming. You got to have good lighting in there. It looks kind of funny. We do tar-presets, but you know, I do all sorts of cool stuff with that. So, part of the music side that does help the live streaming. And that's really the only way we can use those camera shots is being able to automate the changes because, you know, the other night, I was in the booth running it. We just kind of had to strip down service and I just used a couple different shots and made it work. So, being able to automate it really helps make some cool changes happen on the video switcher's side.
You've been streaming for a while, do you feel like it's been really beneficial to Keys Vineyard?
Yeah, I do. A lot of our folks, because we're in the Florida Keys, you know it's a vacation destination. In the summer months, it's extremely hot. A lot of our folks who are here six months of the year are gone. Us live streaming it at a high quality helps those folks stay connected and that's one of the more common pros for live streaming, but I've actually heard from a few people that they've never gone to a church before. And I think it kind of goes back to post-hurricane where we were in that disaster recovery. We were getting a lot of publicity in the local news and stuff. And people who'd never been to church before were watching our live stream like a month or two after the storm. It was a few months after that things were getting really normal, but I was live streaming during the whole time. So, folks who'd never been to church before started watching this stream. And they'd watch it for a few weeks and then out of the blue, they'll just show up to the church. So, our church is just one more.
We do whatever we can to get one more person in a relationship with God. So, seeing something like live streaming bringing people to the church is really cool. So, it's one of those things that you want to do, and it does help bring in new people. And another way that was cool for us... last year, again, we were evacuated, and the storm hit I think it was September 10th last year. And we were in the building. Everyone was evacuated. It was hitting us that Sunday morning. So, I had my laptop and I brought my acoustic guitar, so I was in Kissimmee at the time, so I went live on the church's page from my laptop. So, we did a service live stream basically. So, it was just the acoustic guitar, I sang a song and then my dad recorded a video, so I was able to transition to him with the video. So, we streamed it live and there were some video elements to it too. And I feel like it helped our folks have a sense of peace especially as the storm was hitting. So, there's a lot of good that can be done with live streaming. That's just kind of a cupful of examples, you know?
I love that last example because you're able to reach people in some of the most important times of need when you wouldn't be able to otherwise. Yeah, and do you also archive all this streamed content?
Yeah, I think YouTube keeps up the content, and we've been streaming to YouTube as of this year. My dad has all of his messages archived on video I think from the time we were... you know, like 2009-2010 when we were starting. I don't know how many of those are still on there, I haven't checked. But I know that there's some from a few years ago definitely. And then website, I'm not sure how far back we're archived. Facebook is about three months. So, Vimeo, my dad's Vimeo page probably has the most content from years back. YouTube is where we keep most of our content. It's the easiest platform for me to work with. And yeah, Facebook for about three months or so. So, that's how we archive it.
I wanted to ask what would your top piece or pieces of advice be to a church that's maybe thinking about getting started in live streaming that maybe hasn't yet or is just getting into it.
Yeah. If you're just getting into it, you definitely want to do a lot of research and try to do as much as you can in house. And don't be afraid if it's terrible. There's nothing wrong with starting out with shooting an iPhone live stream just to kind of start and see if you can generate some traffic that way. And I'm talking the churches of 100-200 people that don't want to drop a ton of resources into it right away but want to see if it's worthwhile. Because it does require man-power to keep it regulated. But once you feel the need is going. I would definitely do homework. I found it beneficial to have some computer building experience and networking experience. So, if you have somebody who is super nerdy that enjoys this stuff, put them in charge and don't be too afraid about getting it perfect. Just try to get a little bit better every week when you're live streaming.
I think that's how I've been going it's just how can I do it better, I'll watch the stream on Tuesday. I don't typically watch it Sunday after church because I'm just kind of done with church on Sunday after the service, so I'll come in fresh on a day and watch it and say that this can be improved, we can do this better, this needs to be adjusted, and then I'll do that and see if we got better. So, it's just doing little things. It's a process. You don't have to get everything once. You don't need to go all the way all at once. You can do a gradual process. You get the core pieces of equipment. It's nice to have two cameras and definitely a good computer that can host those camera images. You definitely want to know what your bandwidth is (Try a Free Bandwidth Calculator), that's another important thing. Is it getting bogged down by your guest Wi-Fi? We just recently got a separate ISP for our live streaming and production setup. That's been helpful too. We've had zero dropped frames since that's been implemented. But that's down the road and that's only because we've been live streaming for so long. You know, that can get expensive. So, for churches just jumping in, it's a process, get a little better every week and do your homework.
I think it's a great point to bring up that - you know, we of course sell technology at Conference Room Systems, but you really can just start with your iPhone and just do it is the point. Don't worry about it. Just get started and then when you are ready to do your homework then come to Conference Room Systems and say, "I have all these questions."
Speaking of just getting better over time, what's next for Keys Vineyard as far as upgrades or new ideas or what's in your future of live streaming?
Like I said, it's just getting continually better. I've gone through this huge season of innovations with all the different camera angles and really automation was kind of it. So, now it's just trying to get our services glitch free, because with all this stuff it opens the door for something silly to happen, you know? Like one app will close and it'll stop the whole thing. It's just kind of improving that. If I wanted to have some kind of dream technology thing happen, I would like to be able to control a lot of the tech that we have with an Amazon Alexa or something and voice command it all. So, it'd feel like the Starship Enterprise. (Laughter) It would be sending mini-notes from one of those smart devices to Alexa, you know, "Start the service" and it would start a five-minute countdown on there. And I feel like that would be advantageous because it would really reduce training time. You know? It's really easy for somebody to read off the cue cards and say, "Alexa do this," and then the right thing happens. So, I don't know how soon that will happen if that ever happens. But that was one of those late-night ideas that I had. I don't know how practical that is, but it would be really cool.
I love it! Well, I'll let you know when I find out that we can do that. Cool. Well, thank you so much for joining us. I think people are going to find this podcast really interesting because I certainly did. It's just so fun to hear the inside perspective from a church point of view. Really appreciate you coming on and if there's anything else you'd like to say to our loyal fans?
God bless. Thank you for listening to me and if you have any questions you can find me... I'm sure there will be in the blogpost our church's page. Check that out. And I'm always happy to talk shop and speak in the nerd-like language.
---
Thinking about streaming your church services? Get started with s free church live streaming course:
More on Live Streaming
YouTube Live vs Facebook Live - Finally a side by side review here.
Check out the top 5 ways to live streaming to YouTube here.
Interview with HuddleCamHD here
Interview with Magewell - Digital Video Essentials here
Live Streaming Software Review - Wirecast vs vMix here.
Learn why live streaming is the best way to host a webinar here.
Interview with vMix here
Zoom Video Conferencing adds Facebook and YouTube Live options. Learn more here.
Skype Meetings for Broadcast. See how Skype adds live broadcasting here.
YouTube Live adds new multiple camera switching feature here.
Infographic: Youtube Live vs Facebook Live here
Interview with Rocosoft PTZ Control here
When to video conference vs when to live stream… Learn more here.
How to host free webinars here.
Live Streaming Services for houses of worship. Learn more here.