Our 9th ConferenceCast Episode is all about PTZ Camera Control. We talked with the CIO of Rocosoft, Arthur Kharit about what makes their PTZ Control Software some of the best on the market. We love Rocosoft for reliability, ease of use, and their many great features. Learn more below and make sure to subscribe to ConferenceCast on iTunes!
"I guess what I really want people to think about Rocosoft is that our main goal is to simplify an otherwise complicated task.That's what we're all about"
---
---
For anyone unfamiliar with Rocosoft, can you tell us a little about yourselves and what it is you offer?
We control PTZ cameras, and I know it sounds kind of silly saying it so broadly, but that truly is our goal. We sell both hardware in the form of control sets and software, PTZJoy, to make controlling PTZ cameras as smooth and efficient as possible. When people think of Rocosoft we like them to think PTZ camera control. That's it in a nutshell.
What are all the different ways to control PTZ cameras over USB, serial, and IP?
When talking specifically about PTZJoy or software, you can control your cameras multiple different ways. The first of course is via any USB joystick. When I say that I mean any USB joystick. It's actually pretty comical. You can use a gaming joystick, you can use a professional joystick, you can use one of those big hardware controllers that people use, you can even use a wireless Bluetooth joystick. Then you can use our virtual joystick, which is exactly what it sounds like. It mimics a regular joystick on the computer screen. Or you can use a web-remote which you can control your cameras from anywhere in the world using any device that have browser support and you can also use keyboard hotkeys or your mouse and these options are both available for both serial and IP cameras and protocols.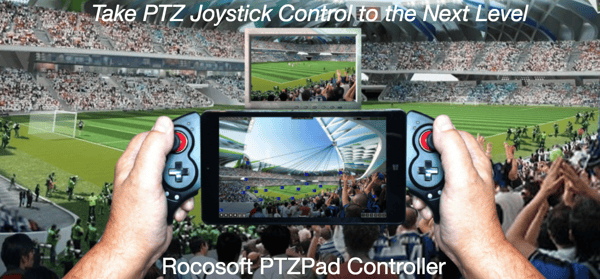 We use your products a lot with our PTZOptics and HuddleCamHD brands. A lot of people using this for live streaming and video conferencing. Can you give us some other examples of how people use your products?
There's actually quite a few. I've been working lately with one of our clients, a police station, they have a about a dozen cameras set up in their station and they use our studio software to manage all those cameras from a single computer where they set up automated tasks for their cameras to do. For example, they have a couple cameras that pan automatically left and right, pretty simple. They have a couple also that just call all the presets and pan through them. They also use our camera control unit to edit each camera's settings individually, like the brightness and exposure settings to combat the different lighting within their office.
Another example is of a high school that has a few cameras spread out through a football stadium and they use our software to have multiple cameras following the game live simultaneously. They do this by assigning one person to each camera and then give them a joystick which allows each person to move their camera independently from the other cameras. Then of course, there's the myriad of businesses that use our software for their conference rooms where they set each member of the conference to a certain preset on their camera that they can just call when that person is speaking.
What are some of the top Rocosoft features that people might want to know about?
Oh man. Where to begin. The thing that excites people the most, and I already mentioned it, is that our software you can use any USB joystick, and it sounds like a simple feature, but it seems that it's not as common as you would think. More importantly, you can have more than one joystick connected to your computer at once and you can even configure each button on each joystick to do something different and then just switch between the joysticks and profiles. This lets you replace a big, bulky hardware controller. What's on the market today is really big bulky hardware controllers that you can now replace with our software since our USB joystick control is variable and is also extremely precise.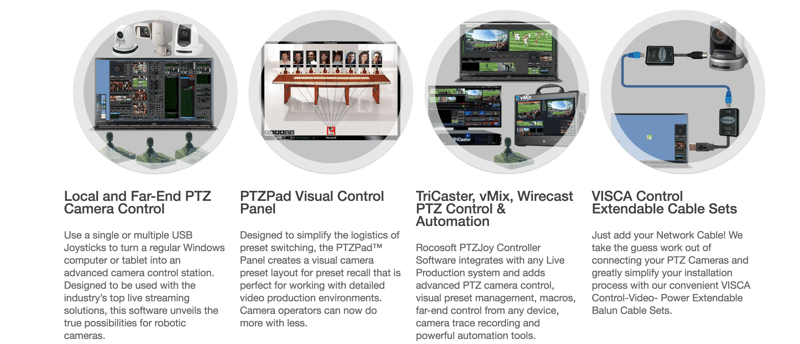 The next feature is the camera automation that we offer which allows users to set up automated tasks for cameras to complete which is what I mentioned earlier with the police station. My favorite, personally, is our timeline task manager which lets you create a list of tasks for your cameras to complete - and yes, that's plural: cameras. Then there's the visualization features that let you assign a picture to a preset or a camera which makes it really easy to manage all your presets on all your cameras because it's just the picture of it. It's just fantastic. We also offer external presets which are presets that are stored in the software that allow you to set up preset recall which is also a fantastic and useful feature. The last thing that I'll talk about is our PTZ pad which gives the user a visual representation of their cameras configuration using a simple drag-and-drop interface. It's sounds awesome because it is awesome. I've really only scratched the surface with our features, but I'll stop here for the sake of time.
How do your control options compare to others on the market?
It seems a common problem in the industry is the PTZ cameras can be somewhat complicated and sometimes convoluted process. So, I would say the biggest difference between our products and others is that ours just work. They are easy to use and easy to set up and they're also very powerful for how simple they are. On top of that, we offer usually a larger quantity of tools and features that others don't have, such as the automation and visualization features. We do all of that in a small, out-of-the-way interface, or in the case of our hardware in the nice, simple, pretty, couple of boxes that connect your cameras.
Do you have more exciting news or updates for the future?
Absolutely. In the coming months, we're planning on releasing an all-in-one hardware system that will make controlling cameras even easier. Imagine a tablet pre-installed with PTZ Joy software with a custom professional quality joystick attached to it. We're trying to focus more on moving PTZ control to the visual side, so we can manage your cameras and presets just using touch screens and drag-and-drop interfaces, just really simple solutions to make it work. That's what we're going for.
Did I miss anything that you think our listeners need to know or might find interesting?
No, you've asked all the important questions. I guess what I really want people to think about Rocosoft is that our main goal is to simplify an otherwise complicated task. That's what we're all about.
---
Questions about Rocosoft? Ask a Pro:
More on Live Streaming:
YouTube Live vs Facebook Live - Finally a side by side review here.
Check out the top 5 ways to live streaming to YouTube here.
Interview with HuddleCamHD here
Interview with Magewell - Digital Video Essentials here
Live Streaming Software Review - Wirecast vs vMix here.
Learn why live streaming is the best way to host a webinar here.
Interview with vMix here
Zoom Video Conferencing adds Facebook and YouTube Live options. Learn more here.
Skype Meetings for Broadcast. See how Skype adds live broadcasting here.
YouTube Live adds new multiple camera switching feature here.
Infographic: Youtube Live vs Facebook Live here
When to video conference vs when to live stream… Learn more here.
How to host free webinars here.
Live Streaming Services for houses of worship. Learn more here.