This week on ConferenceCast we talked to Angela Hlavka the founder of UC Workspace. Angela gave us insights and updates on their product Quicklaunch. Listen to or read the interview below.
---
---
Angela, can you tell us a little bit about yourself?
First of all, I'd like to say thank you for hosting us today. I'm Angela, I'm the founder of UC Workspace which is the company that makes Quicklaunch.

And for those unfamiliar with Quicklaunch, can you tell us about your history?
Our company was actually a skype-for-business systems integrator. We went around deploying Lync and skype-for-business. And about four years ago, the Lync room system had come out and it was a one-click join hardware solution. But some of the challenges around it were that it was hardware proprietary, you could only join Lync meetings, you couldn't join WebEx or other types, it didn't launch applications, and you couldn't share a device on it. So, in about a four to six-week period, we had over a dozen customers ask us if we would build them an application to run meetings that would work on multiple hardware types and would be able to join applications and share devices and other things. So, we said "sure, we'll build it for you. Just pay us by the hour." And they said, if you build it, we'll guarantee you the licenses. So that's actually how Quicklaunch was born. And then these couple tiny companies called Logitech and Intel started to work with us and we created bundles with Logitech and Intel and we went to 30 countries and 10 languages and now we ship in over 72 countries and have companies like Dell and NEC and Albacore, all our partners creating bundles in the marketplace. And actually, we no longer do system integration, we are just a software company now.
How does Quicklaunch go about saving time and increasing meeting productivity?
The first thing that happens in a meeting is people - we've all heard the term it takes 7-10 minutes to join a meeting because you have to figure out how to turn on the speakers, the mic, join the meeting, all those different components. The whole philosophy behind, we had what was called meeting room ESP - having the meeting room think like you do. What you want is to just hit one button to join the meeting, so it'll open the skype meeting, open up the camera, start the video, all the different components they need to do, so it really is one click for the user. Then if you want to share a device, we make the wireless sharing, or wired sharing, single click, or if you need to share an application, I want to log into my Office 365 or I want to run our companies AutoCAD, I can make all of that a single click.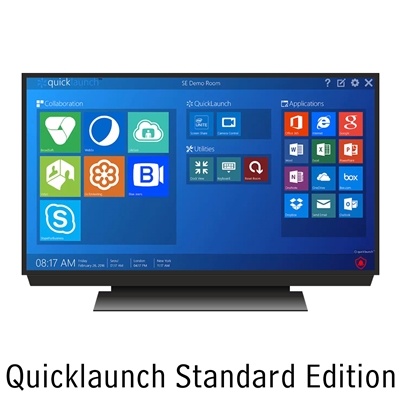 But we go a little bit further in that a lot of companies have their own business line of applications that may or may not be on laptops and other things, so you can join those, you can get the network shares. And then we also integrate it with the hardware, so it makes it easy for people to use the camera and the speakers and they don't have to know all the settings. So, really it's a function of, it's really a focus on the ease of use. One of our customers did a study where they said instead of saving them 5-7 minutes, we're saving them up to 15-30 minutes because we can not only create a link to start an application, but go straight into a particular report at the end of meeting, email out to everybody all that was discussed in the meeting, so it really changes the start of the meeting, how the meeting operates, and how the meeting ends. And again, significant changes in productivity.
You mentioned that Quicklaunch can control your meeting hardware, how does that work? Some of our bestselling cameras for the Conference Room are the HuddleCamHD line, but also PTZ Optics, and I was wondering how it integrates with those hardware lines?
Built into Quicklaunch is the ability to do PTZ with the cameras so you don't have to have a difficult app and you could have the remote people take advantage of it and take control of the application as well. So, whether you're using a console and want to control the camera, or you want to use a floating app, or you want to use a more sophisticated application to control the application works just as well. So, support for the cameras built right into Quicklaunch for HuddlecamHD and PTZOptics.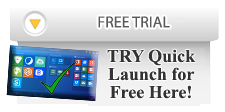 This is just on one touchpad screen and standardized throughout... maybe if your company has 50 rooms it's the same in every room so you don't need to call IT every time. Everyone knows what to do.
Quicklaunch has a few different options and just so everybody knows the features from standard to pro to ultimate editions, you know, what you might need for your sized business, etc.?
First off, all our hardware is agnostic. All our versions are hardware agnostic. So, you can run your cameras on all three versions. And all three versions support over 30 different meeting providers and other things. So, Standard Edition was originally designed for HuddleSpaces that don't have calendars. So, you'd be able to walk in, start Skype with your credentials and maybe run applications, but we still have the ability to reset the room and have it secure for people. The Professional Edition, we actually added the calendar. So, you would see the calendar, see the meetings, and be able to do the one click join. We also then added the ability to support multiple displays. So, if I wanted to start Skype for business on one and an application on another, or if I wanted to have a console at the tables to control my room, I have all those capabilities in professional edition.
And then Ultimate Edition adds more advanced features, like the emailing out of all the documents at the end of the meeting, having Skype for business integration so if you want to use it as a telephone system and want to whiteboard directly into skype-for-business. There's advanced custom security in it. so that if organizations want their credentials in their own custom applications or they want to do specific things, they have that ability. They also have the ability to control devices, so perhaps I have a projector connected and I want to start a meeting or want to start a projector five minutes before the meeting starts and various other things, it has the ability to control through IP or RS232 different equipment in the room. So, it gives you three levels depending on what your needs are for HuddleSpaces all the way up to sophisticated boardrooms.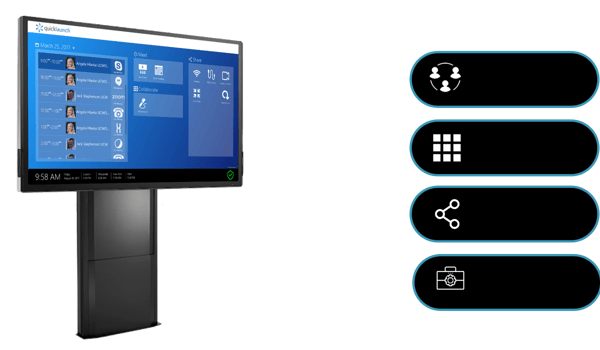 You mentioned some security features. I wanted to ask you if you could expand on the security features, Quicklaunch offers?
We like to divide it between two different components, that which is a user - I walk in to the room. If I'm going to log in to my desktop or log in to Office 365, I put in my credentials and I want to make sure those are gone when I leave the room. The second thing is that I want that what if I forget to clear it and I just want to walk out of the room? So, a room reset goes through clears cookies, cache, and temporary files and logs you out of the various different applications so that your information is not left behind so that as a user you can feel secure that when you leave everything is gone with you. For certain organizations, they are shared PCs, they want it to run more like a kiosk. We call that "lock-down mode". They don't want people to have access to the operating system.
So, we have the flexibility to work with their group policies and their enterprise lock-down strategy and be able to prevent the users from being able to do a variety of different functionalities so that they have a safe meeting environment from an IT perspective as well. So, the room reset function happens one of three ways. One, a user just - it's a 60-minute meeting and after 20 minutes they are done they can just hit the button and walk out and it'll reset the room. The second is we have inactivity monitors that monitor the "Hey, we see calls that just went to their very lowest, there's no video going back and forth. There's no mouse or keyboard movement." We actually look at 18 variables and say "Hey, somebody left the room" and we'll put up a warning saying, "We're going to reset the room." And that works for people who accidentally walk out. And the third way is the meeting ends. We reset the room. But we all know that meetings don't end on time. So, you have the ability to postpone the meeting room reset so you can continue your meeting as long as you need to.
How does Quicklaunch compare to other meeting room software?
We like to think of it as most systems out there are siloed. So, you get a Microsoft service hub, you can only do a Skype-for-business meeting, or if you buy a Zoom room or Blue Jean and they are very siloed solutions. Google Hangouts, or Jam boards. What we'd like to think of is we're agnostic. Bring your own conference provider, bring your own device, we allow you that flexibility to customize it to make it your own. People can brand their screens, they can say "I want wireless in this room. I want to restrict this." But it gives them that ability to customize to meet the needs of their specific organization. So, it's really about ease of use, multiple providers, any hardware, and then we are continually advancing our capabilities. You know, we were the first meeting room system in the world to support Microsoft teams. That's over a year ago, as an example.
What is actually in store for the future of Quicklaunch? What are you working on? If you can tell me.
Well, some of it's NDA but we run 26 releases a year, so we do small feature upgrades all the time. So, for example, in the latest version of Windows, Microsoft released an ability to annotate or draw on any screen. But it's very difficult for a user to try to get to it. So, we create that as an action tile. It's a single tile, click a button and people are drawing on any screen. Again, that ease of use. So, we have a number of those little functionalities coming. We have two components that we've publicly released we're working on. The abilities to - another layer of security for the most secure companies. You can't even use the system or look at it until you log in with your credentials against an active directory. So, that's called a system check-in which will be coming out later this year. And the other item is we're working on a meeting manager which is more or less a skype room system, a team's room system, a zoom room system all in - or a smaller number of room systems and it's really designed to work with consoles, so that will - it's just more advanced features adding to what customers already have access to. And again, it will be Q4, early Q1, in that time frame that we'll be coming out with our next version of Quicklaunch.