Icron Technologies is the global leader in extending USB and HD video extension solutions. We often use their solutions in tandem with our Video Conferencing and Live Streaming cameras, so we wanted to ask Icron a little more about what they offer and who is using these solutions. We interviewed Thomas Schultz, the business manager at Icron, let us know what you think of the interview in the comments below!
---
---
Tom, can you introduce yourself?
Sure. Thanks Emily. I'm Thomas Schultz. I am the business manager at Icron Technologies. I've worked at Icron for 8 years now at multiple levels. I first worked at tech support, then did some testing, harbor design, brief stint as a sales engineer and now I'm in marketing.
You guys are based in Canada, am I right?
Yes, just outside of Vancouver in a suburb called Burnaby.
For anybody that doesn't know about Icron, can you give us a little history and tell us about what you offer?
Icron has been around since 1998. We're a leading supplier of USB and video extension solutions. We have about 45 patents in both those areas combined and more pending. We started out selling basic point-to-point USB 1.1 extenders and found a few niche markets. We continued to grow the business out of those, then branched out to USB 2.0. We've been growing ever since. Today we offer lots of USB 2.0 solutions and do stuff over networking and switching. Now we're moving to supporting more USB 3 and some more video aspects like display port type CDI, stuff like that.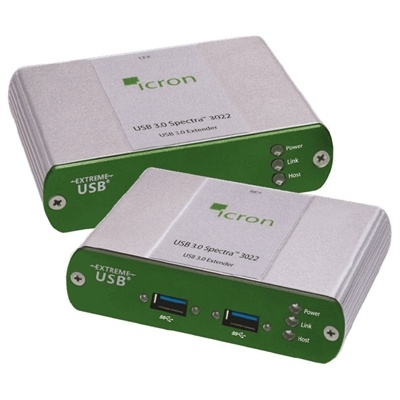 Could you share some common uses for USB extension in the industry?
The most common is typically in the priority space for conference rooms especially. Things like USB cameras, audio devices, speaker mics, phones, things like that. We do some stuff in digital signage as well for touch screen interfaces for advertising. In the education market, we do things for interactive whiteboards and projectors, basically the touch interface there. Then we've also got some interesting applications in military and medical sectors as well and industrial for sensors, data acquisition, things like that. Finally, our other large market is KBM solutions, basically anywhere the PC hardware is stored in a secure location and you can get remote access to it. That's where we come in.
Speaking of the conference room area, we do a lot with that of course as Conference Room Systems, but our favorite cameras are the PTZ optics and the Huddle Cam HD brand. We've seen a lot of demand for these in the past couple years and I wanted to ask how Icron extenders work with these brands.
We work extremely well. With our latest product, our Raven 3104, we partnered with both companies during development and we traded a bit of know how back and forth to get everything working and ensure good compatibility going forward. For USB 2 solutions, I think we've worked pretty well with these brands in the past. So very well is my answer.
Another thing I would love for you to explain is when to use USB 2 extenders versus USB 3?
There's lots of reason why you would choose either or. Typically, it depends on what you're trying to extend and the kinds of PC's or Mac's you are working with. I would say USB 2 is probably good enough for most solutions if you just need an audio conference phone, things like that, USB 2 is more than enough. The lower end USB cameras are 2.0 is definitely good enough. However, more and more USB 3 solutions are on the market, so considering that a USB 3 extender is probably better if you're considering support across future proofing building out of a room that's going to be available for the next 10 years, USB 3 is definitely a consideration. If you want a higher quality camera image or anything like that, USB 3 is definitely a consideration.
Speaking of options, can you tell us a bit about the difference between your CAT and fiber options?
Other than the price, there's not too much difference. Obviously, fiber is a bit more expensive being what it is. Overall, our technology is pretty agnostic, so performance is the same across both mediums. Fiber has a decent advantage at being able to go 10 km for extension and then if you need electric isolation for whatever reason, typically you see that in medical or military operations, that's what you'd go for.
Tell us about price points and all the other product options in general?
We do have quite a few options here at Icron. I think most people are familiar with our box-level solutions. We sell those under the Icron brand in a silver-aluminum enclosure. But we also OEM to other companies typically in a black kind of housing. We also provide raw PCBAs for someone to potentially wrap their own metal around it if they wanted. We even go down so far as chips for really serious embedded options. We address multiple cost points at that. Finished products for example a Raven 3104 which is our newest USB 3, 2, 1 category 6-cable will cost you about $999 US, while USB 2 solution, our 2304 model, will cost around $350 US. Then embedded options going lower and then based on volume.
I'd love to let you take over if there's anything that we missed or maybe the future vision of the company. Whatever you'd like to expand on.
For the most part, from Icron's perspective, our customers came to look forward to us providing high quality video to USB extension solutions. We're super excited going forward about USBC solutions and new technology systems based around that. Being able to power your device and connect to things and provide video and USB ports with just one connector. And it's a small connector as well so we're looking forward to bringing the form factors as well on some of our latest products. The future looks good for us and the conferencing space is evolving as well, and USB will continue to be an important part of that. We're excited.
---
Take a look at all of Icron's products here!
More on Web Conferencing
Learn how to use multiple cameras with web conferencing software such as GoToMeeting, WebEX and Skype here.
Interview with Laura Padilla of ZOOM Video Conferencing here
The Best Wide Angle Conference Cams and Kits here
10 Hacks to up Your Video Conferencing Game here
Interview with HuddleCamHD here
Learn how to make any webcam wireless with the USB2Air here.
Huddle Room Hero's: Great Tech for Small Spaces here
Infographic: 5 Tips to Avoid VIdeo Conference Bandwidth Issues here
Find the top 5 features for web video conferencing software in our review here.
Top Auto-Tracking Camera for web video conferencing - here.
Review of the top video conferencing cameras - PTZOptics vs HuddleCamHD here.
Learn how to setup a two camera "Zoom Room" here.
The Do's and Don'ts of Video Conferencing here