Hello Everyone!
The NewTek ™ NDI (Network Device Interface) is a open source IP protocol for sending and receiving ultra low latency, high definition video and audio sources for live broadcasts. The protocol has been pioneered by Dr. Andrew Cross, NewTek's president and CTO, to become a new standard for the industry.

What does this mean for NewTek and the popular TriCasters?

TriCasters will now have the capability of working with any NDI compatible device and provide low-latency HD video functionality. Device manufactures can now implement the NDI open source code for seemless integration into a NewTek TriCaster broadcast workflow.

What does this mean for the live streaming market?

The live streaming market is set to grow signifigantly in the coming years. Open source technology is a proven way to spur growth and market engagement.

*Some of the technology mentioned is still in Beta. Check with NewTek for latest release notes...
Our Predictions by Market:
Broadcast Market Overview:
The NewTek NDI allows for ultra low latency connections between multiple systems. Therefore various systems can now share resources over a local area network. A TriCaster Mini system can share video and audio sources with a NewTek TriCaster 460 allowing for flexible deployments for any budget. In the below example we are showing a NewTek TriCaster with various HD-SDI PTZOptics cameras connected. This Tricaster is then connected via NDI to a TriCaster Mini with additional PTZOptics HD-SDI cameras available as video sources.
Tip! - Sharing Resources
Now multiple operators can gain access to broadcast assets across a LAN "Local Area Network" with ultra-low latency. Consider setting up a line of communication for instant messaging, audio conferencing or remote computer control. With remote computer control the main broadcast studio has additional flexibility...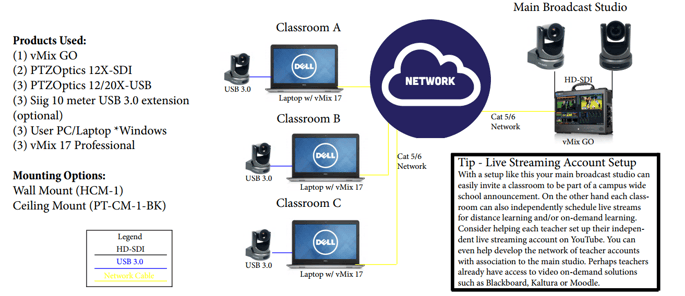 Education Market Overview
Distance Learning / School Announcement Shows
In the educational space the NewTek NDI allows educational organizations to affordably connect multiple classrooms to a large school broadcast or announcement show. Each classroom / teacher TriCaster Mini to stream & record lessons independent to the main broadcast studio. On the other hand, the main broadcast studio can use video & audio feed for a school wide broadcast for daily announcements.
Tip! - Live Streaming Account Setup
With a setup like this your main broadcast studio can easily invite a classroom to be part of a campus wide school announcement. On the other hand each classroom can also independently schedule live streams for distance learning and/or on-demand learning. Consider helping each teacher set up their independent live streaming account on YouTube. You can even help develop the network of teacher accounts with association to the main studio. Perhaps teachers already have access to video on-demand solutions such as Blackboard, Kaltura or Moodle.
House of Worship Market Overview:
The NewTek NDI allows for ultra low latency connections between multiple systems. In the example below we are demonstrating how one central house of worship can incorporate video feeds from various houses of worhip on the same network. Because the NewTek NDI provides bi-direction video and audio, each church can now share video/audio resources. This is ideal for sharing views from multiple churches, presentaions, audiences and more. Sattelite churches can even localize content with branding and control for local recordings.
Tip - Connecting Together
If you are working with a outreach program or satellite church and you want to connect their video/audio to live stream consider setting up a Skype Call. Read our "Bandwidth Optimization Tips" to ensure the best possible connection from your main broadcast studio to your satellite locations.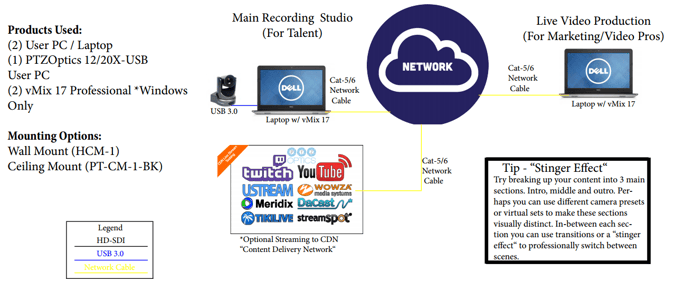 Sales & Marketing Market Overview:
Online Webcasting / Live Shows / On-Demand Video Production
High quality video content has never been more important for marketing today. Using live production tools can help marketers stay up to speed with quick and easy video creation live. By creating content live video marketers are able to cut down on time spent in post production and focus on what really matters. A video that receives 7,500 views/day = 46.6 hyper efficient sales professionals spreading your message everyday (salesforce.com).
Tip - "Stinger Effect"
Try breaking up your content into 3 main sections. Intro, middle and outro. Perhaps you can use different camera presets or virtual sets to make these sections visually distinct. In-between each section you can use transitions or a "stinger effect" to professionally switch between scenes.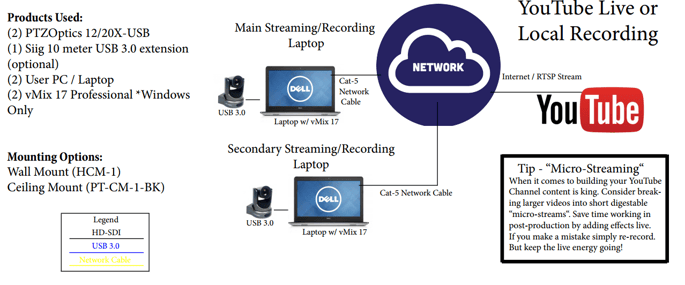 YouTube Live Market Overview:
Online Webcasting / Live Shows / On-Demand Video Production
YouTube is the world's largest video on-demand service and the #2 search engine. The NewTek NDI allows content creators the ability to have multiple "live operators" who can handle video effects for the talent. Anyone running a YouTube channel with multiple team members can benefit! Uses range from managing camera switching, to video overlays and transitions. Save yourself time in post production with live studio tools! The NewTek NDI paired with vMix is a affordable way to connect multiple computers for control of a powerful live stream and video recording.
Tip - "Micro-Streaming"
When it comes to building your YouTube Channel content is king. Consider breaking larger videos into short digestable "micro-streams". Save time working in post-production by adding effects live. If you make a mistake simply re-record. But keep the live energy going!