Live streaming is the next big thing in production. It not only excites YouTube producers and Twitch gamers but also news channels and event managers. All big events are now live streamed to billions of users worldwide. It has become part of the ever growing network on the internet and continues to grow by a massive percent every year.
Update: September 2017 - Wirecast and vMix have both recently released huge updates to their live streaming software. The following blog post has been updated to include Wirecast 8 and vMix 20.
Two of the leading live streaming and video production software companies have released new updates! Wirecast 8 adds a host of new features including built-in video calling to simplify the workflow for live streaming talk shows. Another live streaming company vMix has a added "vMix Call" in a previous version of vMix and now announced a host of new features including additional outputs, production clocks and more PTZ control support. Wirecast 8 has been a long awaited release, especially for Mac users with no access to vMix, with new features for Facebook Live Comments, a Multi-Viewer, cool dropshadow/reflection effects and more audio channels.
vMix 20 vs Wirecast 8
vMix 20 has just been released, and we have seen many of the improvements that we hoped for in the newest version. One of the best features in the new version is the ability to record both a "Clean" and a "Dirty" version of the same recording. Anybody who works with filming knows that it can be a burden to have to constantly work with a high resolution version of a recording, especially when doing heavy editing. vMix 20 makes this as simple as pressing a button. Another feature of the new version that many are especially fond of is the ability to channel your recording to multiple outputs at a time as seen below, making your recording experience exponentially simpler.
[caption id="attachment_5374" align="aligncenter" width="786"]
Also, here is a full list of the capabilities of the new version of vMix 20 from their website:
Outputs

Two additional independent outputs for vMix Call, Replay and NDI (Pro and 4K editions only)
Second recorder with an independent recording format that can be assigned to one of the 4 outputs. (Pro and 4K editions only)
Production Clocks

New Dual Production Clock can now be enabled from Settings -> Options
Each of the clocks can display either the current time, recording duration, streaming duration or a countdown to an event
Clock display can also be added as an input which can be assigned to the MultiView Output
Clock input can also be enabled as an NDI source on the network, providing a mobile clock that can be displayed anywhere using the free NDI tools!
vMix Call

Audio and Video sources sent to guests can now be changed independently at any time from the right click menu
All vMix editions including Basic HD can now connect to a remote vMix Call running HD or higher
New Low Latency option added. This can be used on reliable, high bandwidth point to point connections where the lowest possible delay is required
Audio

New Channel Matrix option available for every input that supports audio
Provides a 8x16 channel audio router to every input that can be assigned to any of the audio output buses in any combination
Live audio meters added to each channel in the Input Channel Mixer
Streaming

Improved streaming settings layout
Each of the 3 destinations now supports independent bitrate and resolution settings
Hardware Encoder can also be controlled independently on each stream to assist with systems where GeForce cards only support 2 encoders at a time
PTZ

Added new Visca Over IP support to connect to newer Sony SRG series cameras in addition to the new IP model from Lumens

Titles

Added support for controlling NewBlue Titler Live 3.0 via NDI
Supports commands such as AnimateIn, AnimateOut which can be accessed from the Input right click menu or assigned to controllers using the new shortcut function NDICommand
Supports live editing of Titler Live templates from within the vMix Title Editor and Web Controller, with the ability to assign data sources as well

Other

Added support for X-keys XK-68 Jog/Shuttle controller
Improved CPU usage when streaming, particularly with 4K
Improved performance with 4K Magewell capture cards
New TCP API for embedded devices. See Developer Information in the help for more information.
Wirecast 8
vmix 20 vs Wirecast[/caption]
However, vMix is not the only live streaming softrware platform that's recently updated their software and added improvements recently. Wirecast 8 is one of the best screen recording software that is available. The company that developed Wirecast, Telestream, just released Wirecast 8 recently, and it has myriad new and appealing features for the user to explore. One of the most appealing features of the new version is it's seamless intertwinement with some of the leading streaming services including Facebook, YouTube, Periscope, Livestream, uStream and others using the RTMP Protocol. Another great feature of the Wirecast 8 software is its ability to record up to 8 tracks of audio simultaneously, either into an audio mixer or straight into the Wirecast software. Lastly, Wirecast 8 has been improved with new tools that will help you resize, rotate, and even enhance your scenes. A new Z-Rotation has been added so you can flip video around. If you have camera footage that was originally upside-down, the Z-Rotation option will flip things upright for you so that you don't have to go through a third party application, and makes things much smoother when broadcasting live.
New Wirecast 8 Features[/caption]There are plenty of reasons to offer live streaming instead of live broadcasts. One major reason is cost, while live broadcasts cost millions to news channels, live streaming can reduce that cost to signifigantly allowing everyone from small schools, to small businesses and home users to get involved. Secondly, live broadcasts are limited in terms of viewership because news channels have limited coverage worldwide. On the other hand, live streams are open to every internet user in the world. This expands the viewership by a great margin.
Wirecast and vMix are two production softwares which are widely used for live streaming. Both offer a comprehensive set of features and ease of managing broadcast with the comfort of your computer table. Both softwares also have their own set of unique attributes that distinguishes them from each other.
Wirecast:
Wirecast is a product of Telestream, a company that specializes in developing products for video content. It is one of the biggest broadcasting software companies in the world. There is no doubt that Wirecast is great product because it is developed by a set of experts with a lot of experience.
Wirecast is being used across four industries at the moment, which include:

The software has a three step process to stream your content live to the audience. Capture your content, Produce your show and Stream it live. For capturing the content, Wirecast offers unlimited number of inputs such as cameras with USB, thunderbolt, SD/HD and HDMI output. It also takes inputs from audio mixers, iOS 8 cameras with Wirecast Cam and different types of microphones. Apart from this, users can capture the content via capture cards, Web/IP including RTMP, IP Cameras, and Web Streams etc. and lastly there are other input methods available as well.

In terms of production, Wirecast offers a whole set of tools which can be found in professional grade production units. It enables users to compose live video with multi-layers, Chroma key and much more. The software supports x264, H.264, Flash, ProRes, MJPEG and WMV for encoding.
For live streaming, Wirecast is capable of streaming content to all major services such as Twitch, YouTube, custom networks and a many more content delivery networks. There is a wide list of partners available so in terms of capability, Wirecast has you covered.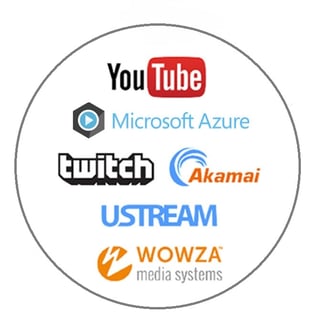 vMix:
vMix is a similar to Wirecast, it also offers a similar feature set that converts an average PC into a mainstream live production unit.
Like Wirecast this production software is being used for:
Churches

Sports

Live events

Meetings and presentations

Education

Gaming
In terms of features, vMix is no different from Wirecast as it offers input from variable sources including cameras with HDMI, SDI, and USB etc. It also supports all popular formats including AVI, MP4, H.264, WMV and even QuickTime. For audio input, vMix can take input from soundcards, audio mixers, DeckLink Audio and many more.
Another advantage for using vMix is that it offers streaming, recording and output simultaneously offering instant replays and on the go editing. There are several templates available for your specific needs such as scoreboards can be integrated during a sports match or you can use your own vectors to show specific objects in the live stream.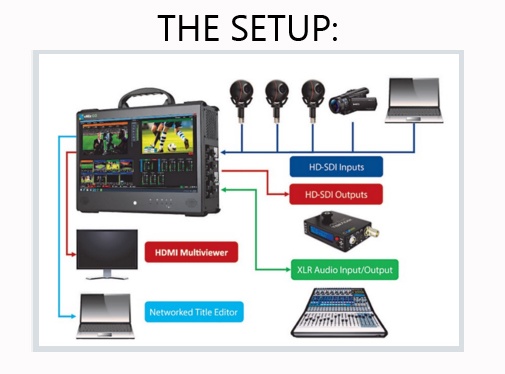 vMix also includes the functionality of video delay that enables the producer to delay the live stream from any camera to the viewers. This is particularly helpful in order to live edit the stream and show the finished product to the viewers. Producers can also save multiple video clips of important events for playback at a later time. Also to increase the intensity of an event during the live stream, vMix allows slow motion up to 400%.
Another great feature about vMix is the availability of live video effects which allow a user to color correct, deinterlace, sharpen, zoom, rotate, pan and crop in real time. Users can also embed multi-view screens similar to news channels. Lastly, vMix also supports touch screen web interface that enables users to use the software on iPad, Surface Pro and other supported tablets.
In terms of pricing, vMix's full featured software with 4K support is available for $1200 whereas Miracast's full featured software along with add-ons is priced at $2200. Both softwares have their own distinctive feature set and offer the same functionality more or less. Users can purchase separate add-ons for Miracast to add new features and tweaks while vMix is limited to the software itself.
More on Live Streaming
For more information download our Live Streaming Ebook Below.