Locking Down an Intel NUC for Meeting Rooms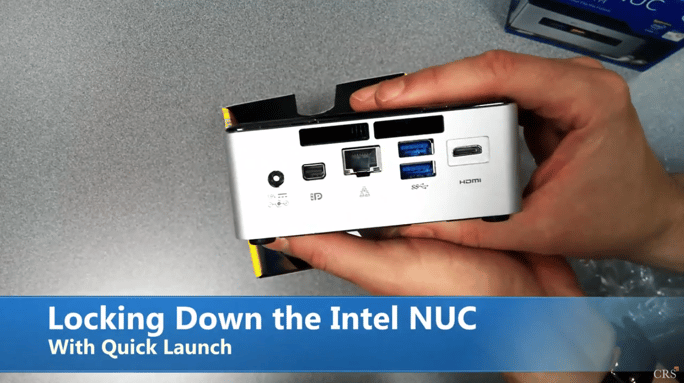 What if there was an easy way to completely lock down the Intel NUC and give your meeting rooms access to ONLY the applications it needs? What if there was a simple "reset" button to restore your Intel NUC back to the ideal settings and clear any cached files for corporate security compliance?
UPDATE: It's worth noting that you can litterally lock Intel NUC computers using a Kensington Lock :)
Here at Conference Room Systems, locking down the ever popular Intel NUC Micro-PC has become an extremely popular request. Until, Quick Launch, a meeting room dashboard product we did not have an effective way to manage locking down Intel NUC computers AND providing an easy meeting room experience for end users. IT managers want a maintenance free deployment for Intel NUC computers which provides their end users access to various Windows applications and web-based video conferencing. So in this blog post we are going to review what makes Quick Launch SE (Standard Edition) and UE (Ultimate Edition) so important for locking down Intel NUC computers.
Why do we want to lock down the Intel NUC? The Intel NUC (Next Unit of Computing) is an affordable Micro-PC computer that has become a standard for enabling conference rooms with web-based video conferencing (GoToMeeting, Skype for Business, WebEX and Zoom among others). This Micro-PC is available pre-built from Conference Room Systems and we have detailed installation/integration videos available here. Needless to say, IT manager have embraced the Windows based Micro-PC's with open arms BUT worry about users tampering with an open Windows operating system. This is where locking down the Intel NUC with Quick Launch comes in.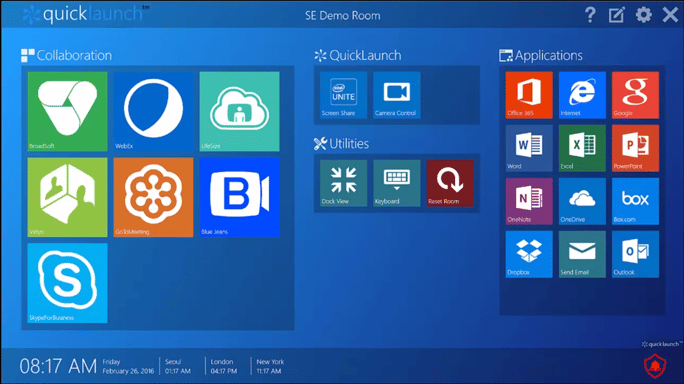 Quick Launch offers the following features simplifying the deployment of Windows PC's in the conference room:
Room Reset: The ability to reset the entire room, delete cached information and more with a single click

Locked Down More: Locked down mode restricts users from accessing the Windows OS

Single Click to Join video conferencing meetings for GoToMeeting, WebEX, Google Hangouts, Bluejeans, Zoom and Adobe Connect (Ultimate Edition ONLY)

Dashboard style layout that integrates with ANY application or URL!

Customizable user interface that supports custom branding

Single Click Action Tiles which can launch: Applications, URLs, Mail, Files, PC Based IP Softphones
Do we really want to lock down the Intel NUC?
After speaking with so many of our customers in detail about locking down Intel NUC computers we have found that in many cases what customers really want is the ability to reset the computer to known state. Quick Launch offers the ability to reset the room and delete the cache with a single click. With this capability many IT directors have chosen to give users the ability to use an open platform with flexibility beyond a locked down appliance. What is the best solution for your business? Contact sales@conferenceroomsystems.com to discuss deployment options and request a free demo of Quick Launch!
Sources:

More about Computers for Video Conferencing