BROADCAST MICROPHONE REVIEW
SUMMARY: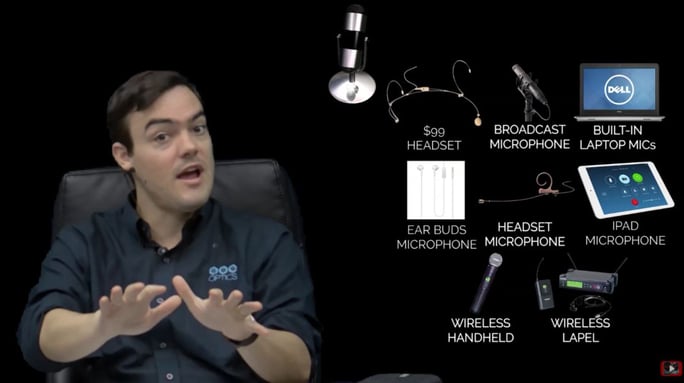 This broadcast microphone review covers a wide range of microphone types that have been used on our live show and video blog. We use recordings with, broadcast microphones, hand held microphone, lavalier microphones, head-worn microphones, built-in laptop microphones, ipads and even headphones. The point we are trying to make is pointing out which microphone sound good and which sound pretty bad… All recordings were done using mp4 video format with 128 Kbs for audio. So with that 128 Kbs as our constant variable look for differences in the audio quality in our microphone recordings.
Two of the best audio experiences can be found using handleld and lapel (lavalier) microphones. Each microphone has its own best practices and use cases that we will review in this video. Both microphones are standards for public speakers, presenters, worship leaders and stage actors.
LAVALIER MICROPHONES
The Lavalier or Lapel microphone is ideal when you have time to "Mic Up" your talent. Lavaliers are ideal for audio pickup because they can be placed fairly close to your talent's mouth. You can clip the lavalier microphone onto your talent's clothing and the best place to start is roughly 6-8″ from the talent's chin. In Profile, you should notice that there is a direct line between the lapel microphone and your talent's mouth. You should hear a full range of high and low frequencies and adjust the microphone position to avoid any noticeable bass boosting or excessive sibilance.
Finally clothing is a potential issue when it comes to lavalier microphones. Suggest clothing of natural fibers such as cotton, wool or a blend. Synthetic clothing can be an issue because it can cause rustling heard through the microphone. For men the best case scenario is business suit and/or a business tie. For women suggest something without any noise accent pieces that make ruffling sounds.
HANDHELD MICROPHONES
The best advice I have ever received about handheld microphones is that they pick up audio like a flashlight shines light. Generally, hold the microphone in front of you, pointed directly at your mouth. Ideally, we are suggest 3-6 inches from your face and about 1″ below your mouth. You want to speak directly into the hand-held microphone, so it can pick up your audio loud and clear. Avoid breathing directly into the microphone and use a wind-filter if your talent is creating any noises that are un-settling.
HEAD WORN MICROPHONE REVIEW: DPA VS SAMSON

When it comes to microphones there is almost nothing like a head-worn (headset) microphone. In this video we review perhaps the most expensive head worn microphone the DPA D:Fine vs SAMSON XPD1. The DPA D:Fine microphones are used in the highest quality systems from Broadcast in New York to the filming of the Hobbit! These microphones are of the absolute highest quality. But they cost over $649 per system. Because budget is always a concern we wanted to compare and contrast the difference between the DPA D:Fine and a new product from SAMSON called the XPD1. The XPD1 is only $99 and it includes a complete wireless transmission system that uses 2.4 GHz. In this video we compare and contrast the differences, show some sample recordings and switch between both microphones live!
VIDEO CONFERENCE EFFECT ON AUDIO QUALITY

Another interesting topic in our broadcast microphone review is the effect of compression during a video conference call. For this review we take two audio clips and compare them. The first video clip is taken from Tom Sinclair's "Streaming Idiots" show which was directly recorded to his laptop. The second clip was recorded on the far end of a Zoom Video Conference call. Both clips used the same broadcast microphone the Audio Technica AT897. (http://www.audio-technica.com/cms/wired_mics/9aeff7bd1ee954dc/index.html/) The microphone is mounted on overhead boom extension so you can't see it in the video clips. It's a condenser mic so it picks up every little sound in the studio. Ac, pc fan, any ambient sound gets picked up. Also picks up the ever so slight echo in a room with bare walls.
With our microphone and recordings at 128 Kbs as our constant we compare the audio quality when sent over the public internet using Zoom Video Conferencing. The video conferencing software has it's own compression and audio algorithyms it uses to provide an ideal experience. As you can hear the audio is amplified quite a bit and the audio echo cancellation is also at work. Let us know what you think. Personally I hear some audio quality loss and a bit of the dynamic lows are missing.
BUILT-IN LAPTOP MICROPHONE VS PROFESSIONAL HEADSET MICROPHONES

This review provides recorded audio from built-in laptops and compares them with a professional headset microphone from DPA (D:Fine). This is the most common form of online video conferencing and most of our guests actually join our show with a built-in microphone laptop. What we found is that our audience has trouble hearing recorded content from such low quality microphones. Using a built-in microphone on a laptop or iPad is acceptable (not ideal) when you are using it for video conferencing. It's not the best microphone but as long as you can be understood it should be fine. But when we are talking about broadcast microphones where a video is being recorded it's really barely acceptable. The audio from a built-in laptop has to battle audio echo cancellation as it
The audio from a built-in laptop has to battle audio echo cancellation as the same device that is recording audio is also producing audio from the speakers. Laptops varying in quality but in general the audio quality is not why you buy a laptop. Therefore a built-in laptop microphone is almost the worst possible microphone you can use duing a live streaming, broadcast or professional recording.
HEAD-WORN MICROPHONE VS HEADPHONE (EARBUDS) MICROPHONE

So this review show the difference in quality when users select a professional head-worn microphone (we are using the DPA D:Fine) vs a set of standard earbuds that include a microphone. If you have seen our other videos a set of headphones with the microphone attached is still MUCH better than a built-in microphone on a laptop. But as you can hear these standard earbuds don't offer much of a high quality experience. One of the main problems with these headphone style microphones is that they swing with the headphones and make a scratchy, ruffling sounds when moved around. They are a step up from standard built-in microphones but do not provide a broadcast quality audio sound that is worth recording in a professional environment.
IPAD MICROPHONE VS HEAD WORD MICROPHONE

Perhaps one of the biggest differences in quality is a professional microphone vs any built-in microphone including the iPad. But in this video we wanted to demonstrate the audio quality difference of a iPad without headphones being used. As you can see the headphones make a pretty big difference but both still don't sound as good as professional microphones. The headset is better than a built-in microphone because it helps seperate the audio output from the microphones. In this regard, we do notice better audio quality when guest on our show uses headphone microphones. While both microphones perform poorly when compared to the professional microphones in our review… The headphones still out perform the standard iPad microphone.
Here the entire list of microphone reviews here: https://www.youtube.com/watch?v=G4LKvb_3f6U&list=PLyY0t7zWqRQoVyeNJOvI8VLP-5nxVAIFl
Watch our Latest Friday Live Stream: https://www.youtube.com/playlist?list=PLyY0t7zWqRQoTds87rRKXlBAePHVfOD23
View Upcoming Live Webinars: https://www.youtube.com/channel/UCa-H8O_q6M6P9XkgLmzxxDw/videos?shelf_id=1&live_view=502&sort=dd&view=2
Watch our Latest Company VLOG: https://www.youtube.com/playlist?list=PLyY0t7zWqRQoJXccjLRlCVIvGQ_CbiR95