The Stylus Pen that is, with new the Crestron RL Microsoft Surface Solution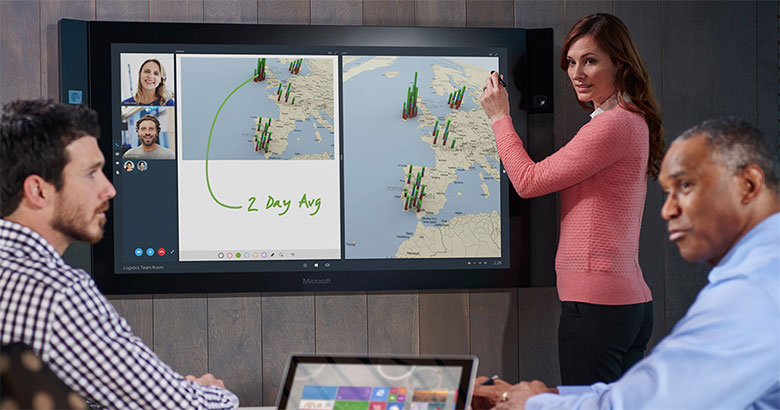 At its Windows 10 event, Microsoft introduced two extraordinary devices – HoloLens and Surface Hub. Surface Hub is a large touchscreen display with integrated computer and stylu support. It is designed specifically for businesses and can be utilized in video conference meetings. The Surface Hub is an ideal solution for group collaboration during meetings allowing a more interactive session across the members.
Microsoft Surface Hub offers dozen of features to the users enhancing the virtual meeting environment. Some of its features are:
Engaging and productive meetings
The Surface Hub allow users to join a Skype for Business meeting with a single tap. Users can share meeting notes, productivity content and communicate on the work displayed.
Scheduled or spontaneous

One-touch meeting start

Easy to share content

Engaging for everyone
Best way to create and brainstorm with others
Surface Hub makes group work more productive and allow users to share their ideas on large touchscreen display acting as a canvas. Users can work in a natural manner without any bottlenecks when it comes to technology.
OneNote whiteboard

Fluid, natural ink

Built for teamwork

Take your ideas with you
Platform for amazing large screen apps
Microsoft Surface Hub comes pre-installed with tons of applications. The large screen computer includes Skype for Business, Microsoft Office, and OneNote. It also supports a variety of Windows 10 native applications. Native Windows 10 applications scale flawlessly on the large display and users can connect applications from their personal device to the Surface Hub.
Windows apps

Familiar apps

Create your own app

Integrated solution
Advanced technology for the modern workplace
Microsoft Surface Hub features an integrated design which can complement any work space. It comes in two sizes – 55-inch and 84-inch. Users can mount it on the wall of a large conference room or utilize the variety of mounts which allows the Hub to be moved around in the room. It also comes with integrated stereo speakers and two rechargeable Surface pens.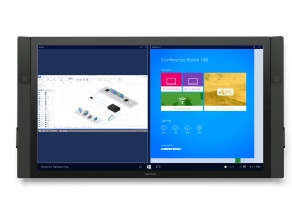 Any space

Every user

Connected

Scale with your enterprise
Crestron RL Microsoft Surface Hub Solution
Crestron RL is the official Skype for Business solutions partner. The company offers various solutions for Surface Hub and it is the only provider with complete Surface Hub hardware solutions. It combines the amazing large screen device with its in-house audio and video solutions for the best video conferencing experience.
For the best experience users can pair Crestron's DigitalMedia Presentation System, TSW touchscreens, TSS scheduling panels and set of USB extenders. This setup will allow users to display any content from any device in the conference room on to the Surface Hub. Users can experience the Ultra HD 4K content and stream it from available devices to the Surface Hub and change the atmosphere of the room via Crestron's native touchscreen panels. It also allows scheduling appointments with the help of Crestron scheduling panels.
Crestron RL's hardware has native Surface Hub support so there is no need for any advance configuration and its superior software solutions do all the hard work for you. Crestron Fusion, an enterprise management software can be integrated in to the Surface Hub solution allowing IT professionals to monitor, manage and control all the connected devices in the conference room.
Crestron's 4K certification for Surface Hub ensures flawless experience at Ultra HD resolution. The 4K enabled products under go rigorous testing so they work with Crestron DigitalMedia system without any issues. The 4K display delivers 10 Gigabit per sec data transfer speeds delivering smooth 4K content on the screen without any lags or stutter.
Crestron RL offers six packages for Surface Hub solutions. These packages include four integrator Kits and four bundles. Professionals can choose their desired package and start utilizing the Surface Hub. The integrator Kits do not include a Surface Hub screen but the bundles provide options for 84-inch and 55-inch Surface Hub displays. Only the 84-inch display supports 4K Ultra HD resolution while the 55-inch screen supports Full HD resolution.
Surface Hub is an ingenious solution that revolutionizes the virtual meeting experience. Combined with Crestron RL products, the setup and installation takes less time and users can enjoy a hassle free conference with the best quality available.
Users can choose between different sets of DMPS Presentation systems which include four options:
DMPS3-4K-150-C

DMPS3-200-C

DMPS3-300-C

DMPS-300-C-AEC
These devices provide options for single, dual and quad displays connectivity as well as 10, 7 and 6 devices can be connected to the system simultaneously.
In terms of touchscreens, Crestron RL offers three devices. Users can choose between 5", 7" and 10.1" touch screen devices depending on their need. And for the scheduling panel, Crestron offers a 7-inch TSS-752 Room scheduling touch screen for booking meetings.
Crestron is the official partner for Skype for Business systems so every product is certified by Microsoft. This ensures the best quality and experience from its devices that are optimized for Skype for Business meeting rooms.