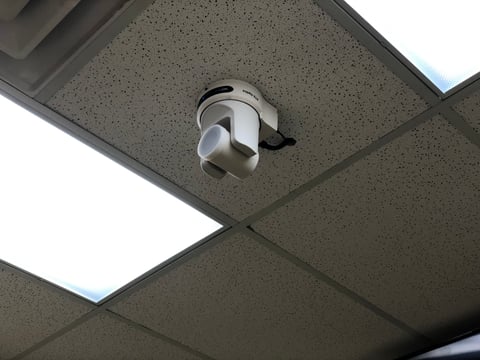 One of the signature product lines at Conference Room Systems (CRS) is the PTZOptics camera line. These cameras offer broadcast quality that support camera control and allow users to control the pan, tilt, zoom and preset locations via a single USB camera connection.
We're finding more and more of our customers want to mount their PTZOptics cameras to a ceiling to provide multiple angles to their production or add a vantage point an audience wouldn't typically see.
We wanted to include some pictures and instruction for you so that you can confidently mount your camera using the PTZOptics ceiling mounts.
The first thing you should do when you receive your PTZOptics Ceiling Mount is to read through the included manual. CRS will not take responsibility for the improper installation of this mounting hardware. If you are unsure how to install a camera with this mounting hardware yourself, please seek out someone from our team at sales@crs-us.com.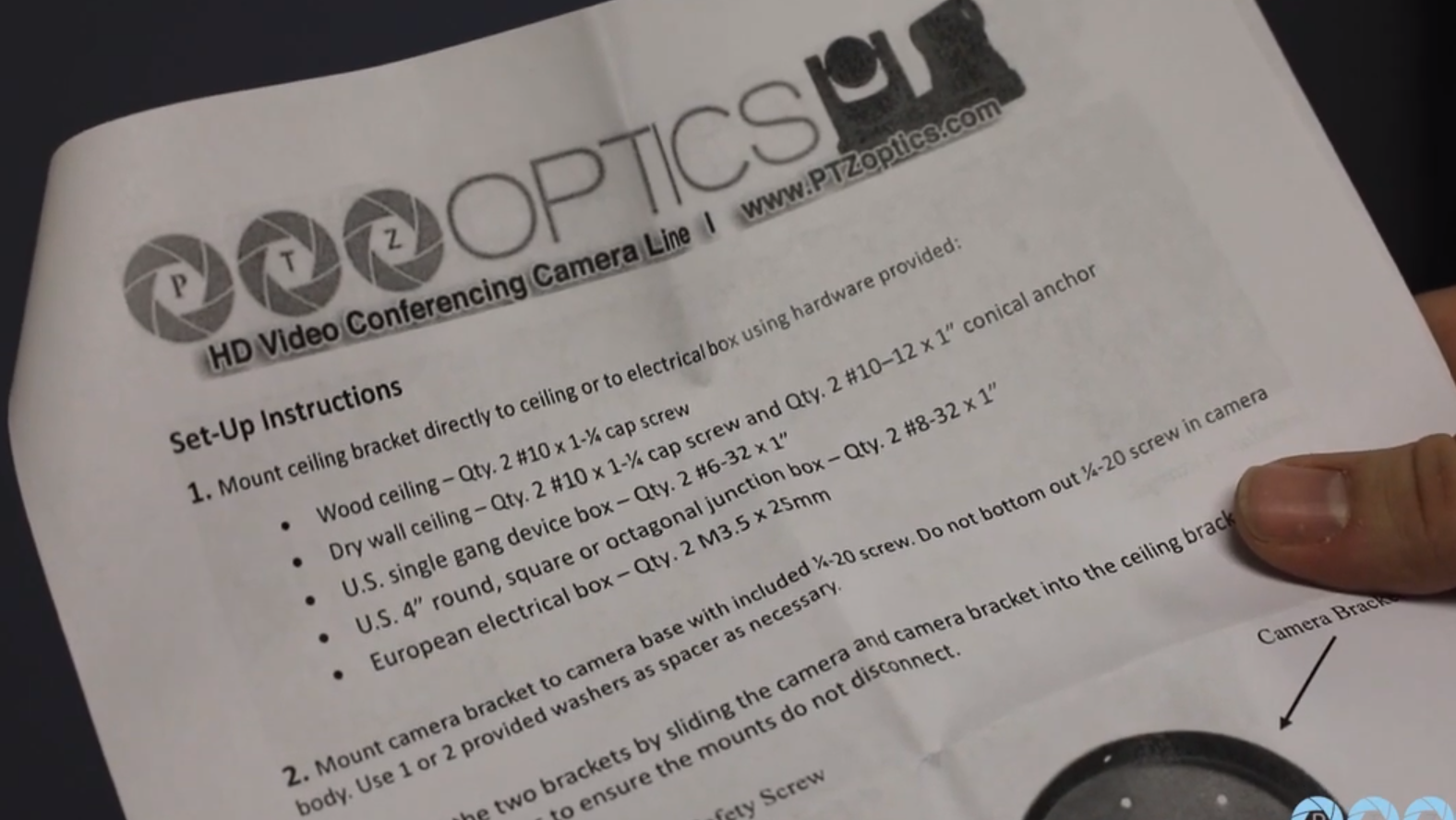 The PTZOptics PT-CM-1 ceiling mount is available in either black or white, with the last two letters indicating either BK or WH to denote the color of the product. In this way, you can match your ceiling mount with the color of your PTZOptics camera. The PT-CM-1 universal ceiling mount has been designed to mount most small-sized PTZ cameras directly to multiple ceiling types with the included hardware. This mount can accommodate a US Single Gang Device Box, a US 4" square, round or octagonal junction box, a European single gang electrical box, wood ceilings, metal or drywall ceilings with the included hardware package.
Note: Follow the instructions inside the user manual to determine the specific hardware you should use depending on your mounting location.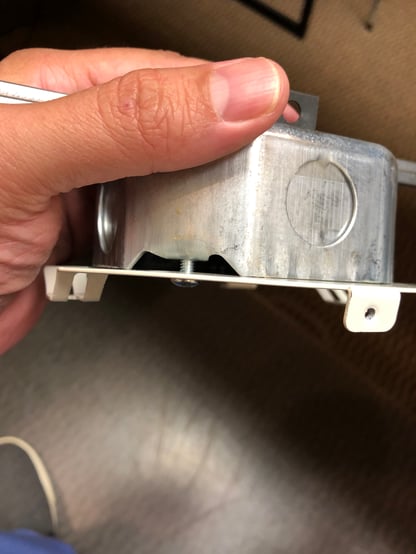 CRS highly recommends the use of a secure electrical box for mounting the ceiling bracket. This ceiling mount includes one ceiling bracket and one camera bracket. Again, you can choose either white or black, depending on the color of your PTZOptics camera.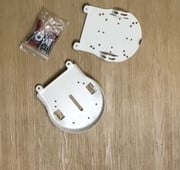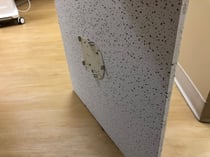 Start by mounting the ceiling bracket to your mounting location with the appropriate included hardware. If you are using a ladder, make sure to follow appropriate safety procedures. Start by measuring and marking the center location of your mounting bracket.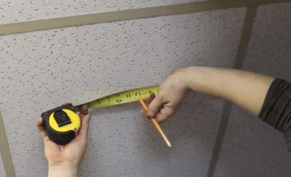 Please be sure to follow all applicable building code regulations for hanging lightweight devices from a ceiling. This may include an additional tile bridge, safety wire or both if your ceiling is modular. With your ceiling bracket in place, mark each connection point and drill each hole as needed depending on your mounting surface.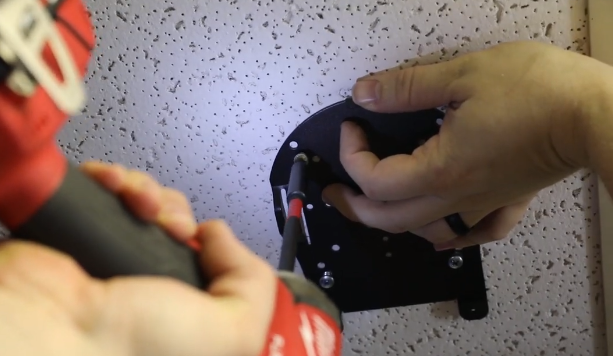 Next, mount the camera bracket to the camera base with the included quarter-twenty screw. Do not bottom out the quarter-twenty screw-in camera body. Instead, use one or two of the provided washers as spacers.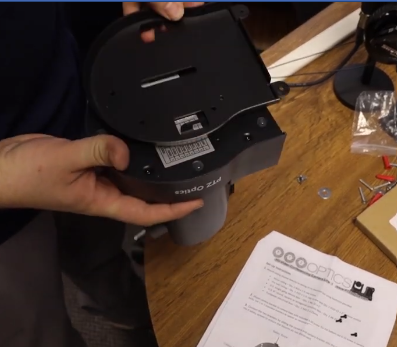 Now may be a good time to think about cabling for your camera. In this example, we will drill a hole for our Cat 5e cabling and pull the cabling through our ceiling tile.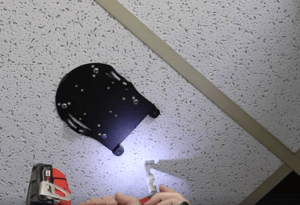 You can then connect the two brackets by sliding the camera-bracket assembly into the installed ceiling mount. It is now time to screw in the 3 safety screws included with your hardware package. Secure two safety screws to the back of the camera mount and one at the front. This will ensure that the two brackets will not disconnect.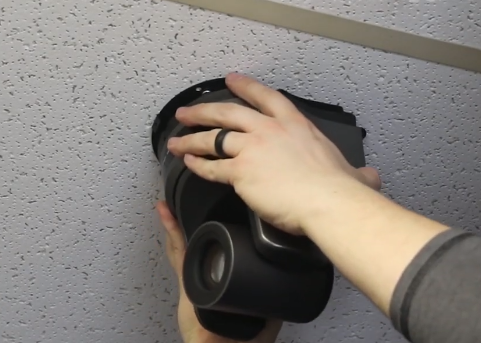 Now you can plug in our camera and see that it turns on with the provided power over ethernet from the PoE capable network switch. You should see the lights on the ethernet port of your PTZOptics camera light up. The camera will turn on with its boot up dance.
If you have any questions about this setup process you should refer to the manual. Once again, remember that Conference Room Systems will not take responsibility for the improper installation of this mounting hardware. If you are unsure how to install a camera with this mounting hardware yourself, please seek out the help of a certified professional by emailing us at sales@crs-us.com