Hello AV & IT Managers,
If you have spoken to one of dedicated account managers here at ConferenceRoomSystems.com you may have found out that we really like to recommend Phoenix Audio conferencing products. There are quite a few reasons why Phoenix Audio's USB, SIP and traditional analog PSTN conference phones fit the bill for many of our technology projects. Let's start with some basic reasons why we recommend Phoenix Audio and then we will review each major product in our video series below.
1. Quality: Phoenix Audio makes a high quality product. Every product is made from aluminum alloy, NOT plastic. It makes a BIG difference and the build quality shows.
2. Support: Support is essentially non-existant. It's not that we don't want to help support our customers... It's the fact that the products just work and support/troubleshooting just doesn't come up with Phoenix Audio Products
3. Easy Installation: When it comes to installation everyone likes to hear Daisy-Chaining and Power Over Ethernet. These two features put Phoenix Audio above and beyond. Later in this blog post we will review there PoE USB 2.0 extension system, ceiling mounting solutions and daisy chaining in more detail.
4. Versatility: Phoenix Audio has managed to pack a ton of value into their small conference phones. When competitors are offering just USB or just analog phone support, Phoenix support both in a single model. As many of our customers make the trasisition from traditional audio conferencing to web-based communications it's nice to have product that can bridge the gap.
5. Asthetics and Design: Have you ever seen the size of a Cisco 8831? Check out the size difference. Enough said. Collaboration space design is more important than most manufacturers give it credit for. A good design can make all the difference for room functionality and ease of use.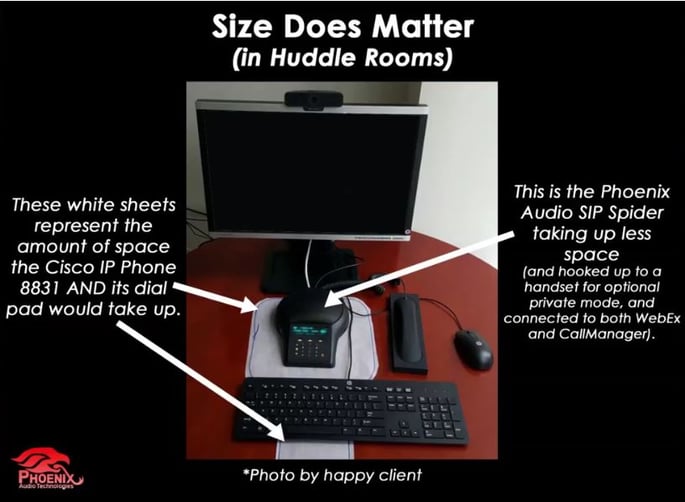 Video Transcript:
The Phoenix Audio Smart Spider is a USB conferencing phone with daisy-chaining functionality. The white version (MT503-WHT) is becoming very popular for ceiling mounting which will show off later in this blog post. This USB conferencing phone has beamforming technology built-in DSP (Digital Signal Processor) and the ability to daisy-chain or ceiling mount. As you can see it's very elegant product and very easy to ceiling mount with those four screw holes [in the video] you see on the unit we gave a ceiling mounts you can actually attach these to the ceiling.

You can actually connect up to 15 of these together cover any size room for USB audio conferencing. You can power the Phoenix Audio Spider over Cat5 cabling using the Phoenix Audio power hub. We can do that single cable power to give you make a lot easier for you for cable management we know how difficult that can be and so there's our power hub device right there so you plug everything at the pc and then you can stretch ethernet really as far as you need to up in the ceiling down to a conduit.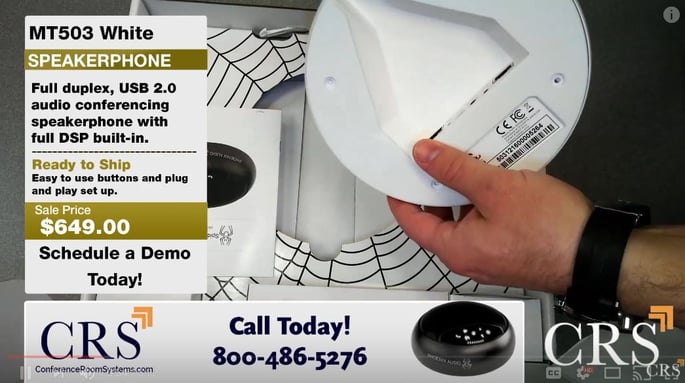 Right here [in the video] you're showing the 3.5 millimeter use with a smartphone. That's another feature on the MT503, we like. There are two 3.5 millimeter inputs which can be used to connect a handheld microphone or even an external speaker so you can use ceiling speakers in whole mute hours it's fine by us there's another connection. We can plug in and run a cable to your smartphone so we wanted to make those different so people don't plug it in the wrong one and the 2.5 cable comes with the smart spider. You can bridge somebody into any video conferencing call so I mean think of the use cases if you're on a video calling somebody stuck in traffic maybe you got him on your cellphone and just plug them in and they can communicate with anybody an actual phone call. That's really nice let's show the this is something that i think a lot of people are gonna be interested in this is when you do have those ceiling mounted systems or systems that are far away the cat5 extension right?

First I'll start by saying that there is a USB protocol which is 16 feet or you can send quality communication and power for usb because this device can be powered one single device by USB. We didn't make that up but we wanted to give you a way around it because a lot of times that speakerphones going to be farther than 16 feet from your PC. Once it goes farther the signal can be degraded so what we've created here is this power hub. There's another ethernet port as you can see and that's for the daisy chaining so we will just run another ethernet to another unit and you can you can connect up to eight units on that one power hub.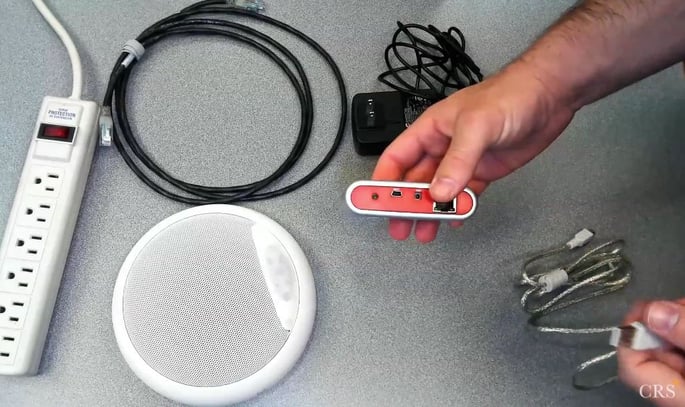 That power hub as you'll see it plugs into the power strip and the USB will go to I think we'll do it right here into the pc and now you have yourself a very very clean very easy to manage you know from AV integrators point of view and where the cables are going to go and you're good to go plug-and-play device no don't download download any drivers or software anything like that plug it in and and have yourself a video call. There you go plugging it in the power is being extended through the MT340 to this speaker phone. Let me mention those blue lights Paul that just light up it's one of my favorite features some people can take it or leave it but we do to be informing technology so depending on who speaks will will direct the microphones to that speaker and those blue LED lights there's eight of them will actually point to whoever speaking that way people don't have to yell at our unit because it has a 15-foot pickup range so you could be sitting pretty far away from it and sometimes people tend to want to yell at the unit and we don't yell at the unit know your friend of yours just a speak normally and we'll point of light that you let you know that we can hear you loud and clear and I just I just love that feature.
Video Transcript:
In this video we are showing off the MT505 you can see here that it has the ability to USB and SIP over ethernet. There's a bunch of different connections in there there's a ethernet and that's going to be for your sip line it will also power the unit if you support that there is the USB that's going to be for your video conferencing. There's actually an analog connection there we can connect this to external speakers and mute the unit so we can connect this to a microphone like a handheld lapel microphone. You can actually perform sound reinforcement for in room presentations and lastly you set it up for privacy mode so you can have a handset next to it if you know lot of these hotel rooms are kind of an open spaces. People might want might not want their conversation broadcasted all their other colleagues.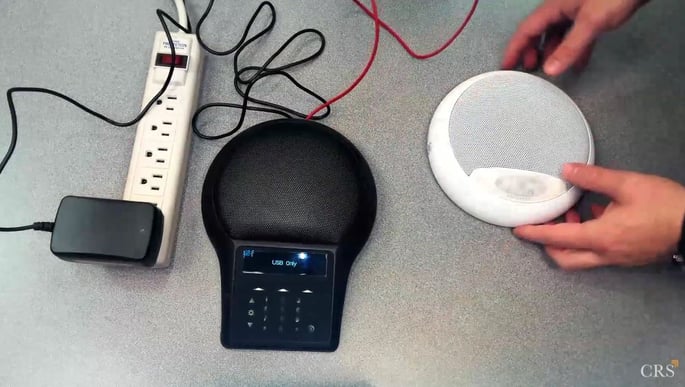 We're going to show the daisy chaining capabilities so if you have a larger space or an L or a U shape room where you need to have extra microphones. So you can connect up to 14 remote units to the MT-505. Each unit has the same microphones and speaker as this unit with the dial pad. So it separates us from our competitors in that we are giving you the same quality on each remote unit where a lot of our competitors just give you a satellite microphone.
I love how you mentioned those tables those U shape and C shape and v-shaped table. Usually when you talk about those tables you start talking about a fully integrated room right with a mixer and ceiling mics and now you're looking at ten fifteen thousand dollars with ours we just suggest that you go purchase to some ethernet cables cables and plug are units in its just fine we'll cover the whole room. So now you're unplugging the power because what we're going to do is we're going to link up the Master spider which is the MT-505 and we're going to plug it into a smart spider which is the MT-503.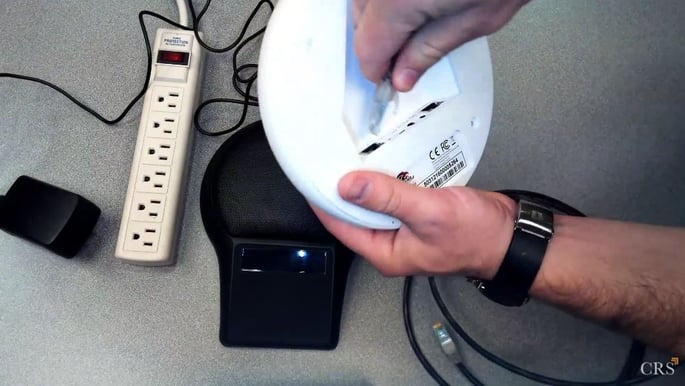 Once installed the units will now work together if you mute the remote unit will mute all the units if you just a microphone sensitivity will adjust on all the units because of our be informing technology and one of the reasons why we're so good with those awkward shape tables are being for technology is just good at picking up which person is talking focusing on them. You can see there that they're both powering up now and they're good to go so that that's just how easy it is to set up one of my favorite products for recommending to clients who have you know the need for web conferencing but it's a larger space.
Phoenix Audio also offers this unit with an analog PSTN Options here: http://www.conferenceroomsystems.com/phoenix-audio-spider-analog-telephone-p/mt502.htm
Video Transcript:
The MT340 is a power hub that works with all the Phoenix audio speaker phones. The MT-340 was specifically designed for the smart spider (MT503). The MT340 is as simple as it can get for installing a Phoenix Audio conference phone. USB can really only have a good signal for about 16 feet. You can simple plug USB into your pc, extend the cabling over ethernet to our device and then of course power supply and will power up to eight of these devices with one of those power hubs.

I'm just going to connect the power hub [shown in video] as i know you guys know cable management right becomes a problem like how am I going to install this do i have conduit do I not what I do up in the ceiling I can't put power the list goes on different things happen in different rooms so I just connected the USB to our power hub I'm going to connect that other end into a pc which will likely nowadays be located behind the TV i know you guys do a lot of that and then what we'll do is we'll also plug that into power because all we want going to our device is ethernet.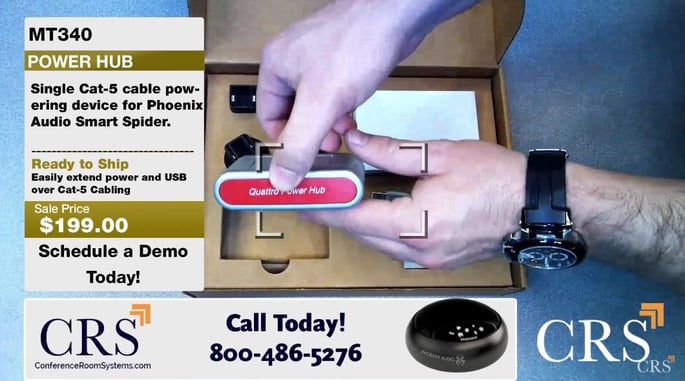 Ethernet is easy you can go be a hundred hundred and fifty feet probably not going to be necessary in these rooms but we will have to go some distances through a conduit or up in this ceiling or wherever we have to go and we just want one cable and there's a second ethernet port there for daisy chains right? You can just run ethernet to the next unit in the next unit up to 15 units so when you use our conference phone and we're talking about the power hub you can connect up to 15 of them you're sending four microphones and a speaker with each and every one filling the room with microphones and audio.

It's super affordable we're going to look at the prices on our website the moment here i'm just going to show how easy this connection would be you supply your own cat5 or [inaudible] system we have the option to have that included we have different lengths but a lot of projects you know when especially for new construction is usually cat5 running from a certain point to another point.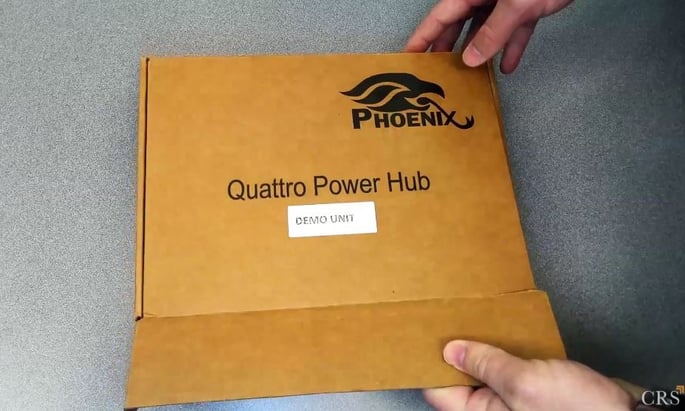 That allows us to use it for a speakerphone which is great just great you can see the buttons there we were mentioning the buttons you can look at our other our latest video on the smart spider to learn more that was just the MT 340 there let me show you where we can find it on our website here so under brands we just have a Phoenix audio section and here's a ceiling-mounted we talked about briefly but let's find that mt 340 here it is so you can see there it's even showing here how it would plug in AV closet hundred-foot of cat5 all the way to the next speakerphones.
Video Transcript:
The Phoenix Audio Ceiling mounts are great because of the daisy capability also paired with the power over ethernet feature. So many customers like to get their microphones and speakers off the table without having do a fully integrated solution with a DSP. Traditional this stuff can be really high cost and not really necessary in every conference room. Here's the device [in the video] for microphones and speaker it's a very small, only seven inches in height and about two inches tall. So it's not a big protruding device from the ceiling in this black ring you see it's actually the ceiling mount. We do have these ceiling mounts in white. The speakerphones are made of aluminum alloy so very solid device it's just perfect for putting microphone speakers on the ceiling at a very reasonable price.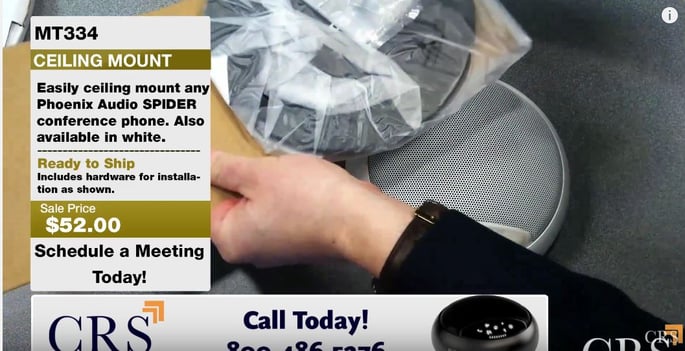 You can do a total of fifteen and with the power hub (MT340) which gives you the single cable power connection that can power eight units. So any one of our powering sources can power up to eight units so you need two powers for a full 15 units. Here's the installation instructions [in the video] and you get all the hardware that you need to get this installed which we really really like to have the other thing I'm going to do in a minute here show you guys where you can find it on our website but before we do that you can see here's the instructions that are included all the hardware it's it's basically two plates so one plate you fasten to the the drop ceiling tile

So we probably did the install in I would say five minutes? Yes we got this thing installed and then at the very end you just put the smart spider that will have the other side of the ceiling mount up to the ceiling that you have on the drywall and twist it on and then you can just put the tile up there and

it's one of the great things about conference room systems is not only are we an e-commerce site that can help you place orders very quickly but we also have a full installation team and our installation team can help you locally in the Philadelphia tri-state area and also they give you the advice and then the you know the experience of on on-site it so you can see there he basically just put it right onto the drop ceiling tile and snapped into that secondary plate so the first thing we saw was he screwed the plate onto the spider the second thing is they installed it onto the drop ceiling and now he's just very simply clicking it into place and five minutes like you said Zach! A single cable single Ethernet cable on the other side and that's the only connection that will be going into that smart spider. Such an easy install on the price here that we haven't it's only $52 so it's a very affordable way to get a bunch of ceiling-mounted devices power over ethernet directly to the spiders or over the MT340 daisy-chaining capability beautiful white color!
Video Transcript:
The Phoenix Audio Conder is an amazing looking beamforming microphone arry. First I'll tell you it's not a soundbar a lot of people like to call it although it kind of looks like one [says Zach]. It's a 15 microphone array with USB for web-conferencing. So this connects to your PC to be the audio for your video conferencing the great thing about this is that connects above or below the tv and covers about 30 feet. So think about taking everything off the table and removing the clutter! There are 15 microphone elements that work with the speaker in the front of the room or the back of the room and adjust that accordingly. So it sounds like you're in the same place in the room these connections right here we have a USB obviously for your video conferencing like I said this is not a sound bar so we want you to use. Whatever speakers you have if you want a sound bar ceiling speakers TV speakers just make sure you connect them to the Condor so we can get the reference audio into our echo canceling that's it lastly there is a ethernet probably wondering what that is this has a built-in sip line

So you can make your telephony calls from our device and you can download from your smartphone from a tablet we have an application for that and it's very very simple to use you can import your contacts and it gives you a clutter-free conference room with nothing on the table that's the goal here. Now this product it doesn't come with everything you need to mount it to the wall? It absolutely does it does come does there's one add-on you can get where we have a connector that connects us to like a soundbar mount the universal soundbar mount and what people are using metaphors mobile video cards if you can think of all the one solution of a mobile video card where you don't have to drag a conference phone across the table so you take away all the wires the only thing that should be coming from your mobile video card is going to be a power on the back and maybe ethternet on the back of it and that's everything else is an all-in-one one of your cameras a condor and whatever video conferencing service they want to use.
Now if I did want to do a sip call with this how does that work?

So that's a great question that actually works through our ship dialer this can be downloaded from iOS Android it can be placed on your pc and you can you know put it wherever you want it's free you can control this Mic sensitivity to speaker volume import your contacts and you can actually use that to bridge calls between sip and USB so staying true to our model this is also dual connectivity device. You can bridge in people from sip you have a connected to your computer for web conferencing whether zoom video conferencing your WebEx your skype right your go-to-meeting you can also have audio come out and I know a lot of people are using that with televisions but also maybe other devices have

Television soundbars external speakers there's one more analog connection there's a line level and a lot of people use this to connect the Codex so if you can think that people are going out there buying twenty-thousand-dollar codecs. Rarely people that are obviously being kept in the dark but I'm they'll connect our Condor to it so it's kind of funny that expensive on the unit and and use our Conor to pick it up it can also be connected to our audio mixer the octopus you can connect multiple condors to that cover very large spaces if we're talking about that. Now yeah I can see this for all kinds of large spaces and the clutter free conference room is something that we've heard so much our customers asking about great dscp 100-percent full-duplex automatic bridging between IP and USB great product let me show everybody where they can find it on our on our website so you might actually already be on our website looking at this video that's embedded there on the Phoenix audio is one of our top brands and that we support and we know a lot about our sales people have all been trained so they can really support your here's the Phoenix audio Condor there so you can go and learn a little bit about it you know it's not just a new concept but it really is a clutter-free complete audio solution it's just typical install here like we were mentioning the soundbar the video conferencing unit today is really a computer plugged right into a USB super easy and then look at that beamforming array incredible

We do demos and we're staying 25 feet away from this thing people cannot believe that were 25 feet away talking normal voice and there's actually the blue LED indicators on the front here to let you know it's picking you up. I liked that too here's a little information about the sip dialer which would be right on your smartphone just dialogue i walk right in and I like that too is a lot of people have there's an installation picture there with the Condor on the top we can put on the top or the bottom of the display right? Doesn't matter that's a great install right there yeah it's a cool pic i like how you have the conference table they're gonna showcase like what this will do give you more real estate to do whatever you gotta do on that conference room table.
Seriously check out the audio recordings above. Listen to every USB audio conferencing microphone on the market side by side!