Recording Professional Video Interviews
In today's episode of Back to Basics, we go over professional techniques for setting up cameras to shoot video interviews. Video interviews are great for both recorded and live streaming applications. Whether you are recording an exciting collaboration project or discussing a new project launch with your company CEO, video interviews can bring to life almost any conversation. This video tutorial reviews camera placement, lighting and tips for creating amazing video interviews.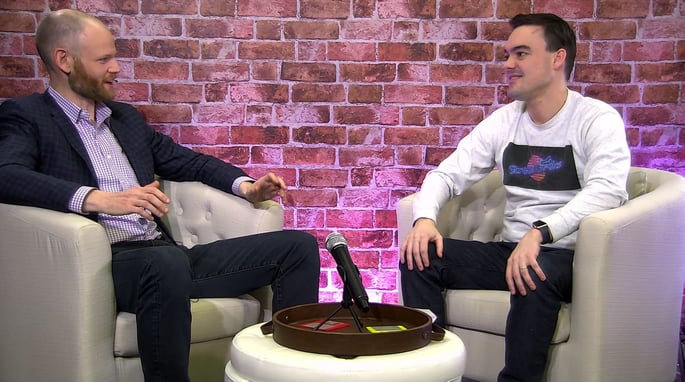 When you are shooting a professional interview on video you should consider how many cameras angles you will need to provide the viewers an engaging experience. If you only have one camera than perhaps you could add a second PTZ (pan, tilt and zoom) camera. PTZ cameras can actually look like multiple cameras as they move between preset positions allowing producers to frame subjects in view before transitioning to a new live take. In this presentation, we review the classic 3 & 5 camera video interview setups.
To arrange a 3 camera video interview video you will most likely want a main center shot and two cameras with angled shots of your subjects. Ideally the producer will start on a straight forward center shot and then move into a regular transitions between each interviewee's angled camera shot as each responds to the others questions. When you are using 3 cameras you can include a show title on the center shot and use lower thirds to display each persons name on their angled camera shots. Depending on the look of your show you can move your angled camera shots to show an "over the shoulder" angle of your subjects.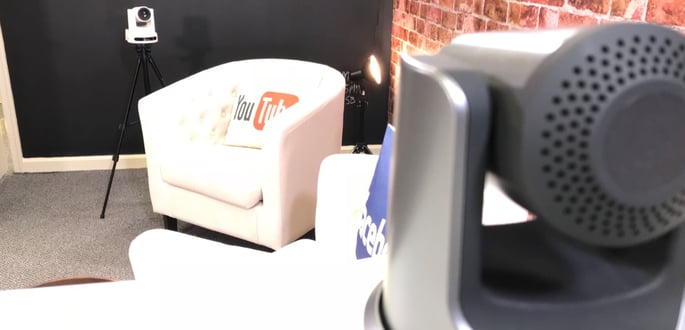 To arrange a 5 camera shoot you will have more options and definitely want an over the shoulder angle for each interviewee on video. As you will see in the video diagram adding extra cameras allows the producer more angles for the video production show flow they have in mind. As an example workflow, we share how the producer can start on a straight shot, move to angled shots and then when the conversation calls for it, transition into over the shoulder camera angles.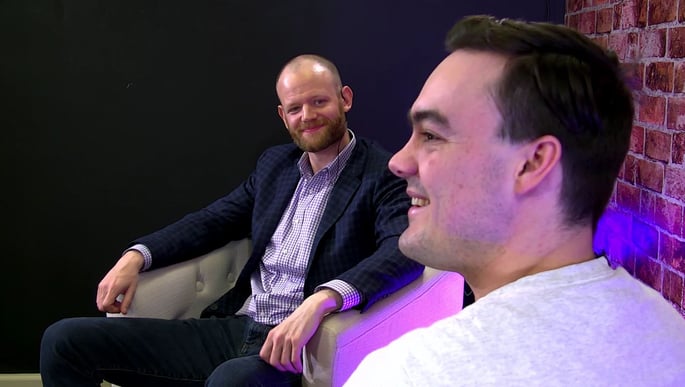 Below I have an example interview we recorded just yesterday. In this quick interview you will see how we use our multi-camera setup to produce a powerful video interview.
We also talk about lighting for professional video interviews. In our presentation, we cover talent lighting and accent lighting used to set the video ambiance or mood. For professional three point lighting, we usually recommend a key light, a fill light and a back light or hair light. When you are lighting two subjects, you should consider 3-point lighting for each subject. On the walls of our studio we have red brick wallpaper which accented with colored LED lights. Accent lights can be changed to many different colors and help us establish the mood for video interview.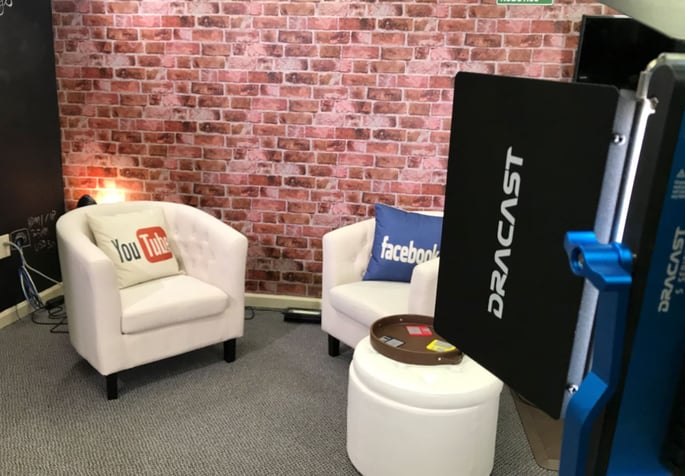 Our LED Studio lights are bi-color meaning that they can produce white daylight and warmer colors on the Kelvin scale. Once you have your cameras and ready for testing it's a good idea to tweak the color temperatures of your LED studio lights to get a nice looking image of your subjects. When you are using multiple cameras it's also important to color match each camera that you are transitioning between.