Hello Everyone,
This week we have invited Panasonic (Solar Panel Division) and Fronius (Solar Inverter Manufacture) to join our 100% solar powered live stream. The goal of our webinar is launch a new program called "Go Green, Go Live" which is a commitment our company is making to help green companies jump start their internal live streaming and video conferencing initiatives.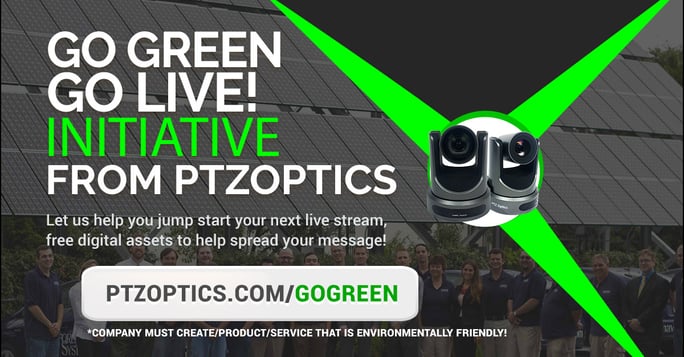 It Makes Good Business Sense!
My favorite part of our initiative is that it makes good business sense. Video conferencing helps businesses reduce travel and live streaming helps business spread their messaging. Both technologies are effective business tools in their own right but they also play a powerful role transforming corporate culture for better. For anyone interested in calculating their current corporate carbon footprint you can do so with our handy calculator here: http://pledgevideo.org.
The Program: Go Green, Go Live
The program offers companies making a real effort to go green the exclusive chance to work with our top live streaming creative team members. Our team will apply our vast digital assets toolbox kit to help create a live custom streaming template that works for applicants. We will currently be accept top candidates at a rate of one per month starting July 2016.
The Live Show
This Friday (July 22nd, 2016) we will be bringing together Solar Panel experts from Panasonic including Yessica Castillo, Yoshinori Kaido, David Lopez and Solar Inverter expert from Fronius Emmitt Muckles. Both companies helped us build our on-site solar array which will provide 100% of the energy for our business and live stream :)
How to Apply:
Feel free to apply for our Go Green Go Live Initiative at http://ptzoptics.com/GoGreen