Holidays got you Stressed Out? We put together a list of 5 of the Chillest Live Streams on the internet that will surely calm your holiday nerves. In-laws on your back, kids don't believe you about Santa anymore? Just take a look at these video streaming LIVE from all over the world.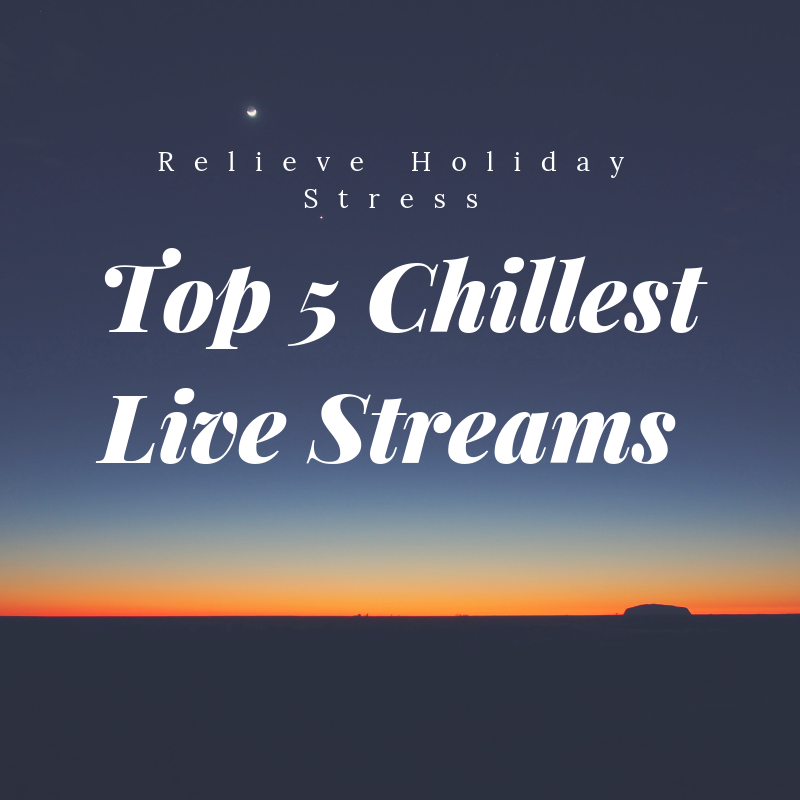 The Monterey Bay Aquarium Has a whole page of different wildlife live streams you can tune in to. You can watch live feedings, search for ships on the bay outside the aquarium, view the shark tanks and more. But if you are feeling the holiday blues, one of our favorites of ALL TIME is the Jelly cam. Watching these majestic and deadly creatures swim around is beautiful and calming. See for yourself:
2. Space Cam
There is nothing more humbling than looking down at earth from outer space, it makes all of your earthly problems seem teeny tiny in comparison. NASA has a live webcam from the space station that gives you just that, a tour of the earth from above, live. They also have scheduled events all throughout the holidays (and Always) that you can tune into for some family fun. Far out. Check out NASA Live here:
3. Crackling Fire
Looking for something with a little bit of holiday spirit? This is especially great for those of you without fireplaces that need a little warmth… this fireplace and holiday music live stream over on the Soothing Relaxation youtube channel will bring joy and relaxation to any home. Find that here:
4. Kittens!
No one knows how to chill quite as well as cats. Fan of cat videos? How about live cat videos! Kitten Academy has a 24/7 live stream of their cats and kitten, and if you fall in love, you can adopt one! Take a look here:
5. Wildlife and Nature
More of a nature person? One of our favorite but quite unknown channels is Terrapin Cove. Terrapin cove has multiple channels that you can flip through covering terrapin, osprey, purple martins, and other wildlife in the New Jersey area. It runs 24/7, so there is always something to see, including beautiful bay sunsets. While it is more alive in the summer, we didn't want you to miss out on this great channel. Watch now:
What are your favorite relaxing live streams from around the web? Let us know in the comments below!
Learn More About Live Streaming:
YouTube Live vs Facebook Live - Finally a side by side review here.
Check out the top 5 ways to live streaming to YouTube here.
Interview with HuddleCamHD here
Interview with Magewell - Digital Video Essentials here
Live Streaming Software Review - Wirecast vs vMix here.
Learn why live streaming is the best way to host a webinar here.
Interview with vMix here
Zoom Video Conferencing adds Facebook and YouTube Live options. Learn more here.
Skype Meetings for Broadcast. See how Skype adds live broadcasting here.
YouTube Live adds new multiple camera switching feature here.
Infographic: Youtube Live vs Facebook Live here
Interview with Rocosoft PTZ Control here
When to video conference vs when to live stream… Learn more here.
How to host free webinars here.
Live Streaming Services for houses of worship. Learn more here.