I got a chance to sign up for a Skype Meeting Broadcast preview at (https://www.skypepreview.com/) and I have to say this is pretty impressive. I think Microsoft is on to something BIG here and in this blog post I will compare and contrast Skype Meeting Broadcast with YouTube Live.
What is Skype Meeting's for Broadcast?
Skype Meeting Broadcast simply put is a "one-to-many" version of Skype for Business. The interface is almost exactly the same as Skype for Business, but it has additional features for event planners to host a live broadcast to tens of thousands of viewers. Keeping with the Microsoft Skype for Business design is key for enterprise adoption as it provides a familiar interface for current Office 365 and Skype for Business users.
How easy is it to get set up?
Microsoft claims they want to "democratize live broadcasting" by making the technology easily accessible through it's Office 365 and Skype for Business platforms. Setting up an event can take less than 5 minutes and Microsoft has integrated the process with their suite of programs including Office 365, Outlook and Exchange to simplify the event creation workflow. Skype Meeting Broadcast is effectively everything a enterprise company would need when it comes to simplistic live broadcasting of Skype for Business meeting. Unlike YouTube Live the entire system can integrate with existing Microsoft platform. But unlike YouTube Live's RTMP system which allows for third party live production software integration Skype Meeting Broadcast is basically a live broadcast of your Skype Meeting (no fancy overlays, lower thirds and stingers you will find in professional broadcast software). That being said Microsoft has choosen to build on their already sucessful Skype for Business platform to offer superior control and integration with enterprise installations. Skype Meeting Broadcast allows for detailed control over who can access, view and participate in your meeting broadcasts which is fully integrated into Active Directory, Outlook and Exchange.
Skype Meeting Broadcast vs YouTube Live
YouTube Live and Skype Meeting Broadcast are quite different in their offerings and market position. They share a similar cause "Democratize Live Broadcasting" but their end products are significantly different. The biggest difference for professional broadcasters is RTMP integration that YouTube Live has standardized on. RTMP is the industry standard allowing the major production software such as: NewTek TriCaster, vMix, Vidblaster, Wirecast and others to send produced broadcasts to the Content Delivery Network. Skype Meeting Broadcasts end up being exactly what the name implies: A broadcast of your Skype for Business Meetings. Personally I think it's silly to add multiple cameras as participants in a Skype meeting but hey this is a powerful software and that's the way they wanted it to be.
Below we have a side by side chart of the most important features:


| | | |
| --- | --- | --- |
| Features | Skype Meeting Broadcast | YouTube Live |
| Max Resolution | 1080p 30fps | 1080p 60fps (1440p BETA) |
| Multiple Event Managers | Yes | No |
| Multiple Camera Support | Yes (Requires Additional Computers) | Yes (Requires additional RTMP Streams) |
| Supports Add-on Applications | Yes (Bing Pulse, Yammer and more) | No (Provides tool suite with interactive cards, polling) |
| Video Storage | 90 Days Storage before deletion | Unlimited Free Storage |
| Management of Attendee Access | Private, Company (Active Directory/Domain Only), Public | Public or Private |
| DVR (Rewind Feature for late arrival) | Yes | Yes |
| Production software Integration | N/A, Must use single camera systems with built in tools | Integration with RTMP allows any Production Software to work |
| Price | Office 365 w/ Skype starts at $5/month/user | Free |
Are you going to InfoComm 2016? We want to see you there!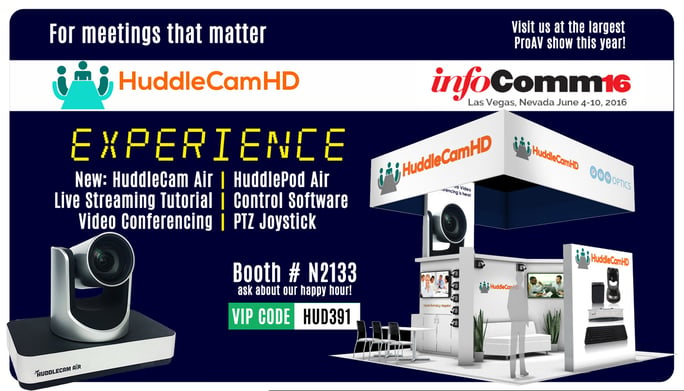 Upcoming Webinar:
HuddleCamHD hosts live webinars every Friday at 10AM PST and 1PM EST. This week we will be talking about Skype Meeting Broadcast and how it's use in business will effect the live streaming market. Tune in live or watch on-demand (after the event) on YouTube here.