Skype Room Systems Evaluated for Every Business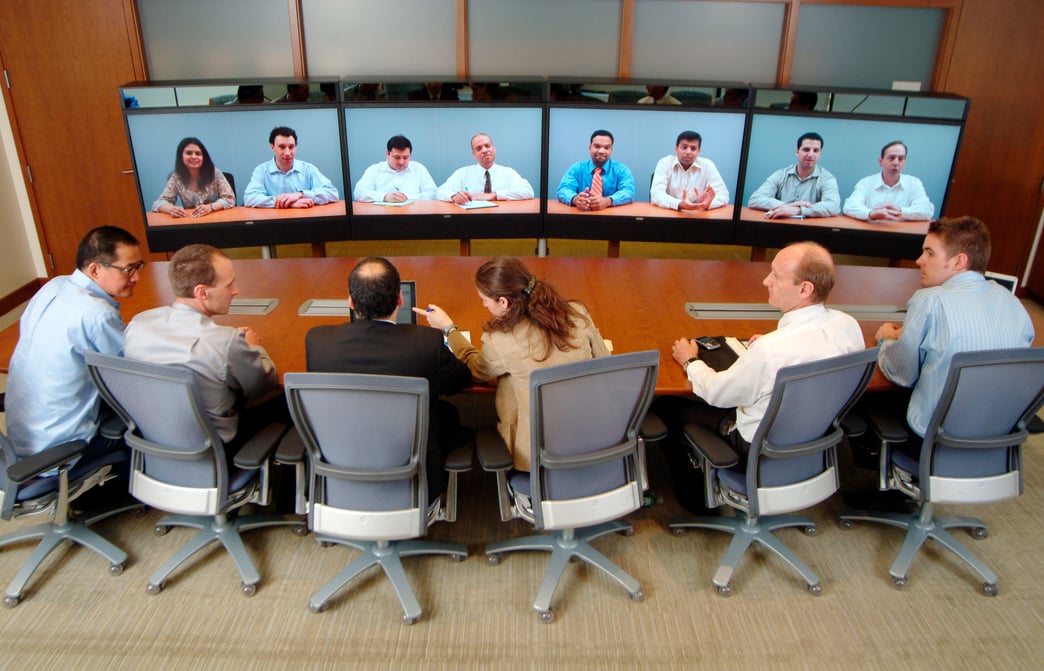 Hello IT & AV Pros!
Video conferencing systems specifically designed for Skype for Business are becoming a big deal these days! Specifically built to leverage the awesome power of Skype for Business, these systems are available from Crestron, SMART, Polycom and Unyfy. Today more than ever professionals are looking for the best price to performance ratio when investing in assets for their business. In this blog post, we will compare four top manufacturers which provide these "Skype Room Systems".
Crestron RL
Crestron RL offers an all-in-one solution for Skype for Business (Formerly Microsoft Lync) software. Crestron is updating its legacy Crestron RL solution with Crestron RL 2 packages with new and improved hardware. There are various packages available and pricing your can review here. Below are the standard items included in each kit: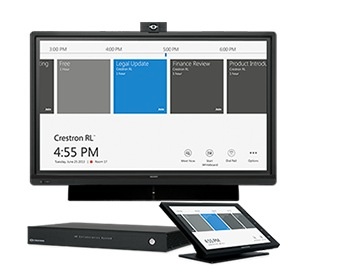 Crestron RL codec

10"

Touch screen

HD

Camera

All-in-one speaker system

Cables and under table mounting hardware

Optional Single or Dual displays
Crestron offers consumer grade webcams which are good for one on one video calls but not suitable for conference calls in medium or large rooms. The system is very easy to setup and use without any expert knowledge but still this system is only available through authorized Crestron dealers. It supports all the functions of Skype for Business such as desktop sharing, exchange integration, voice calls and so on. One unique feature of Crestron is that it integrates with its own automation solutions which allow users to control AV, lighting, climate and room scheduling from the same touch panel.
The MSRP for the Crestron RL™ 2 Group Collaboration System for Lync®, Integrator Kit will be $9,995 (Model: CCS-UC-200_KIT)
The MSRP for the restron RL™ 2 Group Collaboration System for Lync®, Huddle Room, with 32" Display will be $12,995 (Model: CCS-UC-200-HUD-1_KIT)
The MSRP for the Crestron RL™ 2 Group Collaboration System for Lync®, Wall Mount, Single 60" Display will be $16,995 (Model: CCS-UC-200-WMT-MED-1_KIT)
The MSRP for the Crestron RL™ 2 Group Collaboration System for Lync®, Wall Mount, Dual 60" Displays (Model: CCS-UC-200-WMT-MED-2_KIT)
Polycom CX8000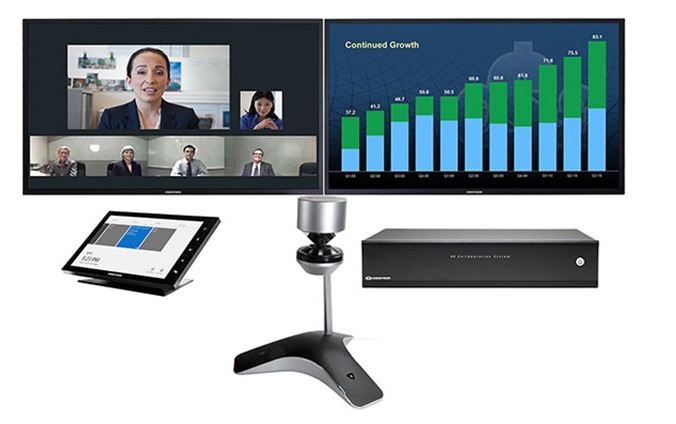 Polycom CX8000 is another all-in-one solution for video conferencing provided by Polycom. The hardware is mostly the same as Crestron's with a few other options available. Polycom uses Crestron's RL codec, Crestron's display and audio. Polycom does offer its own CX5100 camera to users which gives a complete 360 degree view of the conference room. The company has also built an automation system for the room which lets the user control AV, lighting, climate and so on. The CX8000 is very similar to Crestron RL mainly because it uses the same hardware with a few exceptions. Both systems are optimized for video conferencing through Skype for Business. One difference between the two is that Polycom supports Lync as well as H.323/SIP integration while Crestron only supports Lync. The CX8000 is priced at $14,995.
SMART Lync Systems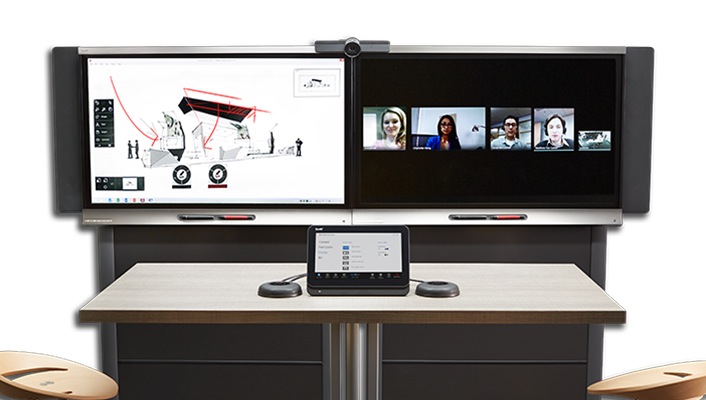 SMART VTC systems offers a wide range of solutions to its consumers. It offers a total of six display options which include – 55", 65" & 84" single and dual displays. SMART levereages over 20 years in the touch screen market and combines SMART Meeting Pro software which supports interactive white boarding and third party integration such as Microsoft Excel, AutoCad and Adobe software. The company manufacturers all the hardware itself unlike Polycom who utilizes Crestron's hardware for its solutions. SMART VTC systems have a complete list of features from the software point of view as well. It has similar UI to Lync and includes features such as auto on through motion detection as well as quick ad-hoc whiteboard session startup. It is a comprehensive solution, but it does come at higher cost compared to the other two.
Unyfy by UnifiedCT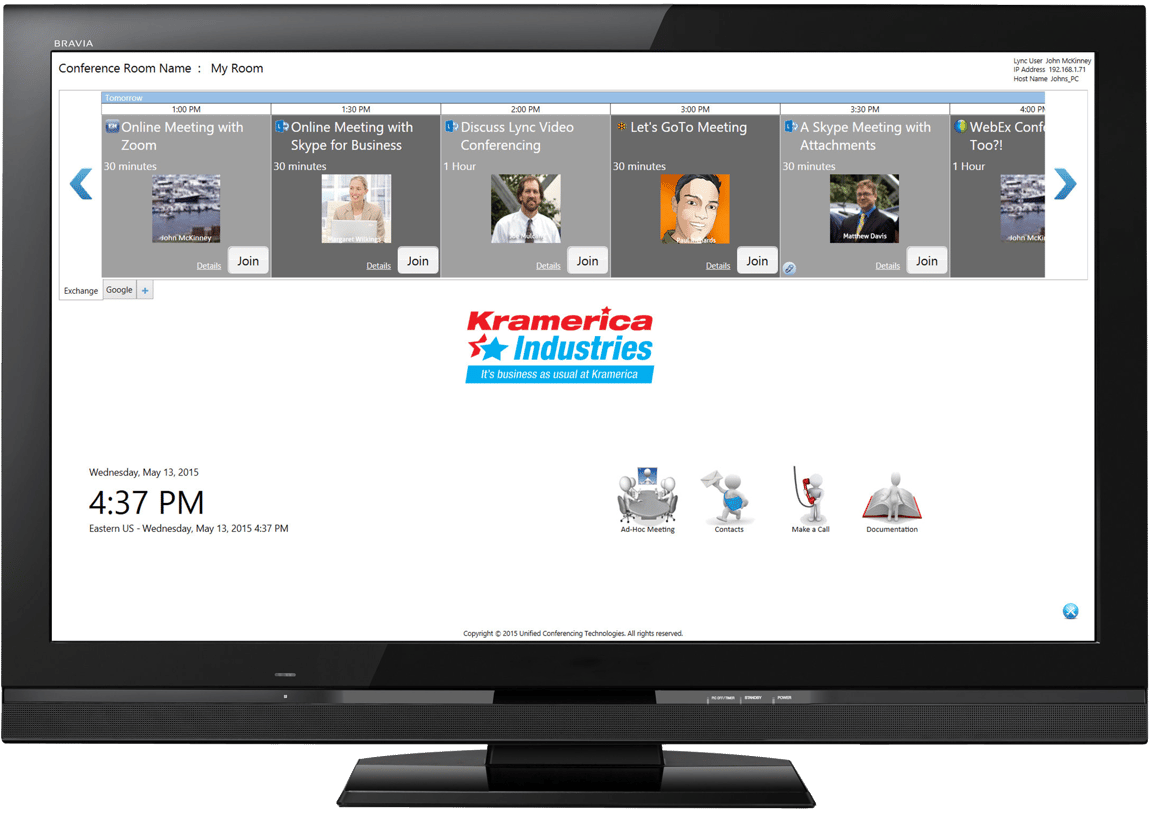 Lead engineer at Unyfy, John McKinney, says the ultimate goal for Unyfy was to "Simplify the complex online meeting landscape." That's why John and his team have created a "meeting dashboard" that integrates with your conference room calendar, Skype for Buisness and 3rd party video conferencing providers like GoToMeeting and WebEX all in one interface. UnifiedCT provides an extremely affordable system which does not compromise on quality. Unyfy provides almost everything that the above three vendors offer and even more in the software point of view. The software itself is available for a free 30 day demo here.
Unyfy Skype Room Systems start at a lower price point from the above solutions but they include cameras with real optical zoom to fit wide, medium and large spaces. These systems are built to be installation friendly so they include detailed documentation with wiring diagrams. The idea was "to make it easy enough that you can hand to almost any facilities manager for installation" McKinney explains. The WirelessRoom package teams up the HuddelCam Air to provide the ultimate flexibility for meeting room spaces.

Side by side comparison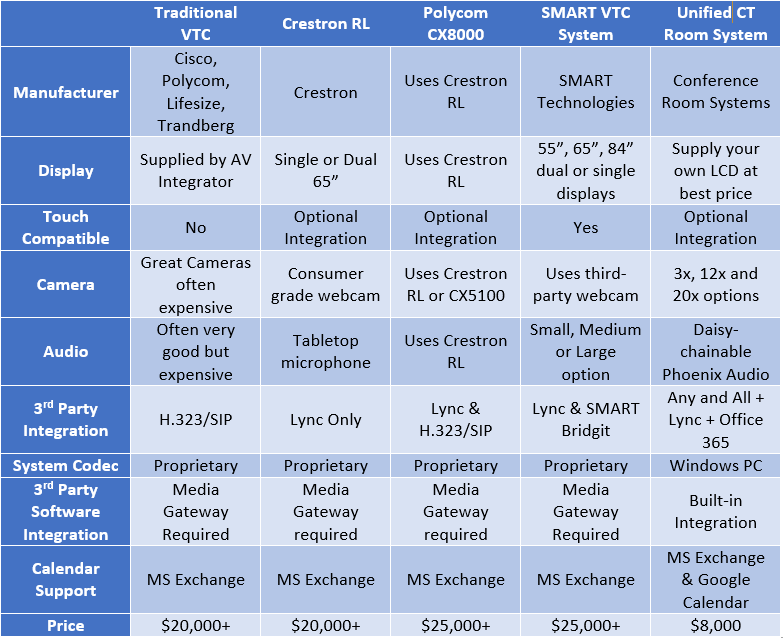 Conclusion
Every video conferencing system manufacturer has a unique feature to offer, however they all come at a price. Crestron has its own unique touch screen which can control the room lighting, AV, climate etc. Polycom offers the same services as Crestron due to similar hardware but its own camera gives a complete 360 degree view of the conference room. SMART VTC systems has the most complete collection of touch screen systems but they come at a hefty price.
All three manufacturers' systems have similar software features which at the core is Microsoft Exchange calendar integration but Unyfy systems take it one step further. Unyfy's systems offer amazing audio quality through Phoenix audio setups and its cameras that have up to 20x optical zoom. It also supports maximum third party integrations and meeting providers with a free 30 day trial you can set up any time. While SMART, Crestron, and Polycom all offer a complete skype room system of business quality, they only cater to those who are willing to invest a large sum of money on their products making it difficult for most business owners to utilize the benefits of the new Skype for Business video conferencing software. UnifiedCT is the only provider to offer the same high quality as Polycom and Crestron but at a price that will allow a great majority of businesses to capitalize on Skype's video conferencing services for professionals.
More on Skype for Business Video Conferencing Tips