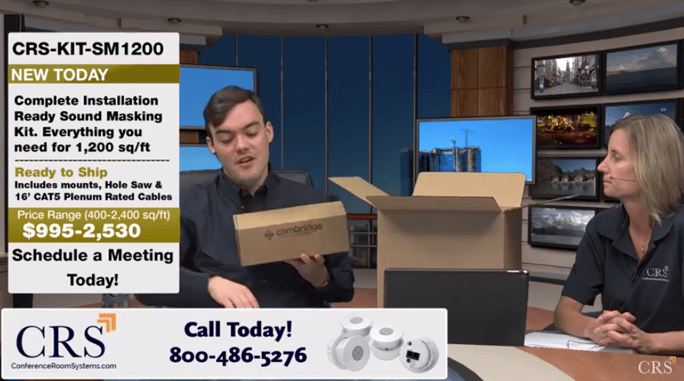 In this video, Paul Richards and Margaret Wilman review the easy to install sound masking kits available from CRS. Each kit includes everything you need to install Cambridge sound masking white noise system in areas from 400, 800, 1,200 and 2,400 sq/ft. Each kit includes a sound masking module used for white noise volume control and sound masking emitters which are powered by the white noise module. Each kit is based around the Cambridge Sound Management QT-100, which can power up to 120 sound masking emitters. The kits also include (1-4) packs of emitters SKU: E-A-W-16-4. These 4-packs of emitters are meant to be installed in a drop-ceiling with the included hole-saw. If you are installing sound masking in areas with hard or open ceiling reach out to the CRS team for more information about additional mounts.

The sounds masking kits include a 50' initial Cat-5 cable for use on your first connection between the sound masking module and your speakers. Each speaker is then included with a 16' plenum-rated CAT cable for daisy-chaining power and sound masking. The QT-100 sound masking module includes a wall mount for easy installation and include a button panel and Bluetooth options for controlling the sound masking levels.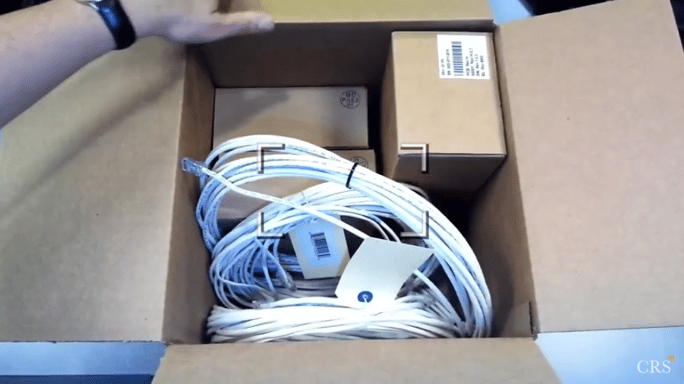 Finally, installation instructions are included with a hole saw and mounting brackets. Mounting hardware is included with the QT-100 as shown in this video and each sound masking emitter includes a drop-ceiling mount. Each drop-ceiling mount included with the emitters can be installed by using the hole-saw to cut a perfect size hole in the center of a drop ceiling tile. The emitters then clip into the drop-ceiling tile for a clean and quick installation.



Conference Room Systems provides all the resources necessary for you to build your own high-tech conference room, including How-to Videos, Free Webinars, and Internet pricing on all the latest Web Cams, Audio Conferencing Gear, Wireless Presentation Devices, Smart Boards and a variety of other Audio Visual Equipment.

Additional Sound Masking Videos: https://www.youtube.com/playlist?list=PL-FhZwrcpDNXIv-URE5aGja1I80ZMS7Dq

Check out our latest product reviews here: https://www.youtube.com/playlist?list=PL-FhZwrcpDNUm_RsdQkPg1n7Htz8o6-EJ

Don't forget to subscribe here: https://www.youtube.com/channel/UCUMvVXC6yHoAcbB-J64XNQw?sub_confirmation=1

Hashtags #tech #ProAV #soundmasking #privacy #whitenoise #whitenoisemachine #soundmaskingmachine