Frank Caruso is The City of Easton's IT manager ( For those of you are not familiar with Easton, it is a city in PA north of Philadelphia) and Frank is heading up the project of bringing live streaming to city council meetings. Frank previously worked for the borough of Kutztown who have been recording and broadcasting their meetings on their local television station for the past 10 years, so he is no stranger to the process. Easton is set to start streaming meetings January 9th so we wanted to chat with Frank and see why they decided to start and what their plan is.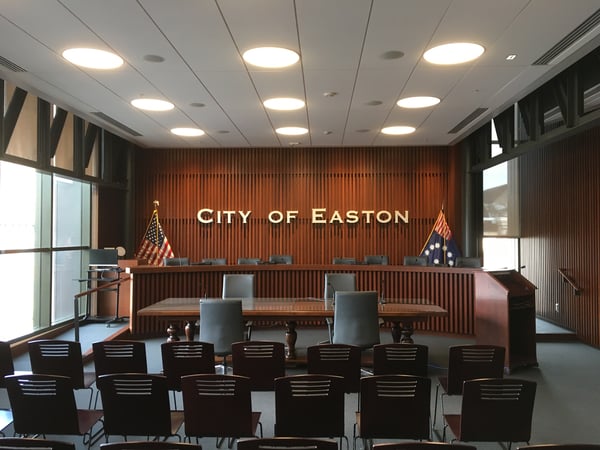 So, you mentioned to me before the show that you had worked in Kutztown previously. I was wondering if you could tell us about your experience streaming there?

Sure. Kutztown is a small municipality compared to Easton, and they built a telecommunications system within their own community to serve internet, television, and telephone back in 2003. Part of that turned into videotaping their council meetings. Now, by request of the citizens in the town, they have archived these taped meetings for community benefit. I don't believe they ever ended up live streaming them, but what they did do is they had their own TV channel, and they would publish the meeting as soon as that meeting ended (they met once a month). So that tape just was always available every day, and its constituents can replay it watch it.

Another little municipality that I was working with, they pretty much did the same thing about five years ago just started to record and keep it as a public record and then upon request just burned DVD's and actually handed them out. So, they were a little more starting the progress, but I think they're both starting to look at streaming as well.


What better way to learn how to get good video than by recording it first. Because streaming is the real deal. Everyone can see everything then!

It is. And getting people used to being on camera is what we're doing right now with these tests. Getting everybody used to talking into the mics, trying to speak at a pace where everything can be understood. That's the learning curve. The lighting, sound, and all that. So, doing it on the DVD first gave an opportunity to watch the playback, and to learn, OK I need to talk closer to the mic, I need to be more explicit when I am speaking, etc. So it'll help everyone when we do start streaming.


So, what was the inspiration to take it to that next level and bring live streaming to council meetings in Easton?

I think there's a trend for transparency. We've felt this would help in reaching a more significant community footprint and by streaming using a service that could support multicast it provided us with a number of media outlets. So, we embedded the code on our website and we also created a link to YouTube for the live streaming and part of our service also had a .tv streaming location.
And what it did was make us pretty agnostic to any type of devices whether it's going to be on a cell phone and iPad or a computer, once you have an internet connection you'll be able to watch the live stream. So, it just gave us that opportunity to be able to try and reach as many of the city of Easton's constituents as possible.

And there were a lot of requests. We had people that attended council meetings, and they would stream via smartphones, and they would put it on Facebook and other areas too. So it was just a matter of time before we just decided to start doing it. We have a lot bigger operation to have to deal with, but like you said you have to crawl before you really get into this. So, the city just needed to - it gave us more reach.


How do you think these streams will affect the community and the council members?

I think it's going to help communities stay on top of the current issues that that face council in the city. Everybody is on a tight time frame. Trying to come and attend a council meeting is something we can't all fit into our schedules. Even in my own community, I'm the same way. It's challenging to try to get away and attend the meetings when we need to. So, having the ability just remotely to watch or to go see a recording is going to help the community stay in touch.

I think it's also going to help with the rumor mill and misinformation. We've all seen this, word of mouth or in print, things get misinterpreted, and I think that this is going to help. You're going to hear it directly from the source, and you can go and listen to yourself and make your own judgments on what you're hearing.

So, I think the elimination of misinterpretation is essential. Also, I think it's a perfect way of putting a face to the name. In most communities, a lot of people don't know who their council members are. I mean you wouldn't recognize them on the street. And I think that this gives an opportunity to get to know them better. "I've heard that name before," "That's who that is!". I think that that's going to help the council just from the standpoint of being recognized, too. I think there's going to be a nice big advantage here for both city residents and the council.


I'm curious about your technology setup and what kind of cameras or microphones what you're what you're working with.

Our system is built a little more elaborate than what's really needed to just stream, but we had a bit further intent besides council meetings that I'll share with you later. In essence, right now we have a two-camera system in place. It's set up for four (for the future), but we have two active cameras. One of them is a camera that can pan, tilt, and zoom (a PTZ Camera). We can move around. Look around the room. It gets a close up of people and can actually focus and center in on where we need to move the camera to remotely. The other one's a fixed camera (like this Zcam), and it actually looks at our podium and a large screen television that we have for presenters.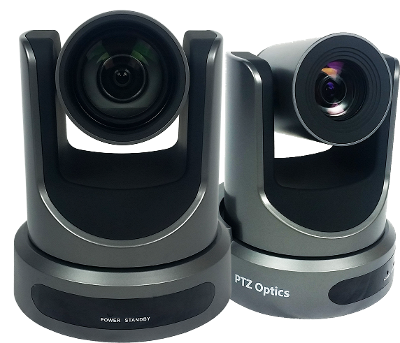 Example of 2 PTZ Cameras by PTZOptics

So, the uniqueness about this system that we put in place in the controller, is if you're a presenter and you're talking to council, and you have a PowerPoint presentation, or you have maps, or you have something that you need to refer to, our system allows for a picture and a picture so we can focus on the podium while also showing the presentation that is on the television. So people at home remotely can share and see the same thing as what council is seeing. I think that that's just a big advantage because trying to physically hand out out documents is inefficient.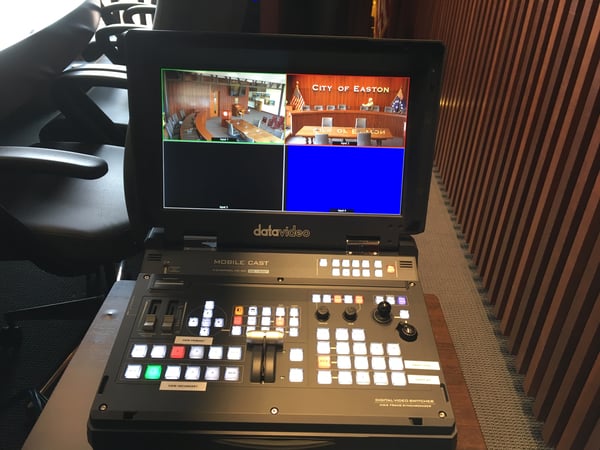 I think sharing directly from the live stream with the viewers at home is a big plus. If anybody's done something with financials, they can show the financials so we can see that speaker, and you can see the image of the documents at the same time. And the controller that we have allows for phasing in and out. So, you can actually see the person from podium talking to council and council members following the person at the podium, and we don't have to move our cameras around at all.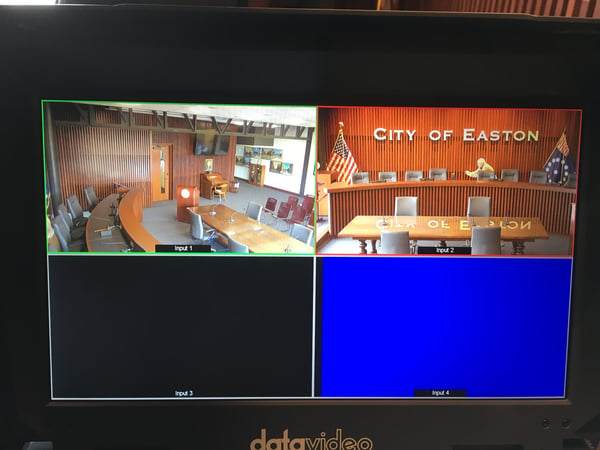 So, it's a really nice setup, and it's actually geared so that we can do a little bit more with it. We're planning on doing internal training type videos. We're going on a little bit of a media blitz rebuilding our website and becoming a bit more marketing focused for the community and the events that are in the city. We're looking at creating videos internally to either publish them publicly online or publish them privately. So, we have many different options right now with our system which is one of the reasons it took a little longer to put into place, and we expended a little bit more money for it. But we intend to use it for much more than just broadcasting the council meetings.


Can you elaborate on your plans for the future with this setup?

I have been asked this by the newspapers too. Are we planning on doing important meetings like our zoning hearings, appeals groups, etc? Yes, we are. The intention is to do the same thing we're doing with the council meetings. So, you'll be able to see the different channels that we have out there which will be a channel for council meetings, a channel for zoning hearing, a channel for planning, and it'll be work in the same way as what we're doing for the council.


Plus, when you start looking at in-house training and other videos or an onboarding for instance hiring of new employees we'll be able to create our own onboarding video in order to be able to explain things about the city, what they need to do, what they need to be aware of - that kind of situations where it takes a lot of time to get into a classroom and for people to pull away from their positions in order to do and it's repetitive. So, that's going to be a nice feature internally for us.


Definitely. And in the long run despite what you spent on the technology to potentially save you a lot of money!

Oh, it will. Definitely. Especially with media creation.


Where can poeple access these live streams?

Sure. Actually, if they go to www.Easton-PA.gov on our homepage, there are two links there, and they say live stream. Once you click on at a live stream, it will take you to the page to where the actual logo is, and it says this is where we'll be playing the live stream video. It will have the list of all prior recorded meetings on it as well. We also have two other links on there. One is the actual YouTube link and the link that goes to what is our provider's service site for their dot TV site. They can also just go to YouTube and actually search on the City of Easton, and the live stream will be published there as well.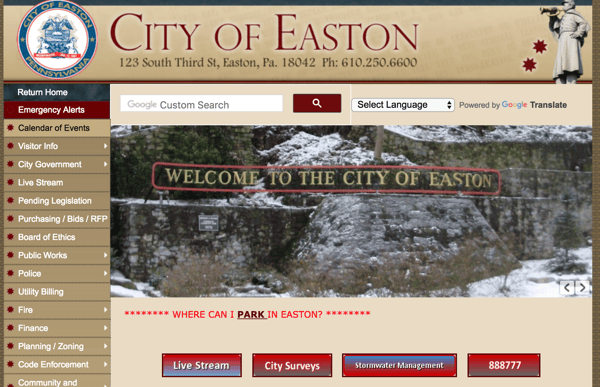 Another question I had about the live streams is, would anybody be able to comment on these videos either during or after if they have some input to make?

Yeah. Actually, they can. I don't have it turned on right now while we're doing the testing, but on the YouTube site, you can actually make comments during the event. We haven't discussed internally if we're going to be watching that at the same time and have someone responding. We're looking right now at one of our staff people actually being at the meetings controlling the cameras and monitoring the YouTube site for the comments. We just we haven't progressed that far just yet.

With anything new there are a learning curve things like you need to talk into the mic, you need to keep your head up. These are things that people are going to get used to. I think you just want to know what the issues are and then try and fix it before we go live.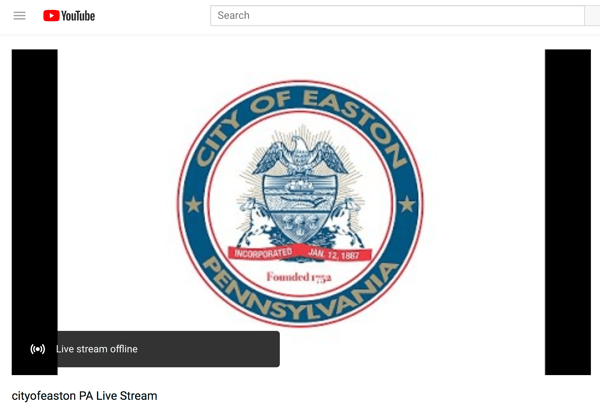 And lastly, I just wanted to see if there's anything we missed or any additional information that you'd like to add.

I think it is essential what you started off with, "why is this important and why is it coming around?" and I just want to say that for communities especially the smaller communities it's not an expensive project to have to do. You can get away with a single camera and a streaming device and have your meetings start to stream right away. The investment is based on how far you want to go with it and what you want to do with it. The learning curve it is not that difficult either. I know a lot of municipalities are strapped for resources. But you can set a fixed camera. And people will enjoy that.


So, I think that smaller communities shouldn't be afraid of actually taking a look at this and I think it's really going to help people to get the right information to be able to - if you hear something - be able to really listen to what was said and done and what the plans are or future projects and events in a community. So, I think that we're going to see more. I don't think that there's going to be a lot of cities are going to hold off from this. I believe that the members of communities are going to request it. They've got school districts doing it now, too. So, it's just it's a growing thing. And it's not complicated.


I'm glad you said that because first off, I'd love to see everywhere doing this. And second off, it doesn't have to be hard, and it doesn't have to be expensive. And that's what we're here at Conference Room Systems to help you with is with your budget and with your I.T. skill level. We really have a solution for everybody. And I'm really excited to watch some of your meetings and see how everything goes.

Perfect. Well, I appreciate that, and you go back to your point there when we were starting to look and trying to find a way to do this and answer it you know trying to find the resources that were very cut and dry. And you know what do I need just to do this. There are a lot of confusing articles on the internet and that about it. But how to find a company that can actually say this is what you need and here's how you go about it. It was awesome.