You Asked: Support Questions August 2018
---
Here at CRS we are ALL about high quality service and support to go along with all of our products. If you have any questions, comments, or concerns don't hesitate to reach out for support here. Otherwise, enjoy these commonly asked video conferencing and live streaming questions from August 2018!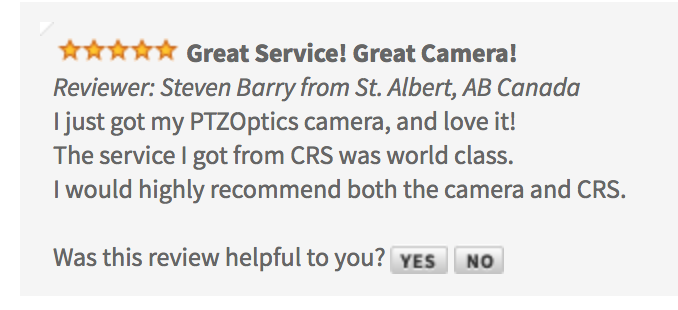 ---

Im currently streaming directly to FB from a PTZOptics Camera via ethernet cable. What is the Max Bitrate I can set the camera to for this setup?
This is actually on Facebooks end, 4000kbs seems to be the max they can accept. See here: https://facebook.com/help/1534561009906955?helpref=faq_content\

I'm interested in setting up a cost-effective solution for a house of worship. I a novice with absolutely no experience. What do you recommend?
We highly suggest reading over this case study https://conferenceroomsystems.freshdesk.com/solution/articles/13000033694-2-camera-church-setup- for a user friendly 2-camera setup. If you are thinking about more than 2 cameras than I would suggest looking in to the Producers Plus Kits: https://www.conferenceroomsystems.com/PTZOptics-p/pt-producerplus-12x.htm

Do you make/sell usb extensions or , have recommendations on what extensions to purchase?
For USB 2.0 we suggest the Icron USB 2.0 Ranger: https://www.conferenceroomsystems.com/Icron-USB-2-0-Ranger-2204-4-port-Cat-5e-100-m-p/00-00257.htm
For USB 3.0 we suggest using the Icron Raven: https://www.conferenceroomsystems.com/Icron-p/00-00421.htm

What's the difference between the NDI model and SDI PTZOptics Cameras?
NDI provides a low latency video feed over the network. It is actually comparable to SDI but over the network. It also has a standard SDI connection. The SDI model still has network based video but does not utilize NDI.

What amount of latency can be expected with your PTZOptics camera lines?
This gives a decent breakdown: https://help.ptzoptics.com/support/solutions/articles/13000009928-what-kind-of-latency-can-i-expect-with-your-cameras-

Your NDI Camera Say they are upgradeable, how does this work?
You can purchase a license separately and then apply it to the camera. The license itself is $599.00. https://www.conferenceroomsystems.com/PTZOptics-p/ptg2-ndi-upgrade.htm

How do I control multiple HuddleCams using the HuddleCam PTZ Joystick Controller?
This can easily be accomplished using RS-232 via Serial (DB9) and VISCA connections; you will need VISCA Cascade cable(s). Read our step by step guide: https://help.huddlecamhd.com/support/solutions/articles/5000639873-how-do-i-control-multiple-huddlecams-using-the-huddlecam-ptz-joystick-controller-

Do any of your cameras offer on board storage or all they all designed for streaming only?
They do not offer any on-board storage. they are designed for streaming/ video conferencing.

When it comes to capturing/recording do all the units require dedicated hardware or can you just control and capture the video right from a laptop?
We suggest recording on a computer vs dedicated hardware, a computer just offers more options and your recording will already be in a format for distribution / editing.

Q.What is the difference between SDI and NDI?
SDI is your standard video output where you would need things like capture cards and/or video mixing boards, it does a good job and is always a solid choice.
NDI stands for Network Device Interface. It is low bandwidth super low latency over a network, the latency is around the same as SDI.

Does the wireless capability of the HuddlePod Air Speakerphones decrease the quality? would it add some latency?
It does not add any noticeable latency the quality is comparable to wired versions like the Phoenix Spider.

What is the maximum speed of data transfer for the USB2 Air?
480 Kbps


---
Thank you for reading our most common video conferencing and live streaming questions from August 2018. Have questions of your own? Ask our team of experts now: Ask an Expert.
More on Live Streaming
YouTube Live vs Facebook Live - Finally a side by side review here.
Check out the top 5 ways to live streaming to YouTube here.
Interview with HuddleCamHD here
Interview with Magewell - Digital Video Essentials here
Live Streaming Software Review - Wirecast vs vMix here.
Learn why live streaming is the best way to host a webinar here.
Interview with vMix here
Zoom Video Conferencing adds Facebook and YouTube Live options. Learn more here.
Skype Meetings for Broadcast. See how Skype adds live broadcasting here.
YouTube Live adds new multiple camera switching feature here.
Infographic: Youtube Live vs Facebook Live here
Interview with Rocosoft PTZ Control here
When to video conference vs when to live stream… Learn more here.
How to host free webinars here.
Live Streaming Services for houses of worship. Learn more here.