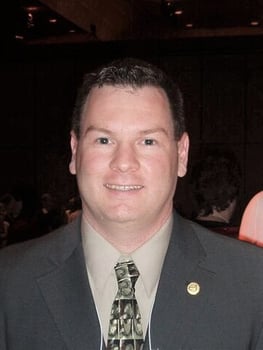 As we wound down February, a month in which our team focused on audiovisual technologies for the healthcare industry, I had a chance to speak with Dennis Vallone with Bayada Home Health Care. Dennis and his team, with the guidance and design expertise of CRS's parent company, Haverford Systems, integrated some key technologies for Bayada's southern New Jersey offices
As a local Phila.-area audiovisual integrator, Haverford Systems is knowledgeable in every facet of conference room design and integration. Dennis told CRS Tech Talk about Bayada Home Health Care, its mission and some of the technologies being utilized today at its Pennsauken, N.J. site.
Listen more in the podcast below:
Read the transcribed version below:
JS:
Welcome to another edition of CRS Tech Talk, the podcast version. CRS is for Conference Room Systems. We are the e-commerce division of Philadelphia area, audio visual integrator, Haverford Systems. I'm Julia Sherwin. This month we have focused in on some of the audiovisual technologies being utilized for the healthcare market. We're looking at technologies to enhance patient care, enable collaboration among providers and so much more. With us today on the show to talk about some of it is Dennis Vallone. He is senior manager, enterprise video collaboration and telehealth services for Bayada Home Health Care. Welcome to the show Dennis.
DV:
Thank you. Thank you for the invitation.
Who is Bayada Home Health Care?
JS:
It's great to have you here. And, Bayada is a very well known name in the Philadelphia region. So for those who may not be familiar with Bayada, tell us a little bit about it.
DV:
Bayada Home Health Care is an international nonprofit home health care provider with the purpose to help people have a safe home for comfort, independence, and dignity. Bayada cares for around 32,000 clients a week from over 360 offices in 23 states and also international locations like Germany, India, Ireland, New Zealand and South Korea.
JS:
And your local headquarters being in Pennsauken, New Jersey, in southern New Jersey, a suburb of Philadelphia.
DV:
All of our support offices are housed in southern New Jersey. Most of them are housed in Pennsauken, New Jersey, in our global support center. Our headquarters is in Moorestown, so we're pretty much based out of southern New Jersey, but we are international.
JS:
Fabulous, thank you so much for that background information. So you know, when it came to looking at integrating some audiovisual technologies for your location, I imagine you certainly did your research and you came upon Haverford Systems who is the parent company to Conference Room Systems? This is a CRS Tech Talk show. We work closely together. So tell us a little bit about that experience and what that was like.
Meeting Bayada's AV Technology Needs
DV:
Well, you know, it was pretty interesting. We went on this journey, I want to say, about seven years ago. Our CEO at the time, Mark Baiada, our founder and CEO, asked me to look into video conferencing for the company. He had a vision where he wanted to be able to enable everybody in the company to use video conferencing at the desktop or on a mobile device. And he really laid it out for me. There were three main things that we were looking for. It had to be a high quality product, had to be easy to use and it had to be inexpensive. And at that time, seven years ago, if you think back, there wasn't really much out there as a SaaS solution for video conferencing on the market. All the big players at the time seemed to be more focused on hardware, conference room solutions.
So back then I thought I was really on mission impossible because I really noticed that there's not anything out there that I could check all the boxes. And, at that time, you know, I was attending different trade shows, like Enterprise Connect and researching a lot of different companies. And I had come across this company called Zoom, who was pretty much in their infancy. And, we started testing their solution, and we found that it really met a lot of the objectives for us really well. It worked in low bandwidth environments, on mobile devices, and it worked well for devices with low resources. So we started testing it internally and then we started using it out in the fields with our clinicians and our office staff, and we knew we had a good solution there. So what happened, to go back to your question, what happened about three and a half, four years ago is that we were opening a new global support center in Pennsauken N.J, and taking 16 regional offices and putting them in this location.
So we had the opportunity to build the site out from the ground up. We did a total restoration of the building, and we wanted to put in video conferencing in the rooms. And at that time we were using Zoom. And Zoom has a product called Zoom Rooms that we were successful implementing in many other offices, and we wanted to implement that at the global support center. So when I looked at vendors that were out there at the time and we put an RFP together, there weren't too many that were out there, advertising that they were using Zoom. So we put an RFP together and we put it out for three of the companies in the area. And Haverford Systems is one that we had selected because you had a great presence online, you seem to know about the products: video conferencing cameras and speakerphones, and you do a great job at the shows (trade shows). Haverford really got the whole do-it-yourself video conferencing solution. And we had to put the RFPs out and when the responses came back, Haverford delivered. They had the best proposal , and they seemed like they really understood the products.
JS:
That makes us so happy to hear that Dennis. And, it is funny looking at that evolution of Zoom and where it is today. I mean, you can't escape a news article about Zoom's growth, and especially amidst something like Coronavirus and what that has meant for companies throughout really the world now. People are just more and more reliant on video conferencing. So, you really came in at an interesting time. And that level of collaboration, with video conferencing, that's helping your employees I would imagine, but it's also lending to a greater experience for patients as well, right?
DV:
Yeah, absolutely. It's really opened the doors for many things for us here at Bayada. When it comes to communication, it's the core of what we do as a company. We're a service company providing home health care. Our business is all about forming strong, long-lasting relationships. These relationships are important at all levels of our organization. That's why communication, Zoom video conferencing is still important to us to have that face-to-face connection with our people around the world. Especially now with the growth and how we're expanding into different countries, being able to see somebody face-to-face and have that consistent connection is very important.
JS:
And you also have other technologies, collaborative technologies, audio visual technologies too.
DV:
Yeah, that's true. I mean, outside of that we use Zoom for enterprise communications. We do roughly over 3,000 meetings a week on Zoom. We've accumulated over 70 million meeting minutes using Zoom. But, we've expanded that into telehealth and virtual care opportunities where we're now connecting clinicians to clinicians and clinicians and patients. We're using remote patient monitoring technologies to monitor clients' daily health and vitals. That would consist of like a tablet that would put in a home for the video communication piece. And then we have say, a congestive heart failure client, then we'll have a scale, Pulse oximeter and a blood pressure cuff. And that client will take their daily measurements, and we get these vitals in real time and helps us stay in tune with the client and we use the video component to call the client and have that face-to-face with them, so we're really expanding into more areas which is really exciting.
Zoom Video Conferencing Meets HIPPAA Compliance
JS: (08:20):
And when you're utilizing Zoom, it's HIPAA compliant. So that's becoming, you know, not becoming a buzz word. I mean, HIPAA was enacted in 1996 but it's still super important.
DV:
Yeah, absolutely.
JS: (08:36):
Yeah. And it's talked about, uh, because there's, there's other platforms out there that just are not HIPAA compliance. So, um, you know, you have to, we have to talk about that when we talk about healthcare for sure.
DV (08:50):
Yeah. You need to have end-to-end encryption; you have to work with a reliable provider, somebody that you know is doing their due diligence, and have it secured on their end and somebody that's willing to sign a business agreement with you.
Support from Haverford
JS: (09:03):
How about as far as, you know, once all the technology was integrated for you. Did you have to contact Haverford for support or any issues that came up along the way? And you know, if you want to just take us through that experience.
DV: (09:19):
The support with Haverford was great. We worked with a couple of your engineers over there. We sat down, had some preliminary meetings, reviewed the designs, different room concepts. At our global support center in Pennsauken we have a number of different types of applications for AV. That could be conference rooms, running Zoom rooms, it could be our training center. It could be our studio. We have a full production studio where we shoot webinars, webcasts and live streams. So we reviewed the concepts and the technology for each one of those rooms, and Haverford was a great partner in that.
JS (09:57):
That's awesome. And, you know, even for somebody like yourself who is immersed in this work, it can be pretty daunting when you have to go out there and decide what you need for your company and your employees. How many vendors to choose from and bids to review.
DV (10:17):
Yeah, there's a lot of details. I mean everything from where you mount your cameras on the wall to the proper lighting in the room, to choosing the right speakerphones..to have that guidance and have somebody to partner with that knows the industry and knows the products that are available was very helpful.
The Future of Technology in Healthcare
JS (10:35):
Well that is fantastic to hear. What's on the forefront for Bayada Home Health Care right now as far as what you're looking forward to in 2020 and beyond and, are you considering additional technologies?
DV (10:51):
Well, we believe the future of health care is where you want it to be. It's at home. The need to migrate to a home or community centric system is a main driver of the future of healthcare. Home is the preferred setting in the future. I mean, if you look at all the technology that's out there today with AI, and Alexa, Google, those devices are going to become even more integrated in your daily life and and in healthcare. So we're looking to see how we can use those devices to provide better outcomes for our clients at a lower cost.
JS (11:21):
Yeah. And the studies certainly reflect that. We have an aging population, and people tend to do better in a home setting.
DV (11:30):
Yeah, absolutely.
JS (11:31):
Well, it's been wonderful to talk to you about Bayada Home Health Care and about some of the technologies that you're utilizing to keep not only your employees engaged but also your patients. Anything else that you'd like to share with us on CRS Tech Talk?
How AV Technologies Enhance Employee Engagement and Communications
DV (11:47):
Yeah, I could talk more about the technologies here on our campus and how we have really one ecosystem, Zoom, that manages a lot of it for us. So for instance, our conference rooms. They're Zoom-enabled. You walk in a conference room, you want to share content wirelessly, you're able to do it. If you want to turn video conferencing on, it's very intuitive. It's a couple of clicks and you have a meeting start. You want to have an audio conference, you can just use it for pure audio. Or, if you just want to have a meeting and you want to record it so that you can review it later, you can just turn Zoom on. So the simplicity of the whole solution here is great. Zoom now has digital signage where the same monitors we're using for video conferencing are being used for our corporate messaging, company news and information. We celebrate anniversaries, birthdays and things that are occurring within the organization If you walk around our campus or our offices, you'll see that digital signage that's up there and it's a great way to get the word out to people and it's non-intrusive. They see the content on the screen, and it's just a great way to message with your employees.
JS(12:59):
It's a great communication tool for sure. And PR promotes that in employee engagement.
DV (13:04):
It does. It's great for employee engagement. In addition to that, we have scheduling. So outside of our conference rooms, there's a little iPad, and it has a scheduler and it will tell you who's in the room, how long they're in the rooms for and if you want to reserve the room, you can reserve it from the iPAD. And it links with the display and the Zoom Room system. So it's really created some new efficiencies here.
JS (13:29):
Yeah. it promotes efficiency for sure. And those initial goals that your CEO talked about: high quality and easy to use. Amen to that. Right?
DV (13:41):
That's right.
JS (13:41):
That is fantastic. Thank you so much for sharing your experience with the technologies that Haverford Systems helped to integrate there at Bayada Home Health Care. And we appreciate your business and your support and your willingness to talk about this today for CRS Tech Talk.
DV (14:00):
Actually, thanks for the opportunity to come on.
JS (14:02):
Thanks so much. That was great to have you again, Dennis Vallone. He is a Senior Manager of Enterprise Video Collaboration and Telehealth Services for Bayada Home Health Care.