Skype Translate is revolutionizing the world of international business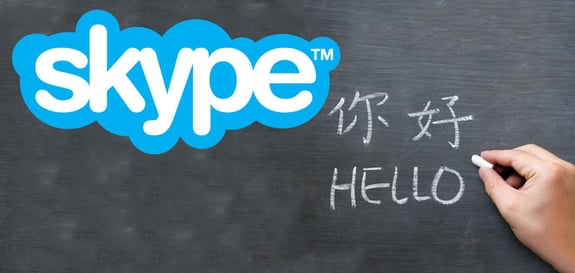 In December last year, Skype launched its Translate app preview which will revolutionize video calling forever. We live in a technological world where everyone is connected with their friends, family and colleagues through social media and social networking apps. The only barrier that stops us from connecting with new people is language. Language is the biggest barrier in communication even though English is the most commonly spoken language, still more than half of the 7 billion people on this planet cannot communicate in English.
Skype Translate will eliminate the language barrier with real-time translation in voice calls. It seems like an impossible feat, but Skype has managed to overcome its obstacles and create the solution. The app is still in beta phase but has revealed some amazing results and looks very promising. Skype Translate is a result of a massive investment by Microsoft in speed recognition, automatic translation, and machine learning technologies. The machine learning algorithms in Skype Translate will only get smarter with time as more and more people will use it. So far Skype Translate supports four languages for voice calls – English, Spanish, Italian and Mandarin and another 50 languages in instant messaging.
Skype Translate features:
You can call almost anyone who has Skype.

Voice call translation into your language in near real-time.

An on-screen transcript displayed.

Send instant messages across 50 languages – from Arabic to Yucatec Maya.

Available in Windows 8.1 through Windows Store.
Skype Translate is great for people to make new friends around the world without language being a barrier but there is a bigger picture here. This program is the next must have for the international business world. International Marketing is a now a very common practice that allows businesses to expand their operations across the world. Outsourcing is one of the major sources of cost reductions and increased profitability.
The biggest tech manufacturers in the US rely heavily on the production capabilities of the China. China is the biggest exporter to the US, and one small misunderstanding between two companies can result in millions of products becoming useless. Ten million iPhones are produced in China every month, Apple must ensure that every message is conveyed properly to the producer otherwise resulting damages can come at an immense cost. At the same time, companies are trying to become more efficient and trying to reduce costs resulting in shifting to video conferences for internal and external communication as well as conducting meetings with outstation employees.
Skype Translate will allow businessmen from different countries and varying cultures to communicate with each other smoothly without needing a translator sitting next to them or translating their IMs through Google Translate or Bing. Every sentence will be translated in real-time in Skype Translate, resulting in cost savings on the translator, time savings, better understanding and most importantly a smooth and accurate communication. Skype Translate will make you feel as if you are having a normal conversation with someone else who speaks your language, an amazing advance in linguistic technology.
Professionals cannot wait to get this technology embedded into Skype for Business. Skype for Business is being used by more than 100 million professionals worldwide will eliminate second thoughts of conducting business with overseas buyers or suppliers due to language barriers. Skype for Business, an improved version of Microsoft Lync, it is designed to make communication between co-workers easy and intelligent.
Skype Translate is integrated in to Office 365 which allows voice and audio calls directly from the productivity suite. The voice-calls using standard telephone connections configured to use with Skype for Business are some added features of the program. Skype room systems are specifically designed by certified Microsoft partners which can be used to turn empty office spaces in to small meeting rooms or connected with studio equipment in large production houses to broadcast interviews.
The first barrier was the limitation of Skype being integrated with studio equipment but with new broadcast equipment that limitation has been lifted and the next thing is Skype Translate. News channels are always interviewing people from around the world to get some insights on the story they are covering. For example: If BBC wanted to broadcast eye witness accounts of Nepal natives about the aftermath of the earthquake they would have to ask their respondent to translate their words for them, but with Skype for Translate they can just understand what they are saying in real-time without a translator and being thousands of miles away.
Skype Translate will revolutionize how we communicate in the year to come and has greatly improved Skype for Business, excelling it beyond any other communication software. Professionals will worship this technology and use it for everyday communications. Skype Translate will drive users to Skype for Business giving it a unique selling point over its competitors such as Cisco Jabber. Download the preview on Windows 8.1 and be a part of the future of business.