Hi Everyone!
InfoComm 2015 is going to have so many new and exciting products this year we decided to make a short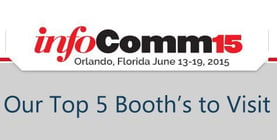 list of the technology you shouldn't miss. In fact, InfoComm published "97% of our attendees say that seeing new products is their #1 reason for coming to InfoComm." If you are coming to InfoComm to see new products than the Innovation Showcase is a must stop by area! Of course distribution companies like Stampede Global are big enough to put on a technology show case of there own. We put together a short list of the booth you won't want to miss.
1. Stampede Global Booth #3859
Follow on Twitter: @StampedeGlobal

Stampede made the top of our list this year for one simple reason: the promise to mix video conferencing with the industries top drone manufactures. Stampede is known to "stay ahead of the herd" and by combining video conferencing and ariel drone usage they will definitely be on the cutting edge. The plan, as I was told by Gordon Miller, head of Unified Communications at Stampede Global, is to connect the "drone flight area" with the main Stampede booth. Stampede will have 60'x60' booth this year to demonstrate everything from Vidyo, HuddleCamHD. PTZOptics and the latest Samsung Smart Collaboration Displays. Check out the Stampede presentation schedule here.
2. HuddleCamHD Booth: 5585G (Hall D) (Innovation Area)
Follow on Twitter: @HuddleCamHD
HuddleCamHD made our number two because they will be competing for the $10,000 innovation prize at the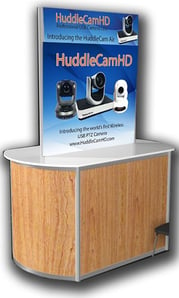 innovation showcase with the HuddleCam Air. USB video conferencing cameras are an important part of the overall InfoComm show for anyone looking to integrate and use USB Pan Tilt Zoom cameras for AV projects. HuddleCamHD will have the following cameras on display: HuddleCam Air, HuddleCamHD 30X, HuddleCamHD 3X Wide, HuddleCamHD 10X 720 and the Gen 2 HuddleCamHD 3X. You can see the HuddleCam Air in action on the innovation stage at InfoComm during the morning each day. Scheduled times are: 9:30AM on Wednesday, 9:30AM on Thursday and 1:30PM on Friday afternoon. At these innovation speeches you will get a live demo of the HuddleCam Air in action. The HuddleCam Air camera will set up at the booth and the receiver will taken up on stage to show zero latency 1080p video on screen. The distance between the booth and the stage will be approximately 50-75 feet with interference. The HuddleCam Air is built to accept interference even from the barrage of other WiFi networks.
Cameras on site:
HuddleCam Air
HuddleCamHD 30X
HuddleCam 3X Wide
HuddleCam 10X 720
The "HuddleCam Spire" includes (2) 23″ LCD's to show the live video streams using intel NUC i7! This i7 Intel NUC PC is maxed out because they are using all (4) four USB 3.0 ports displaying (2) camera at a time. The Intel NUC has (4) USB 3.0 ports but HuddleCam lead engineer, Matthew Davis, noted that each pair of USB 3.0 ports share a common chipset which restrict the overall throughput for the set. Therefore only one camera from each chipset can be shown in 1920x1080p video at a time. (More information on Intel NUC's here.)
3. Collaboration Squared / Ubiety Booth 5885 Hall D (Innovation Area)
Follow on Twitter: @ubietyconf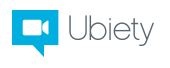 We are extremely excited to see what Collaboration Squared is going to bring to InfoComm this year. At Enterprise Connect 2015 their cloud interoperability video bridging service and app Ubiety won the award for best new product. The CEO Daryl Hutchings has worked closely with HuddleCamHD to bring to life the latest "Room Systems" which will include a conference room design to their just launched Ubiety Room "software only room based endpoint". Ubiety is a great alternative to Bluejeans offering the same type of flexibility for customers, extremely high quality, month to month contracts, plus free international phone conferencing. Ubiety Room is on the short list for winning the Innovation Showcase $10,000 prize! visit them just a couple of rows along from our booth in Hall D, #5885.
4. Sound Control Technologies Booth #1535

Sound Control Technologies provides easy installation options for video conferencing and broadcast cameras. They have partnered with camera manufactures such as: Cisco, HuddleCamHD, SONY, LifeSize, PTZOptics and Lumens to create HD PTZ camera extension solutions. Sound Control Technology products provide installation friendly solutions that provide everything from camera power to control and streaming video. I got a chance to speak with Chris Audette about this year's InfoComm showcase. Chris let me know the new "RemoteCam4™ Extended Distance RC4-S12 provides a unified electronics platform for cost effective remote extension of most RS232 enabled professional cameras when used in VTC, staging, live production or video reinforcement applications. The RemoteCam4™ provides power, video and RS232 control over a single standard CAT5e or CAT6 UTP cable up to 300 feet. The RemoteCam5™ Extended Distance RC5-S12 provides a unified electronics platform for cost effective remote extension of most Ethernet enabled professional cameras. The RemoteCam5™ provides power, video and Ethernet control over a single standard CAT5e or CAT6 UTP cable up to 300 feet."
5. HoverCam Booth 5585 (Innovation Area)
Follow on Twitter: @TheHoverCam


HoverCam is coming to InfoComm with a brand new innovative document cameras! HoverCam is best known for document cameras and now they have a brand new wireless model that has come out (although it won't be shown at InfoComm). Craig Justice has been working with CRS since the release of the Solo 8 the ground breaking affordable USB 3.0 document camera! Craig mentioned that the innovation area was important for them because they have some new features that are really going to change the way you think about Document Cameras this year. He is excited about the USB camera market and the new products coming out. HoverCam has a new USB 3.0 camera called the 3PO " the world's first SuperSpeed USB 3.0 webcam with 8.0 MegaPixel resolution and 30 frames/sec speed over USB 3.0 It includes software for taking 8MP snapshots and recording full-motion no-lag HD video over USB directly to the computer".
Summary: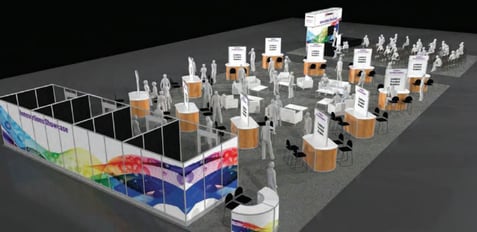 USB video conferencing is just one of many hot topics at InfoComm. We are particularly interested in the newest cloud based software moving into the conference room from there traditional desktop platforms. New innovations tying drones and video conferencing is definitely going to be exciting as integrators and manufactures dream up the next real life applications. We are going to prepare a more in-depth on the show floor post the week after InfoComm so don't forget to subscribe to our blog and follow along :)