UPDATE 914/16 : EVOKO has a new room booking management product called the LISO. We have a new video below.
Hello IT Professionals,
Resource management, expecially conference room management, is becoming more and more important. The need to maximize the resources that are available in a given company has become a top priority for: facilities managements, IT professionals and real estate managers. To help start the conversation we have compared the top 5 solutions on the market in a way that will hopefully become a time saving tool.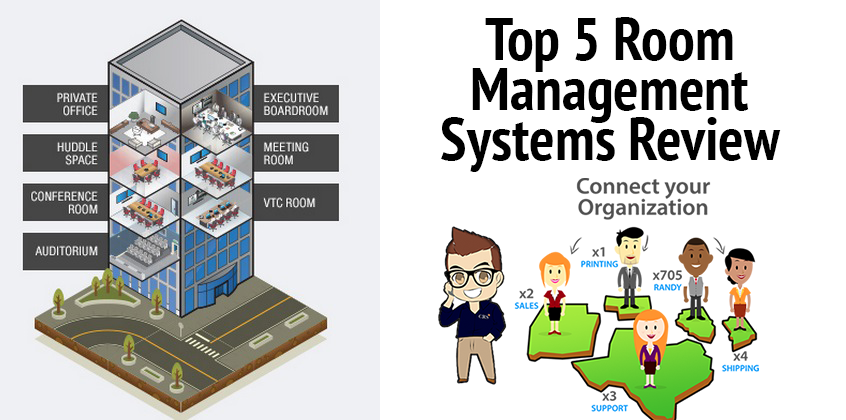 | | | | | | |
| --- | --- | --- | --- | --- | --- |
| | Crestron Room View | Extron Room Agent | Evoko Room Manager | Roving Office | Steelcase Room Wizard |
| MS Exchange Integration | Yes | Yes | Yes. 2003, 2007, 2010, and 2013 | Yes | Yes |
| MS Active Directory | Yes | Yes | Yes | Yes | Yes |
| Schedule through Outlook | Yes | Yes | Yes | Yes | Yes |
| Touch Panel Sizes | 4" | 5" & 7" | 8" | Any Android Tablet | 7" |
| Lights on Bezel Green/Red | Yes | Yes | Yes | N/A | Yes |
| Reporting | Advanced | Advanced | Yes Basic | Advanced | Yes Basic |
| Ease of implementation 1-10 | 6/10 | 6/10 | 10/10 | 8/10 | 9/10 |
| Space Hoteling | No | No | No | Yes | no |
| RS-232 Device Control | Yes | Yes | No | No | No |
| Lighting Control | Yes | No | No | No | No |
| Cloud Based | No | No | No | Yes | No |
| Google® Calendar | Yes | No | Yes | No | Yes |
| MS Office 365 | No | No | No | No | Yes |
| IBM/Lotus Domino | Yes | | No | No | Yes |
| Custom Reports | Yes | Yes | No | Yes | No |
| Remote Help Desk | Yes | No | No | No | No |
| Price Range | Free up to 5 rooms. Server Software $5,000. Touch Panels $750/each | Custom Quotes Required. Ball Park $1,500 per touch panel (Server Software additional) | $1,599 per display | Custom Quotes Required. Ball Park $25/user plus set up fees | $1,899 per display |
Crestron Key Features
Web-based cross-platform interface
Customizable and user-defined interface
Direct database integration with SQL Server
Fully integrated with MS Exchange Server for scheduling
Networking support including DHCP and SSL
Windows Event Log support
Device usage and call statistics reports
Asset management tools to track and schedule maintenance
Enhanced customization of attributes, contacts, logs and reports
Advanced plug-in modules for calendars, hot lists, action items, instant messenger and web cameras
The RoomView™ Add-in for Microsoft® Outlook® brings expanded room scheduling versatility and meeting preparation directly to the Windows® desktop. Seamlessly, a user can reserve a room based on required AV equipment, room location, and availability directly from the RoomView icon within Outlook. Events that prepare the room for a meeting, such as turning on the projector or dialing the appropriate video conference, can be initiated within Outlook's simple user interface.
Extron Key Features
We are pleased to introduce the Extron Room Scheduling System. Room Agent™ setup software transforms TouchLink™ Pro touchpanels into a full-featured room booking solution. While competitive devices rely on additional scheduling software or external processors, Room Agent ties TouchLink Pro touchpanels directly to Microsoft Exchange, delivering a convenient stand-alone room booking solution for any size application. Users can reserve rooms from any Exchange-connected device, including their mobile devices, or from the touchpanel, itself. Since Room Agent uses Extron's popular 5" and 7" TouchLink Pro touchpanels, multiple mounting options are available, including on-wall, in-wall, as well as secure mounting to almost any flat surface, including glass or granite.
Key Features
Use TouchLink Pro touchpanels for room booking and meeting information display
Room Agent software provides easy integration with Microsoft Exchange for convenient scheduling right from Outlook
Make on-demand reservations from the touchpanel, computer, or anysmart phone or tablet that connects to Microsoft Exchange
Two bright LEDs within the bezel make it easy to see whether a room is occupied or available even from down the hall
Meeting rooms become available as soon as a scheduled meeting ends
Color themes, custom loaded background images and transparency controls provide personalized branding options
Easily deploy a single touchpanel, or multiple touchpanels with similar settings
Evoko Key Features:
Clairity is key
A meeting should be well planned, yet relaxed. See at a glance if the room is vacant or not by means of the screen's red or green LED illumination. With Evoko Room Manager bookings for all conference rooms couldn't be easier, no training is needed.
Smooth scheduling
It doesn't matter where you are. Book, cancel or extend a meeting in your own electronic calendar or directly on the screen outside the meeting room. If the room is busy, Evoko Room Manager will tell you where the nearest room is available. The units synchronize with MS Exchange, Office 365 or Google Apps for Business to always show the latest information.
Valuable Statistics
Statistics can help us take wise decisions. With the Evoko Room Manager you get all the information you need to optimize the use of meeting-rooms and equipment. How much do you use your meeting rooms and are some used more than others? Was that meeting-room optional for a certain group? Any broken equipment? Export full reports directly to MS Excel. Get the Business Intelligence you need with the Evoko Room Manager and cut costs.
Roving-Office Key Features:
Office hoteling software has become a strategic tool for many businesses looking to dynamically manage available space. Thousands of organizations have reduced overhead, decreased energy consumption and created dynamic, flexible work environments. Sound good?
Roving is a comprehensive, adaptable workspace management solution for employees and administrators. Make it simple for your employees to reserve shared workspace and manage scheduling and calendars. Provide administrators valuable, detailed usage statistics to enable informed decisions about office expansion.
Low up front cost
Cloud based
Mobile device compatible
Web interface
Secure
Reduce real estate overhead cost
Accommodate mobile work force & sales force
Decrease energy consumption
Create a dynamic work environment
Increase employee satisfaction & retention
Steelcase Key Features:
RoomWizard II works with a variety of calendar systems including Microsoft® Outlook®, Google Calendar®, Lotus Notes® and others. Meetings can be managed seamlessly via web, laptop or smart phone. When workers find an open meeting space, they can reserve it instantly and get to work.
RoomWizard II even keeps track of space utilization with the analytics console that measures and reports reservation patterns. And for simple management of the system, the administrative console allows the system managers to configure, update, and monitor all of their RoomWizards from a single interface.
7" capacitive touch screen - adjust room reservation or grab a room for an impromptu meeting
Status lights - red or green lights show availability
Start button - automatically release a room if occupants do not show up
Use RoomWizard II as a stand-alone system, or seamless book rooms with an existing reservation system such as Microsoft®

Outlook®, Lotus Notes®, Google Calendar®

or other software systems
Analytics console

- record room occupancy and reservation patterns, then generate reports to provide insight into space utilization
Administration console

– manage, configure, and monitor all RoomWizards from a single interface
Built-in web server allows users to find and reserve a room from any network PC
Warranty - 3 years (including the touch screen) with an option for 5 years
More on Conference Room System Management
Sources:
http://www.extron.com/company/article.aspx?id=schedulingad&m=nf1678us
http://www.evoko.se/products/evoko-room-manager/
http://www.crestron.com/products/fusion/default.asp?from=www.crestron.com%2Ffusion
http://www.steelcase.com/en/products/category/integrated/collaborative/room-wizard/pages/overview.aspx
http://roving-office.com/Overview