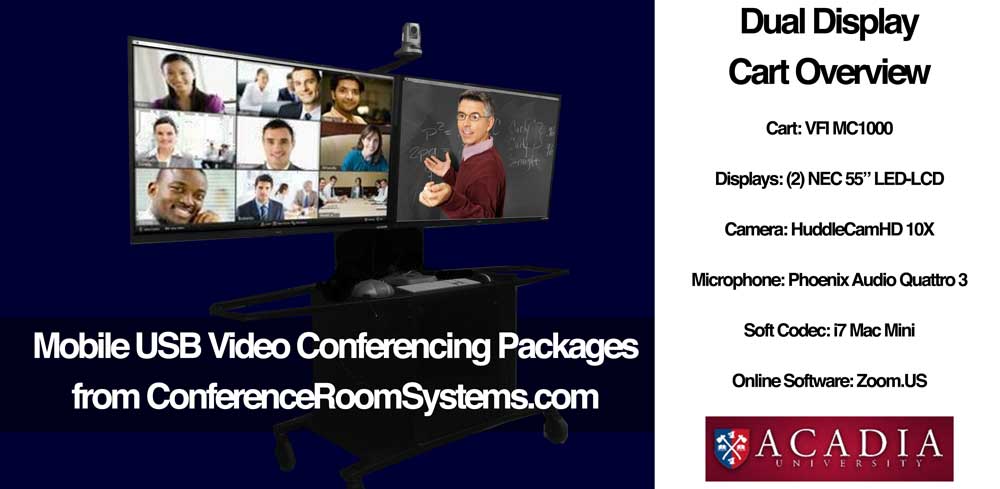 ---
INTRODUCTION:
The Problem: Acadia University was looking for a way to connect multiple classrooms and campus's together using Zoom.US. Zoom.US was catching on so quickly with both faculty and staff they Acadia needed to find a way to provide High Quality USB video conferencing equipment between classrooms. Without a budget to install video conferencing equipment in every room. They decided to build (2) Mobile video conferencing carts. One Dual Display and one Single Display video conferencing cart model.
The Solution: Knowing Zoom.US will handle both single and dual display installations Acadia started with a super fast Mac Mini for the brains of the operation or "Soft Codec". They selected VFI's MC-1000 video conferencing cart made with stainless steel durable material and features two easy to use handles which enhance mobility. For the camera they chose the HuddleCamHD 10X for Optical Zoom, Presets, and 1080p video quality. The microphone solution chosen was Phoenix Audio Quattro 3. For a complete list of components see
Complete Part List
Single display cart
Media cart:
http://www.video-furn.com/m_MC1000.htm?v=
Computer:
Mac Mini
Webcam:
Huddlecam 10x
Conference phone:
2
Phoenix Quattro 3 MT303
(with daisy chain kit)
Display:
NEC E554 - 55" LED-backlit LCD flat panel display
USB Extension:
Tripp Lite USB 3 active extension repeater cable (for conference phone)
Dual display cart
Computer: Mac Mini
Displays: NEC E554 - 55" LED-backlit LCD flat panel display
USB Extension: Tripp Lite USB 3 active extension repeater cable (for conference phone)
Read More
Topics: Mobile Carts, USB video conferencing, HuddleCamHD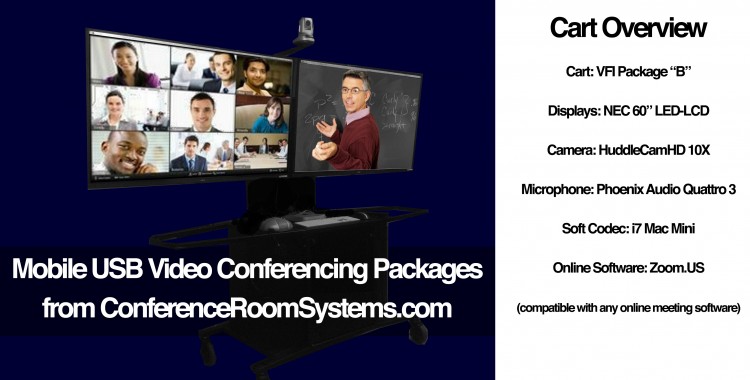 Mobile Video Conferencing using online meeting software like GoToMeeting, WebEX and Skype has been really easy and fun for IT departments to deploy and set up :). Projects today are now easy because of USB camera and microphone technology expanding the capabilities of any PC or Mac computer to host online meetings. This project was especially fun because it's mobile! We used a HuddleCamHD 10X for the camera and a Phoenix Audio Quattro 3 for the microphone. With a i7 Mac Mini engine powering video conference call, the entire experience is lighting fast. The HuddleCamHD 10X "Cruise Line" is especially helpful for remote participants to pan the room and view the areas of interest. With 10X optical reviewing the attendee's is a breeze! The Phoenix Audio Quattro is a great choice for pickup quality offering full HD Audio and echo-cancellation microphones. The "VFI Package B" cart is made with heavy duty metal handles, 5" balloon wheels, and a dual screen mount. NEC 60" LED-LCD displays were chosen for display both extended desktop / screen sharing and far / near side video participants.
Read More
Topics: Video Conferencing, Mobile Carts