Hello Pro AV & IT Professionals,
I wanted to share a project we recently completed to display multiple cameras in a single Zoom Room USB 3.0 video input. Recently, one of our customers wanted the ability to display two cameras in their video conferencing software (they are using a Zoom Room) and have the far end of the video conference to be able to see both cameras. The challenge is that although Zoom and other video conferencing software providers have the ability to toggle between multiple camera inputs, the customers wanted a picture in picture, side by side and/or picture out of picture.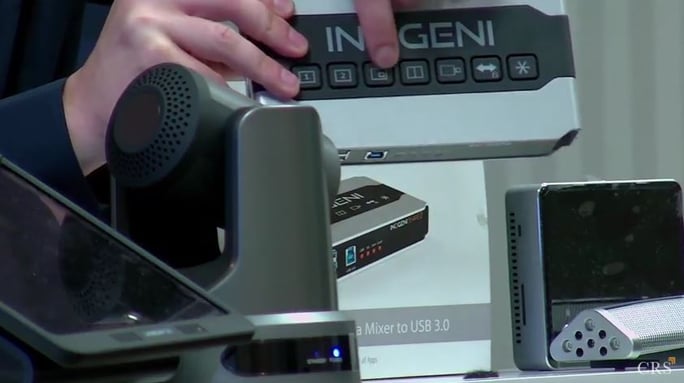 Using multiple cameras in a Zoom Room
If you have read some of our other blog posts about the Inogeni Share 2, you know this product is the perfect solution for bringing in multiple cameras into a web video conference. As you can see the Share 2 includes multiple buttons on the top of the unit allowing users to select a layout from the available cameras including: 1, 2, split screen, picture in picture and more. The Inogeni Share 2 then connects to the Intel NUC computer we are running the Zoom Room software on which is then controlled by an Apple iPad 2. You can see the wiring diagram below.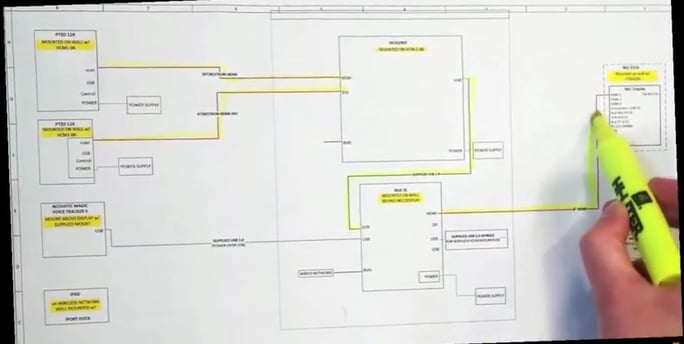 As you can see, each PTZOptics 12X-SDI-G2 camera that we have chosen to use is connected to the Inogeni Share 2 via HDMI. The Inogeni Share 2 is connected to the Intel NUC and the Intel NUC is connected to the in-room LCD television via HDMI. We also have an Acoustic Magic II microphone connected to the NUC via USB 2.0 for audio. The iPad can control the entire Zoom Room over the WiFi network. (Important Note: The Zoom Room iPad cannot control the cameras in this setup) The PTZOptics cameras can be controlled via the included IR remote, RS-232 button controllers and even remotely over the LAN (Local Area Network.
Dual Camera Zoom Room Setup Video
In this video, we review a dual camera setup for Zoom Rooms using the Intel NUC, two PTZOptics cameras and the Inogeni Share 2. This setup video includes the complete wiring diagram for the Zoom Room including the iPad controller, HDMI to television and two camera setup connected via USB to our Zoom Room computer.
Conclusion: Using Multiple Cameras with Zoom Video Conferencing
Zoom is becoming one of the most popular video conferencing services in the industry because it's simple and powerful. At CRS, we can help you purchase discounted Zoom licenses and help with selection of the right audio visual integration products to make your next Zoom Room integration project successful. Reach out to our trained Zoom Room ProAV team and we can help you with local installation in the mid-atlantic area and product selection around the world!
More on Web Conferencing