Hello AV & IT Pros!
We have been asked to review the latest Vaddio RoboShot cameras with the PTZOptics camera line. For those of you who do not know Vaddio manufactures some of the industries top video conferencing cameras with USB. Vaddio's new RoboShot camera line has triple video streaming capabilities for HDMI, USB 3.0 and IP Streaming. PTZOptics is a camera manufacture who has a line of 12X and 20X HD-SDI, HDMI, USB 3.0 and IP Streaming capable cameras. So first let's start with the details of Vaddio's RoboShot line. Then we can use the PTZOptics comparison available here: (http://ptzoptics.com/comparison-charts/). And finally we can summarize the PTZOptics USB cameras and how they compare.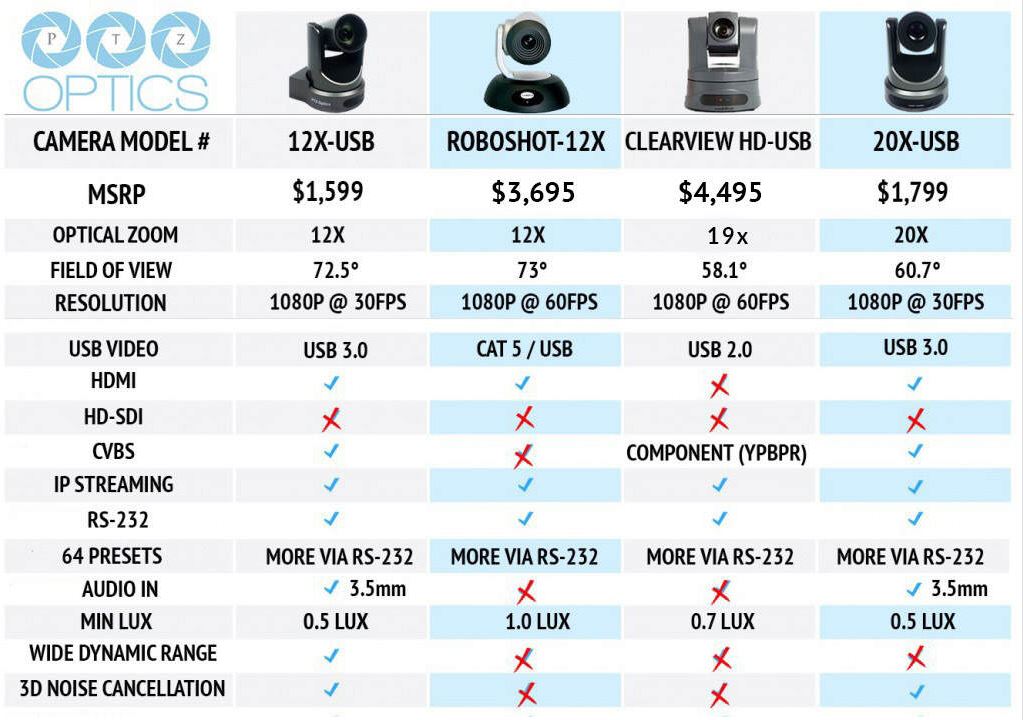 Vaddio USB Cameras
Vaddio's RoboShot cameras come in either 12X or 30X optical zoom models but currently the only model available with USB is the 12X. The RoboShot 12X USB has USB 3.0, HDMI and IP Streaming capabilities built in to the unit which are simultaneously available. This means you can stream video to your local computer for a confidence monitor while you are doing a web conferencing session such as GoToMeeting or WebEX. The RoboShot also offers PoE which is a handy feature that allows the camera to be powered completely over a single Ethernet cable. Vaddio always comes up with ways to make integrators lives easier and this eliminates the need for power which can cost hundreds of dollars if you have to hire an electrician to put in a power outlet. Finally, the RoboShot 12X USB comes with what Vaddio is calling Tri-Synchronous Motion and this is basically the ability to move three axes smoothly at the same time. The RoboSHOT 12 USB has wide dynamic range and noise reduction accessible through RS-232.
Finally, it's worth mentioning that Vaddio had one of the very first USB PTZ camera models on the market. In fact I do believe the Vaddio ClearVIEW HD-USB was the first USB camera with real pan tilt and optical zoom available. This model was a gem for it's time but as you can see below Vaddio is now offering the RoboShot which overshadows the ClearVIEW. The ClearVIEW HD-USB does not support digital video or USB 3.0 but it provides a crystal clear image over USB 2.0 which is easier to extend then USB 3.0. Even though the field of view isn't as wide as the other cameras in our comparison that not exactly a draw back if you are in a large area such as a auditorium. The Vaddio ClearVIEW HD-USB has an incredible ability to zoom into a tight field of view for those long distance shots. The Vaddio ClearVIEW isn't going to be completely phased out but this is a quote from the FAQ section of Vaddio's data sheet.
Q) The ClearVIEW HD-USB Camera was sort of expensive. Since this camera does way more, is it going
to be way more expensive?
A) Good question, and the answer is no. Part of the reason to refresh the technology of the Vaddio cameras
is to take advantage of the newest, coolest and often times cheaper technology available. This allows Vaddio
to lower the retail price of the RoboSHOT 12 USB by about 20% as compared to the HD-USB camera.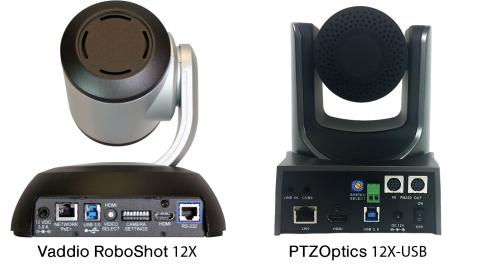 PTZOptics USB Cameras
PTZOptics is a relatively new company which started in 2014 offering (4) competitively priced, cutting edge video conferencing cameras. ​PTZOptics offers 12X and 20X USB camera models which include multiple video outputs. The USB models simply have "-USB" after the 12X or 20X optical zoom designation. One major difference is the PoE that PTZOptics simply does not offer which is built into the RoboShot. Also, Vaddio supports USB 2.0 backward compatibility (at 480 resolution) and PTZOptics simply requires a USB 3.0 port. You can see that PTZOptics is packing a punch when it comes to features including HDMI, IP Streaming and CVBS along with every camera that has USB 3.0.
PTZOptics support an audio input which is integrated into the IP stream which can be nice for live streaming. Imagine taking a audio input and streaming audio and video directly to UStream or YouTube Live with nothing but your PTZOptics camera :) Both PTZOptics cameras include 3D noise cancellation and Wide Dynamic Range which is another plus one the PTZOptics side (Vaddio offers both features available through RS-232 only). Another key difference that is not noted here is warranty. Vaddio ships with a 2 year warranty and PTZOptics comes with a 3 year warranty. Another notable difference is the Open Source software that PTZOptics provides for custom projects. PTZOptics provides completely open source IP control software that requires only simple HTML knowledge to build custom integrations for camera control. PTZOptics USB cameras also support UVC camera control. They are talked about extensively in our UVC Camera Control Group. To the best of our knowledge the only control protocols the Vaddio RoboShot supports are: "four different ways including RS-232, embedded web server, Telnet and IR remote control."
What about Power over Ethernet?
​So this question has come up and we have added it to our review. This topic is specifically important when clients are ceiling mounting a camera and do not have power available in the ceiling. Instead of hiring an electrician it's much easier to purchase a power solution that works over Cat5. Today both Vaddio and PTZOptics have solutions to provide Power, Video and Control over Cat5. Let's start with Vaddio. Vaddio offers two hardware solutions that pair with the 12X and 30X Roboshot cameras to provide power, video and control over (2) Cat5 cables with a maximum distance of 100'. These solutions are called the QMini and QUSB. The main difference is that the QMini just provides USB 2.0 (720p) and RS-232 Control while the QUSB provides USB 2.0 (720p), HDMI, YPbRr, IP Streaming and RS-232 Control.

PTZOptics solution is a little bit different because they have teamed up with two additional manufactures to provide power, control and video over just (1) Cat5 cable at distances up to 300'. Sound Control Techologies specializes in this type technology. They have been in the business for over almost 30 years providing camera extension solutions for everyone from Cisco to SONY and Polycom. PTZOptics recommend the RemoteCam4 which provides power, HDMI video and RS-232 control over just one Cat5 cable. What if you want USB 3.0 and IP Streaming like Vaddio offers? No problem!
For USB 3.0 simply purchase a Epiphan AV.IO which is a cool $349. PTZOptics has done extensive testing and has confirmed that the Epiphan AV.IO is the preferred frame grabbing conversion tool for low latency and high performance. For the IP Streaming you simply need to run a second Cat5 cable and use the PTZOptics built in IP Streaming and IP Control. We feel this solution is more flexible than what Vaddio is offering plus it comes in a good $1,000 less.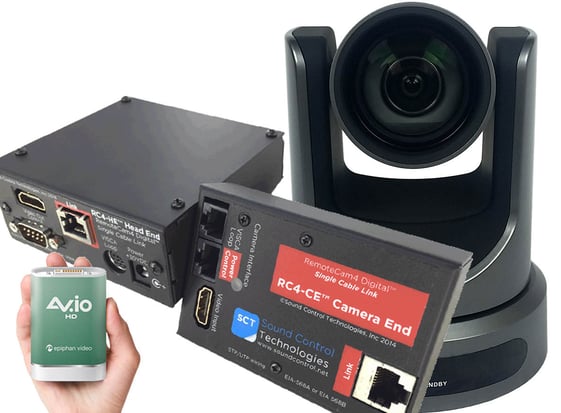 Summary
​We tend to like the PTZOptics cameras for the price but if price is not an issue the RoboShot's PoE power options are preferable for ease of installation. If you require USB and HDMI than PTZOptics or Vaddio's RoboShot camera can accommodate you and you get IP Streaming to boot! If you require backwards compatibility with USB 2.0 than either camera will work (USB 2.0 is much easier to extend then USB 3.0). So that's our review. After digging into the specifications for both cameras we found the RoboShot provides 480p video resolution when plugged into USB 2.0 and the PTZOptics cameras provide 960x540 resolution at full 30fps. There are a lot of factors at play but we hope this blog post helps you understand more about the differences between these two great camera lines.