There's no time like the present to embrace new communication tools. Technology aids us in ways we never quite relied on so heavily in the past. With businesses and schools closed in most parts of the country for more than a month now, video conferencing has taken center stage as America's conference room and class room.
Right now, and likely for years to come, the digital space and cloud-based technologies will prevail. As human beings, of course we all want to be back in places of gathering. Churches, parks, schools, and our offices are waiting for us. However, our behaviors will have changed. No longer will we be tethered to the idea that "this can't happen at home." To prepare and future proof our work, we know it's prudent to adopt the tools that will enable a smooth transition between in-person and remote settings.
To help guide our customers through this process, we've curated a number of solutions that will be cost-effective and reliable for individual or small team use.
Video Conferencing:
Throughout these stay-at-home orders you may have seen a variety of tips to improve your video conferencing experience. One of the first and most basic tips may be this: Move beyond your computer's integrated webcam and speaker.
CRS carries several affordable, high-quality webcams and audio solutions to help you:
Let's Look at a Few Camera Options Here:
The PTZOptics Webcam 80 The PTZOptics Webcam is an ideal video component for live streaming and web conferencing. The lens and image sensor provide sharp and clear 1080p images at 30 frames per second and a balanced 80-degree field of view. The unit also includes a beamforming microphone array for high-quality pickup. Take it anywhere with you. This is a simple USB, plug-and-play device.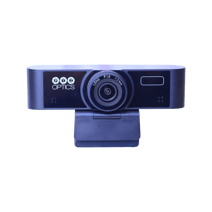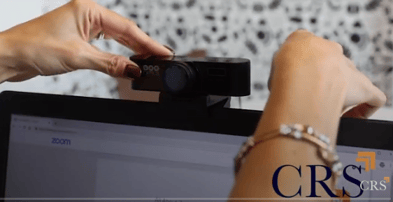 For those seeking a bit more versatility and the ability to have a high-quality webcam for both video conferencing and live streaming projects, the HuddleCamHD 4k USB webcam is a smart choice.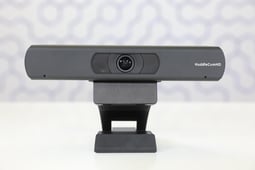 At a fraction of the price of an actual broadcasting camera, the HuddleCamHD EPTZ (electronic pan, tilt and zoom) camera functions as both a 4k webcam or conference camera that allows for fluid electronic pan, tilt, and zoom. With the latest 4K sensor built in, this camera allows you to capture video in 4k or lossless, zoomed-in views at 1080p or 720p quality. This includes an array microphone, too. The webcam is also available in an NDI version, which is an industry game changer, allowing users to bring that audio and video onto a network.
This web cam is unique because of its ability to be used as BOTH a video conferencing and/or a live streaming camera.
Both cameras are fully compatible with conferencing platforms such as BlueJeans, Google, GoToMeeting, and Zoom.
Live Streaming:
For live streaming and video productions from a home office or studio, consider the new EPTZ Zcam by PTZOptics. Similar to the HuddleCamHD, it enables a wide-angle view, with the ability to have a separate, zoomed in picture. With two SDI outputs as shown in the picture below, this camera allows you the ability to bring both views into a video production workflow. With a 4k sensor, it provides a crisp picture for multiple applications, including telehealth, where recording and streaming surgeries or lectures is necessary.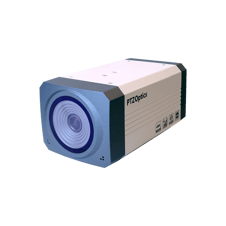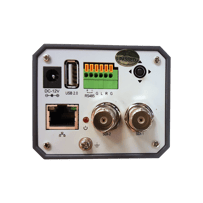 For software solutions for video production, vMix allows you to pull in presentations, web browsers, and multiple guests to create an engaging recorded or live streamed production. vMix can also be used to connect to Zoom or other video conferencing platforms. This is a software solution that can be downloaded immediately and available so you can begin to create video productions without the need for expensive or cumbersome hardware switchers. Licenses for one-time purchase are available on the CRS web site.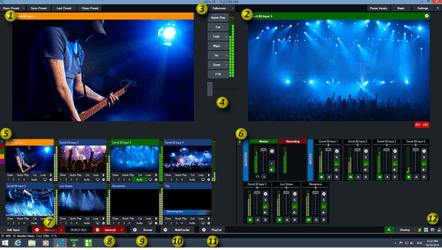 For creating a video production using Zoom with multiple cameras, choose a Magewell HDMI to USB Capture Card. This capture card can output full HD up to 1920x1200p 60 Hz. All video and audio processing is done through the dongle pictured below, saving your computer precious processing power.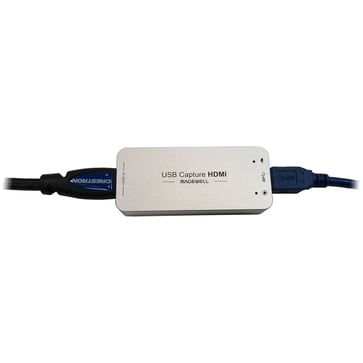 Other easy to implement solutions include combination webcam and speakerphones, such as the following:
The HuddleCamHD HuddlePair, is a wide-angle webcam and a speakerphone combination. This has been incredibly popular because of its ability to enable audio and video conferencing at home, while being an easy product to incorporate in a smaller conference room in the future. Plus, once the speakerphone is charged, this can be a completely wireless solution!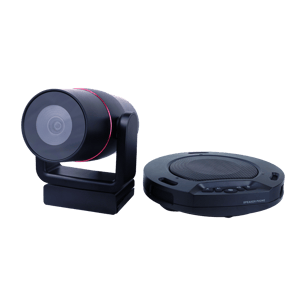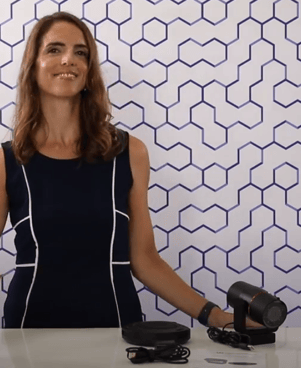 If you just want to incorporate an effective, reliable audio solution, the HuddlePod Air Wireless USB Speakerphone uses advanced technology that is far superior to bluetooth! This microphone has a easy to use interface that makes set up a breeze! It is the ideal portable and wireless USB microphone with a full-duplex omni directional microphone.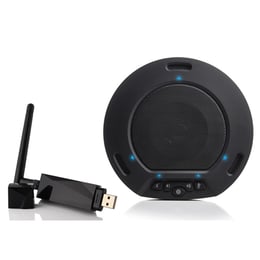 Transforming Your Office Space:
Here are some photos of my home office renovation during this time. As you can see, I got rid of extra clutter and also moved over a bookcase so that it can be seen as my backdrop during my video conferencing calls. This professional background is part of a clean office space in the front of my house that receives a lot of natural light during the daytime. Similar looks can be achieved with floating shelves. I recommend adding in a house plant, flowers or even family photos to make the scene behind you inviting. Of course, if you're using Zoom video conferencing, you have options to create virtual backgrounds, using their incorporated green screen technology. Changing your background based on the meeting topic can also be a fun, engaging option! Free designing web sites such as Canva offer Zoom virtual backgrounds already designed for you. For live streamers or esports enthusiasts, you may opt to create an immersive experience in your background. For more complex backgrounds, you can use a virtual webcam. XSplit is a company providing that service, which can be downloaded for a monthly fee.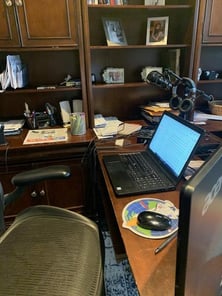 BEFORE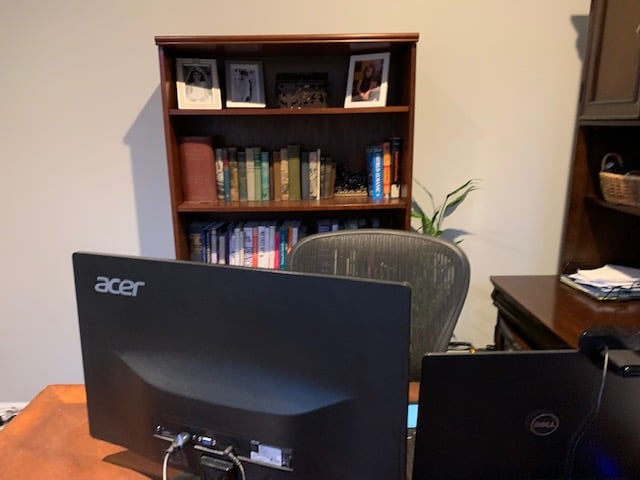 AFTER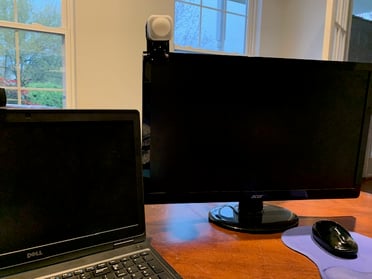 Here, you can see where I've added a light onto my additional monitor's display. This light is by Lume Cube. Without additional light, sometimes you may notice that shadows can be very unflattering on people's faces during video conference calls. For a while, I simply used a desk light, set in front of my face and behind my laptop here. Light should always shine onto an individual on camera, not from behind that person.
Our recent Tech Talk interview with StreamGeeks producer Michael Luttermoser takes us through some of these solutions, including a closer look at the new HuddleCamHD 4k webcam, available in USB and an NDI model.
Of course if you need some extra assistance, our team is more than happy to assist you.
Call us at 484-593-2314 or send an email to crs-sales@crs-us.com
Watch our latest Tech Talk below.
Listen to the podcast here or read the transcribed version below.
JS:
Hi everyone. I'm Julia Sherwin with CRS Tech Talk, joined by Michael Luttermoser, who is a producer for the StreamGeeks and we are safely quarantining. How are you Mike?
ML (00:13):
Doing well Julia, how are you?
JS (00:15):
I'm doing well too. And it's sort of a unique time of course that's a big understatement, but so many people right now are looking for solutions to be able to do what we're doing right now. Video conferencing from our home offices and even taking that a step further and doing live streaming and video production. So I wanted to bring you on the show today to talk about some of those solutions that, you know, really make sense while we're in this current phase of home quarantine, self isolation, we may not want to go and get huge, bulky equipment but rather something that kind of would satisfy us for the time being.
ML (00:59):
Yeah, absolutely. All of America is working from home right now and probably accessing some sort of video conferencing like zoom or Microsoft teams or a couple of others. Everyone's, you know, using their phones, chat, texting and also probably video calling as well. But talk to people, we'll see people face to face. There are some great solutions out there. If you're just trying to get started and probably move,past the audio and the camera that's in your laptop, it's probably what you're working with right now. If you're working from home, you have an audio solution and a video camera on your laptop and there's a couple of solutions that you can move past that to get a better quality audio and visual. One of those is what I'm using right now, the PTZOptics webcam 80. I've used it a couple times, but this is like one of the first times and it's really great. I'm really impressed with the quality of it, and that is where my audio is coming in.
JS (02:13):
Your audio is great, and I'm glad you mentioned that about the webcam. I'm going to share my screen here. At Conference Room Systems, we have seen a surge in sales for the PTZOptics Webcam 80. It is really one of those products that is so easy to implement. Do you see it right there? Yeah, there it is. We're currently out of stock as we're, we're waiting on a shipment of I think several hundred. The price point is perfect. It's so affordable. It's just $89. So, you know, even with the PTZOptics webcam I actually travel with it. So it's very portable. But there's also a new product that we want to talk about.
ML(03:18):
Right. And we are, and I'm very excited for these products to come in. These are, you know, the new PTZOptics ePTZ, Zcam and the HuddleCamHD 4k ePTZ USB and NDI webcams.
JS (03:33):
Those who don't understand that term, Mike, how would you describe what E P T Z is?
ML (03:40):
Right. So EPTZ is basically stands for electronic pan tilt and zoom. And the easiest way to, you know, describe what's going on is in the camera there is a 4K sensor and it allows you to look at this wide field of view and then you can electronically zoom in on the 4k sensor to create multiple 1080 or 720, smaller videos on the 4k of the wide main shot. And you're able to then inside the camera pan around, zoom in and out and the camera has two SDI outputs so you can get the wide shot out and also the zoomed in shot. Can you show the back? There it is. Two SDIs and you'll be able to get the wide shot and the zoomed in shot and be able to use with editing or broadcasting software to show those different smaller, frames.
JS (04:56):
This a full on, you know, production level camera, and it has a Panasonic image sensor.
ML (05:06):
Right. And the great thing about this, it gives with the 4k sensor, it gives this great picture. It gives this DSLR really crisp picture that I think a lot of people want and have been looking for. And um, and it just looks great. And I just actually finished doing a bunch of videos for the PTZOptics EPTZ Zcam, so I've been living in the world of EPTZ lately.
JS (05:36):
Well, it's a great tool and it's so easy, you know, it's lightweight, it's not huge. It's something that can be utilized for that production level experience also. Also for telehealth.
ML (05:54):
Yeah, it would be great for telehealth. I know that, um, theZ cam would be great for surgery centers and if they have to record if it's for students or for med students, you know, they can set these up and it would be great for them. They're very affordable, and they're very light, and they're very easy to install on a number of different tripods and different mounts.
JS (06:23):
So the HuddleCam one, the EPTZ, it comes in two different models, a USB camera, which, you know, it's plug and play for your laptop or for your desktop display.
ML (06:37):
Yeah. And I just wanted to actually point out before we talk about these HuddleCams. This a PTZ Optics webcam 80. I want to talk about the setup. It was so easy. It's a USB plug and play a webcam, and I just plug it right in. And when we got connected through the Zoom call, it came up automatically. I could either pick my laptop or PTZOptics,webcam, those were right there. And you saw the difference.
JS (07:11):
And I think you mentioned that at the outset of this, it's so important for people to recognize that your integrated webcam and your integrated microphone in your laptop or computer, you know, may not be the best. It's the picture that's provided from, an additional web camera is just a much more robust, clearer picture.
ML (07:36):
And then, yeah. And so, and so, yeah, with that easy plug and play the, this HuddleCam EPTZ USB camera is the exact same thing; pop it on top of your big monitor. You can plug it right into the USB, into your computer and you'd be able to access it. And you're gonna get this great picture and great zoom in. It's like very powerful.
JS (08:01):
Yes. And again, it's, you know, easy enough to put on an LCD display or a laptop or a desktop like you see here in this gaming scenario on this Conference Room Systems website. So, again, this camera also comes with an NDI option if you wanted to have a plug right into your network.
ML (08:32):
Right. So with the NDI version, that whole camera is going to be powered and controlled by PoE (power over Ethernet), and we're looking at the PoE switch right there. And of course if you have, you know, a network, you'll be able to access this camera on the network you're using. You know, of course there's NDI if you have an NDI workflow, you'll be able to bring the camera of if you have 10 of these cameras, you can bring them all in.
JS (09:02):
Yeah, I think that's a great point.
JS (09:08):
Right now, there's so many different applications where that could be utilized, right? You think about, different scenarios out there from teaching to, telehealth to manufacturing even. I mean, there's just so many different vertical markets. But then again, somebody like or me who just wants to have this really crisp image quality, you know, for video conferencing or live streaming and to do what we're doing today. We're going to take this Zoom meeting, we're going to actually put it on Facebook and on YouTube to let people see our private meeting here, but to showcase some of these products. In a typical scenario when we're all working, I would be in my studio and you know, we would have in-person guests right in the studio or bring in someone through another feed. But this way we all get to stay safe in the comfort of our homes with those stay-at-home orders right now, but also really have a video production that is pretty clear and pretty good, you know, I mean, look at all the TV stations that are doing this now.
ML (10:28):
Yeah, yeah. Every, everyone's doing it. And you know what, I, I wish I had the new HuddleCamHD 4k cameras because I totally want to give an example right now. I love to have all this in my hand to be able to click a button and have, you know, it, zoom in exactly right here and then be able to click another button and you see this wide shot again and be able to just, you know, show that off.
JS (10:55):
Yeah, I can't wait to, because we are awaiting shipment on these, so you can contact our sales folks to place a preorder for these different cameras, HuddleCamHD and PTZOptics, the Zcam, which you saw first, and then the HuddleCamHD 3x, EPTZ, both the USB version and the NDI version. So you can preorder those by contacting, crs-sales@crs-us.com.com. So that's certainly an option. And when it comes to video production, you'll hear a lot of people talk about using multiple cameras and having a hardware switcher to switch between those cameras. But you mentioned that vMIx tends to be a favorite of yours. Tell us a bit about vMix.
ML (11:57):
Yeah, so I really lean towards a software-based solutions for video, you know, broadcasting and switching. There are, of course, hardware solutions out there too. I use vMix a lot for pretty much all the shows. I'll quickly touch upon other solutions, like Wirecast is great as well. And OBS, everyone in esports uses OBS because of the free version. But, for me, vMix reminds me of the Adobe products, and there is a learning curve. But after you learn the software, it's very powerful and it's great. And you can bring everything in from presentations to web browsers to multiple guests using a vMix call. You can even connect vMiix to Zoom, and you can do that a couple of ways.
ML(12:53):
You can do that with a hardware solution. And then there's a virtual solution. And very simply for the hardware, you would just need, two computers, one running vMix, one running Zoom and you need using like a HDMI to USB capture card. Magewell sells a bunch of those and makes a bunch of those. There's vMix right there you know, there's some free either, I think there's like 60- day or 90-day trials that you can try it out. So we talked about connecting vMix using a USB capture card, which would actually bring in your audio and your video and you'll be able to then connect that.
JS (13:54):
I think it's just important to recognize that the capability exists for a software solution with vMix. Of course OBS is free, so that's a great place for people to start to kind of get familiar. But if they wanted to get some advice from our, our dedicated associates at CRS, they can certainly contact them and we can hook them up with a vMix license. So it does have a lot of extra capabilities there. I think when you're talking about going beyond video conferencing, it's typically because people want to incorporate multiple cameras.
ML (14:37):
I think, you know, you have to ask yourself, when you first start out, what are you using this for? Are you a vlogger or is this being uploaded to YouTube for an audience that you've already created, or do you want to create one? Or, are you just talking to colleagues at work? So it starts kind of from there and you try to figure out what you need and there's pretty much a solution for anybody.
JS (15:02):
There are important distinctions to make; that's right. If you're just trying to join company meetings, you just need a good webcam, maybe a good audio solution to add to that webcam. We sold a lot of speaker phones over the last 30 days or so. Phoenix Audio Technologies have great ones. The Phoenix Audio Spider is easy to integrate. We also have a products on CRS, I'm sure you've seen it before. It's called the HuddleCamHD HuddlePair, and it's a wide angle web camera and a speakerphone combination. So if you want to a full on solution, but again, as you mentioned, those cameras, they come in around the same price point of that full on solution. But these eptz cameras also have an array microphone, right?
ML (15:56):
Yes. The HuddleCamHD cams do. Yeah. And one thing about, I was gonna say I like with the HuddleCamHD, with those eptz cameras, one thing that I really like is how light they are. You can travel with them; they are so light and for somebody who has to lug around camera equipment all the time, it really like adds up.
JS (16:18):
Because it does, as you know, from going to trade shows. Of course they're all canceled now, but you know, at least for the next few months. So this has been a good education I think for our viewers and, we do have new customers out there and we want to make sure that they're being steered in the right direction because you know you suddenly find yourself in this situation where you're working from home and you want to create a solution that's effective and works really well because many of our customers are connecting with their customers and they're showcasing their own brands and their own products and it really makes sense to have a crisp, clear solution. You want to have good lighting. You know, right now, I've incorporated a lamp because I'm awaiting arrival of some extra lights for my home-based office. So, you know, they add up, they matter.
ML (17:19):
I guess if I could give any advice for setting up a home studio, it would be to pick a clean room. I don't know if this, my background is kind of like a workstation studio, but a clean room that actually has some windows so you get some natural light and usually that's kind of all you need. And, make sure you close the door so you don't get any disturbances if you're having a call, or a video call.
JS (17:46):
That's right. Well, for me and for people like you, I'm sure who work in this industry, to watch some of these remote options, like Dr Oz, his whole studio is in his house and his wife is actually running it because we're all trying to social distance or at least physical distance is probably the better term for that.
ML (18:12):
Yeah, that's great. That's nice for him. He just gets to wake up and goes, what probably down to his basement.
JS (18:17):
Right. I think that's what it is. So of course there are many different levels for the set up, but if you're just starting out, feel free to reach us. We're available. I'll make sure that we have a phone number included there on the screen. It's 484-593-2314 in the continental United States, so you can reach us, of course, through email as well. Again, that website is ConferenceRoomSystems.com. So thanks for joining me Michael Luttermoser, who is the producer for the StreamGeeks. They have weekly shows, tutorials, and they are on Mondays and Wednesdays at 2 p.m.
ML (19:03):
Yeah, that's right. Mondays and Wednesdays, at 2:00 PM Eastern Standard Time. And we always have people in the chat, so come join us for the live shows and ask questions. We'll be there
JS 19:15):
On both YouTube and Facebook. So thanks so much for keeping us all connected ,and thanks for doing your part to be safe. Thanks everyone. Feel free to reach out to us anytime with your questions.
ML(19:30):
Okay. Thanks so much, Julia.
JS 19:31):
Thanks Mike. Bye. Bye.
Read more on How to Use Video Conferencing at:
"How to Improve Meetings from Home," Read more here.
"How to Use Video Conferencing Today," Read more here.
"Examining AV Tools for Enterprise Communication," Read more here.
"Focusing on AV Solutions for Higher Education Settings," Read more here.
"Teaching Students How to Live Stream," Read more here.
"Live Streaming for Radio Broadcasts," Read more here.
"10 Hacks to Up Your Video Conferencing Game," Read more here.
"Infographic: Dos and Don'ts of Video Conferencing, " Read more here.