Hello Web Conferencing Professionals,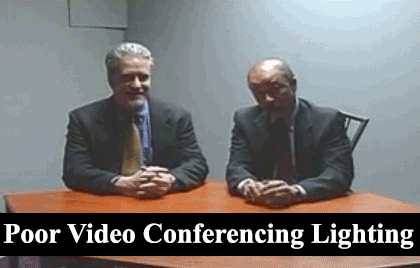 After a new reno
vation of our conference room lighting I wanted to share a few insights about "Video conferencing lighting". In a way, pretty much all regular florescent down lighting is "bad video conferencing lighting". But before we go judging "good" and "bad" video conferencing lighting, let's determine what makes lighting "good" for video conferencing.
Ideal Experience:
Camera can pick up subjects without using digital compensation
Easy walk in ready lighting scenes
Far end can clearly see everyone including facial expressions
Professional Video Conferencing Lighting includes:
Fill Light
Key Light
Back Light
Wash Light
These are traditional lighting steps that most professional photographers are aware of. But who has time to set up 4 lights before a quick video call? Let's first take a look at how the professional do it. First we add the wash light. This can often times be substituted for natural light. Second we add a back light. Back-lighting is important and careful consideration should go into choosing a appropriate paint color and backdrop. Third we add the key light. The key light and fill light work together to provide a nice, even lighting profile for video conferencing attendee's.

Types of Video Conferencing Light Fixtures
There are four main types:


Ceiling recessed lights
Hanging studio lights
Manual pan tilt ceiling recessed lights
Floor standing studio lights (on tripods)
The most un-obtrusive video conferencing lights that are ideal in conference room environments are ceiling recessed lights that fit into a normal 2'x2' ceiling tile. Ceiling recessed video conferencing lights can come with various directional louvers that can be made to fit most applications. Take for example these brightline Stealth-T video conferencing fixtures which come in: forward throw, corner angle, downward and bidirectional. These lights are easy to add to existing lighting layouts and provide flexible light coverage for video conferencing applications. Hanging studio lights are ideal for broadcast studio sets that do not have a drop ceiling. Studio lights allow for quick and easy lighting to be used for any video broadcast. Manual Pan Tilt ceiling recessed lighting is great for flexible scenarios and floor standing studio lights are usually used for "non-permanent" application.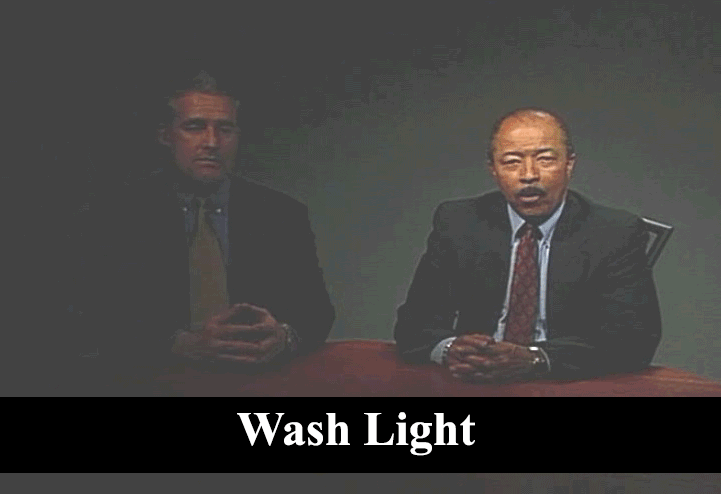 What does "Bad video conferencing lighting" look like?
Bad video conferencing lighting can make attendee's look like they have "bags under their eyes". This is because overhead fluorescent lighting is meant for "task lighting". Therefore the light is facing down on surfaces such as a conference room table. Since there is no light to shine on faces of people the camera will show shadows in places that you might not want.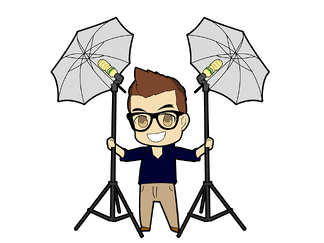 Looking for a cheap solution?
Check out what amazon has to offer for home photography studios. In this way you can pick up sub $200 lights with some real power to them. This is what our company did for about 8 months. After a while tripping over these lights became a hassle. The cleaning ladies must have knocked them around quite a few times because only one still works :)
Personal Video Conferencing Lighting
The most popular form of video conferencing is "face to face" from "desk to desk". But unless you have amazing light coming through your office window, this scenario can be the most difficult to work with. The most important step forward you can make is adding a low cost video conferencing backdrop. Blue is the preferred color here along with grey and teal. Adding a small video conferencing light and blue screen backdrop can turn any work space into a high quality video conferencing space in an instant. Take a look at this breakdown of personal video conferencing lighting changes as you add each step.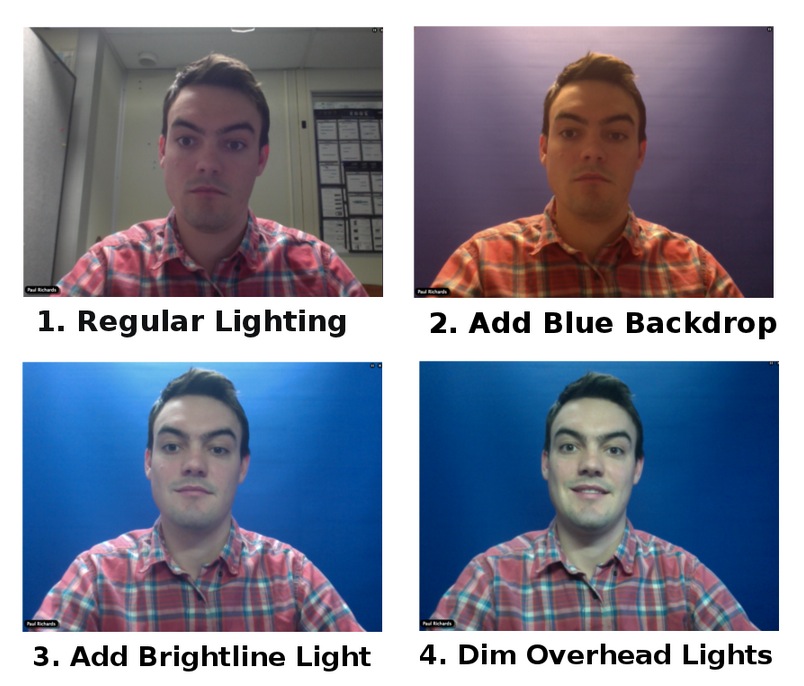 Designing Video Conferencing Lighting
Here at CRS we off free video conferencing lighting design for conference rooms and boardrooms. This service is great for anyone looking to improve distance learning or video conferencing rooms that get heavy use but have poor lighting. It's not uncommon don't worry! CRS can help you determine a affordable way to add video conferencing lighting to your conference room today!