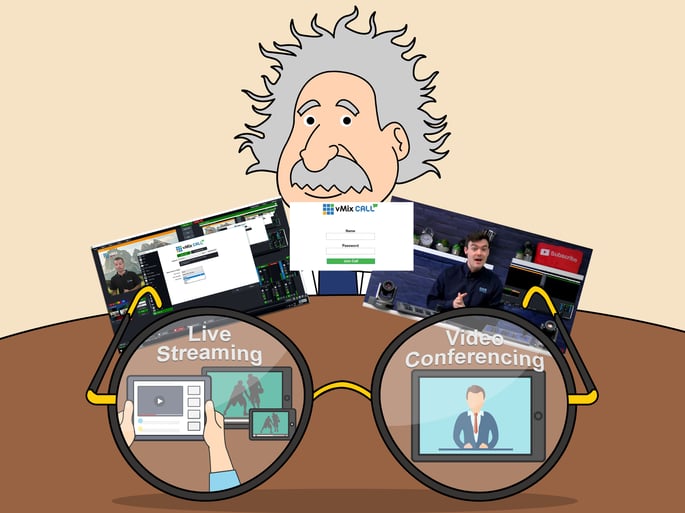 Remember last week when we talked about Zoom Video Communicationsadding live streaming to their webinar platform (article here)? Now the video production software market is looking for a piece of the pie, in a converging industry with a combined worth an estimated $100+ Billion by 2020 (Video Communications & Live Streaming — See sources below)!
So let's look at one of the live streaming industries most innovative video production companies who has slipped in a peer-to-peer video conferencing add-on to their latest release. vMix just announced new feature called "vMix Call" and I think this is a GAME CHANGER for the live streaming market! vMix Call allows users to instantly launch a video conference call inside their professional 4K capable video production software suite. As you will see in this video vMix now supports the ability to add an input specifically for video calling with guests on your live show. This is perhaps one of the most exciting features being released in vMix 19 AND it's already available for BETA testing.
Quick tutorial on vMix Call
We review how to use the vMix Video Calling feature and set up a simple two person talk show in less than 5 minutes in the video above! This is a great way to simplify your video production if you are hosting a live talk show OR online webinar. If you have taken one of my courses on live streaming courses on hosting your own live talk show, you can now rejoice there is no need for virtual audio cables and other secondary monitors. Amazing programming work done by vMix CEO Martin Sinclair! This feature will now save users money who are currently paying for video conferencing services such as Zoom.US and Skype!
How vMix Call works:
As you can see the regular vMix add input interface now includes a "Video Call" button. Once inside this input you can either host a call or connect to a call. vMix generates a password which is used to connect your vMix interface to a calling via a WebRTC web browser. In our testing the Google Chrome browser performs the best for this function and after that the Mozilla Firefox web browser. Finally, you will also have the option to select a "Return Feed" for both video and audio. By default, vMix allows you to select a video source, video bandwidth and an audio source.
Brain Storming with the team:
After brain storming with our engineers, we realized that vMix Call has opened up some new doors for extending the functionality of the NewTek NDI. Now users can connect NewTek NDI sources (vMix already supports the NewTek NDI) to other vMix sources around the world, even if they aren't on the same network. Now for true 1080p, low latency, quality of the NewTek NDI which is only available on the LAN (Local Area Network) the same NDI rules still apply. But, now that vMix supports the connection of multiple vMix systems together over the public internet a whole new slew of possibilities have been opened up!
Conclusion:
When two industries start to converge alot of great things happen. Over the past 10 years we have seen the benefits of AV and IT converging. Now it's time for online video conferencing and video production systems to come together. Helping end users find the best solutions for powerful video marketing and live streaming possibilities will continue to be a value-add for ProAV and IT management for many years to come.
By the way, I am happy to invite anyone who has read this far to take my vMix video production and live streaming course for free!
Use Coupon Code: VMIXPRO
https://www.udemy.com/vmix-live-streaming/learn/v4/
More on Live Streaming
Source 1 — http://www.marketsandmarkets.com/PressReleases/enterprise-video.asp
Source 2 — http://www.marketsandmarkets.com/PressReleases/video-streaming.asp