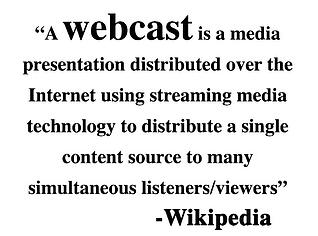 Wikipedia says "A webcast is a media presentation distributed over the Internet using streaming media technology to distribute a single content source to many simultaneous listeners/viewers. A webcast may either be distributed live or on demand. Essentially, webcasting is "broadcasting" over the Internet."
So how are we seeing "Webcasting system" implemented today?
USB Based Live Streaming Systems
"Webinar" Style subscription services
H.264 Streaming and Content Delivery Systems
A Quick review of UStream, JustinTV and Wirecast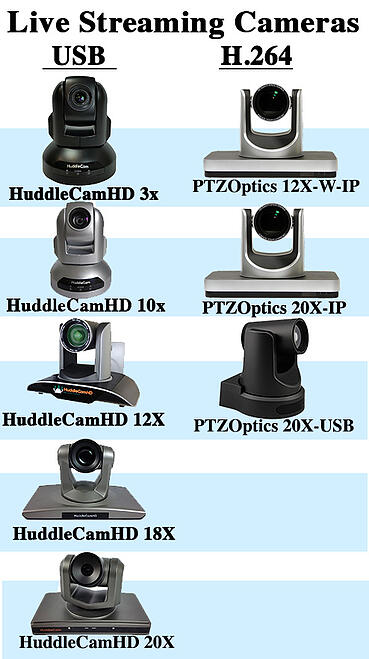 Web Conferencing Cameras
Depending on your application either USB or H.264 is a ideal connection to your computer or your network. USB 2.0 and 3.0 will leverage the computer processing power and H.264 will connect directly to your network for video streaming. One of the benefits of USB is the dual purpose use for "web video conferencing" software like GoToMeeting and WebEX. Depending on your application H.264 has quite a few benefits. Streaming to a CDN or "Content Delivery Network" is the highest quality way to distribute content to the world. You can also distribute H.264 video locally very easily and securely. The PTZOptics cameras to the right allow for dual streaming. Therefore you can send a low and high quality stream for bandwidth optimization purposes.
​Ideal camera connections:
USB 2.0
USB 3.0
H.264 Streaming
USB Based Live Streaming Systems
So "USB Based video conferencing" is become a standard for many business's. For 2 reasons mainly: it's easy to set up and it just works. Now we are seeing the same trends in production studios from home based systems to fully equipped broadcast studios. The first major problem that we were faced with 2 years ago was a complete lack of professional cameras with USB. This market is now served by camera lines such as: HuddleCamHD, PTZOptics and Vaddio. The second major problem was a lack of professional software to support live streaming to content delivery networks. Today we have a wealth of content delivery software options we will dig into including: Justin.TV, UStream, DailyMotion, LiveStream, Niconico, Popler, and GG. These are distinctly different from "Webinar" style video conferencing services that now support groups up to 1,000 such as: GoToWebinar, Cisco Event Center, and Zoom.US Webinar.
Slideshare
WebCasting "It's a thing!"
"Webinar" Subscription Services
The big difference between GoToWebinar and UStream is the two way communication capabilities between a "video conference" and "live stream". The question to ask yourself is how important is the communication between your audience the presenters. If it's a live music show then twitter should handle the communication the way crowds expect. If you are doing a training session you might want to consider a "Web Conferencing" service like Zoom.US or GoToWebinar to handle the video and audio streaming from remote participants.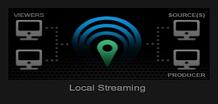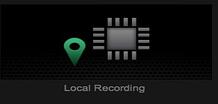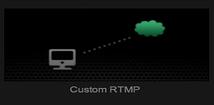 H.264 Streaming and Content Delivery
WikiPedia states "H.264 is perhaps best known as being one of the video encoding standards". It's perfect for high quality video and low bandwidth transmissions. You can take advantage of H.264 streaming in various ways for live streaming. The beauty is that H.264 is widely accepted and the stream can be digested by anything from a free VLC Player to a content delivery network with servers all around the world. Take a look a this PTZ Optics camera sending multiple H.264 Streams over the network.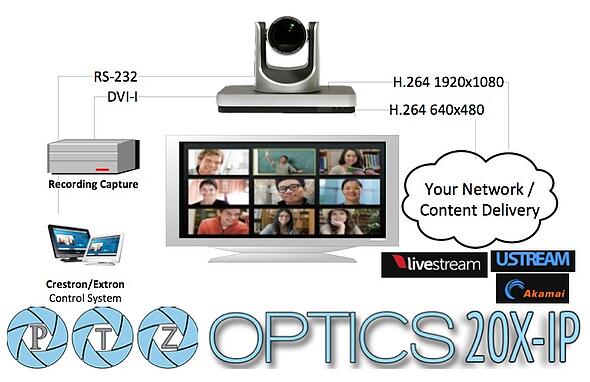 Take a look at how PTZ Optics sub $1,500 camera is providing multiple H.264 streams along with a Digital Video ouput for local recording / lecture capture. In this scenario, the camera itself is providing a high quality 1920x1080p H.264 stream for viewing on desktop PC's and a lower quality 640x480 stream for viewing on mobile devices.
Quick look at the software available
Just about everybody from LiveStream to UStream is giving away free 30 Day Trials. So it's definitely worth try a couple different services from our list: Ustream, Akamai, DailyMotion, FC2Live, GG!!, LimeLight, LiveStream, Niconico, Popler, or Sina. The starting price per month is roughly $100/month with a cap of 100 hours of streaming. So you are paying roughly $1/hour. Not bad right? Getting started is easy but before you sign up you might want to consider something more along the lines of: GoToWebinar, Zoom.US or Cisco Event Center. As we mentioned before this direction provides better 2 way communication and if great for Q&A sessions.